ModeStar| A Chat with Mr. Brightside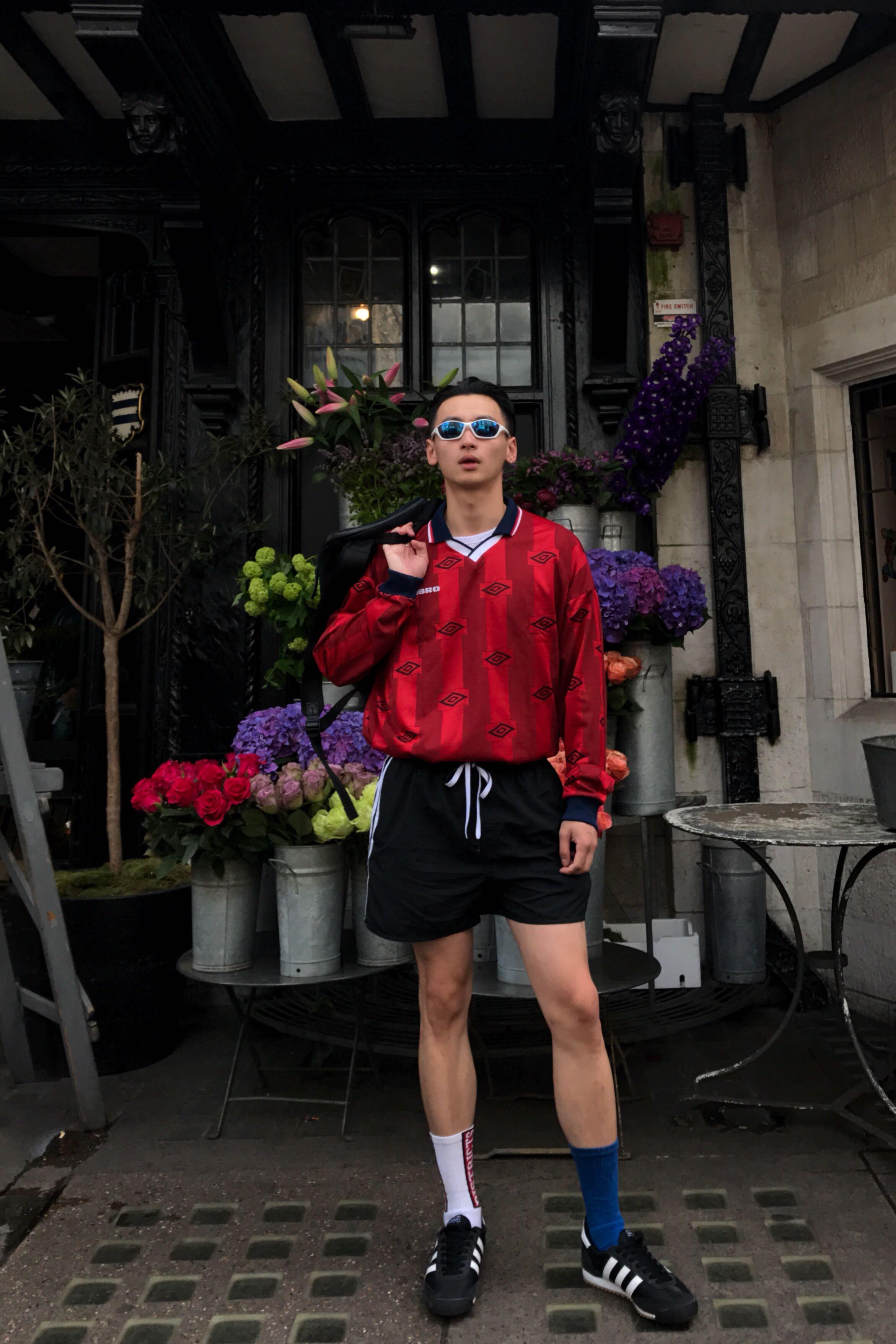 (click picture to enter@ofcoursekidding wardrobe)
Art and fashion have always been intertwined. Fashion, as many might agree, is an artform in itself. In this interview, we speak to ModeStar and visual designer @ofcoursekidding. With a background in art studies, he's had a keen sense for shapes, textures, and colors since a young age. Through both his career but also his fashion sense, @ofcoursekidding has managed to build up a strong aesthetic for what he puts on.
UNDER ARMOUR
Under Armour Men'S Charged Cotton® Long-Sleeve T-Shirt
ADIDAS ORIGINALS SHOES
ModeSens:Since when did you start to like fashion? What has fashion brought to your life?
@ofcoursekidding:Since I learned arts in school, I've paid special attention to colors, textures and shapes ever since I was young. Rather than saying that "I like fashion," I like to think that I'm more interested in the spatial relationships between color, shape, textures with the body, ever since I was young.
UNDER ARMOUR
Ua Launch 2-In-1 Shorts
ModeSens:What's your ideal way to live?
@ofcoursekidding:Having two or three soulmates and a job that's fulfilling my passions. But also a bravery to leave all of that behind as well.
ModeSens:Being an avid fan of fashion, what do you usually enjoy picking up?
@ofcoursekidding:London has many unique boutiques and vintage shops. I like to visit those type of places. The pieces don't necessarily have to be name-brand. I'm looking for qualities of touch and cut and sow. I love picking up pieces that are than 20 or 30 pounds but can carry forward a full luxury look.
POLO RALPH LAUREN
Pony-Motif Slim-Fit Cotton Shirt
BALMAIN
White Double Weave Shirt
YOHJI YAMAMOTO
ADIDAS ORIGINALS
White Eqt Support Adv Sneakers
ModeSens:What do you think is your ideal way of fashion?
@ofcoursekidding:I enjoy self expression through what I wear. Sometimes people take being fashionable as wearing odd or loud pieces but I think that doesn't quite matter — whether you're loud, weird, or reserved, you're most authentic when you're feeling comfortable in your own skin and in what you choose to wear to bring out the best of yourself.
ModeSens:Which designers do you like?
@ofcoursekidding:I really like Yohji Yamamoto. Although his pieces are uber expensive, his work is truly masterpieces. From craftmanship, design, quality, I really appreciate the level of mastery.
BURBERRY
Burberry Striped Cotton Shirt
ADIDAS DAY ONE
Adidas Day One Running Shorts
ModeSens:Whats your fashion style? Do you like being in trend or putting together your own sense of style?
@ofcoursekidding:I don't have a consistent style. It really depends on mood and occasion. I've been enjoying the comfort of athletic wear as of late. It's hard to explain if a particular style is your own or from a trend. After all, I think we're all somewhat influenced by others in our digital age.
GIORGIO ARMANI
Giorgio Armani - Striped Blazer
ModeSens:What are some of your hobbies?
@ofcoursekidding:Usually I enjoy drinking tea and picking up a book, or going to museums and galleries. I also like running, basketball and hot yoga. At times, I love traveling surrounding countries. Weekends, I'm usually out drinking with friends or watching movies.
FENDI
"SLIM PEEKABOO"BAG
ModeSens:Is there any recent happenings in fashion that stood out to you?
@ofcoursekidding:Ha, not lately.
ModeSens:What's your first impression or experience with ModeSens? How do you feel ModeSens is different from other platforms?
@ofcoursekidding:ModeSens has a clean design and is different in that I can directly purchase items that are tagged on social posts.
If you are passionate, positive, and have an opinion on fashion, you can be our next ModeStar!
ModeStar is an exciting fashion influencer program only on ModeSens, dedicated to discovering and enabling a new wave of fashion tastemakers and rallying them together to mutual expand each individual's influence in the fashion world.
Join the ModeStars program — become an official influencer partner with ModeSens
- Get original content opportunities with ModeStar. Earn a verified ModeStar Badge and become official influencer partners with ModeSens.
- Have opportunities to work with and gain exposure through all ModeSens platforms — homepage, original interviews, content & product exclusives, and more ongoing benefits.
- Connect with other ModeStars, cross-promote to grow audiences together. Enjoy feature opportunities on ModeSens' Instagram, Weibo and other social and digital platforms.
- Receive exclusive invitations to official events and parties by ModeSens or by partners, such new product announcement/try-on's, fashion weeks, and more.
-Gain access to exclusive tools such as publishing Blogs, Collections, affiliate programs and other advanced web and app features.
With so many exciting benefits, begin sharing your everyday style Moments on ModeSens to receive a select invitation to become the next ModeStar.
If apply for ModeStar, please contact bella@modesens.com. Final interpretation is owned by ModeSens.