ModeStar | Unruly and Uninhibited, Fashion is Meant for Everyone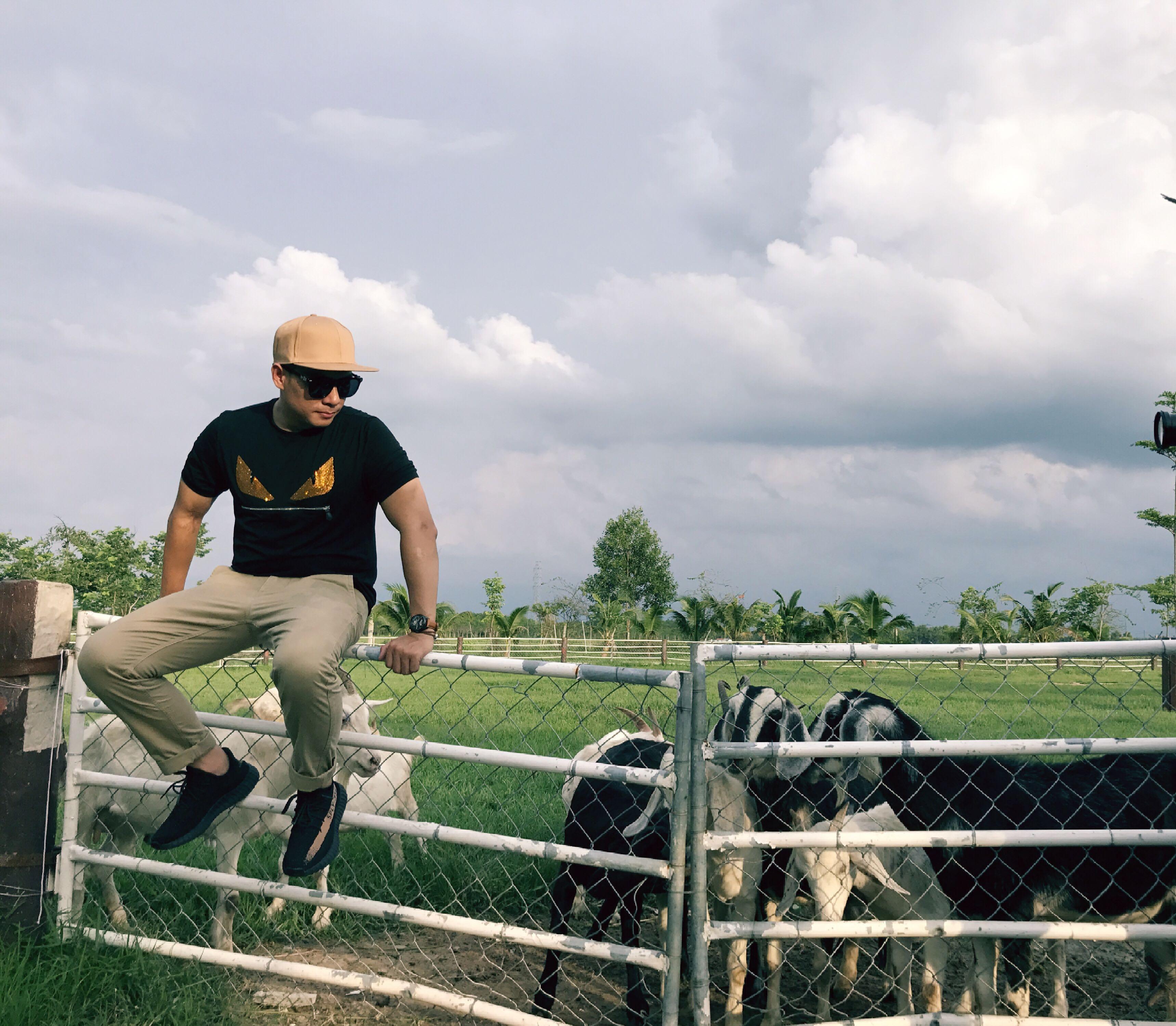 Fashion as a medium, brings us together
It's an artistic expression that excludes no one
Because every individual deserves an eclectic sense of individuality
It's hard to define whether it's the thrills of off-roading or the pleasures of fashion that influenced Ji_Vo more. Going over his snapshots of various off-roading adventures, posing like a "fashion blogger", it's impossible to figure out which activity brought him more satisfaction to the mind and soul. What is the highest of his highs and what triggers it.
He interprets fashion to be "an artistic expression that excludes no one." From the age of ten, he already shook off mom's helping hand, and began picking out his own clothes. He also prescribes the notion that anyone can wear whatever he/she wishes to wear – granted, it's within the boundaries of your self-devised fashion rules.
FENDI
BUGGIES EMBELLISHED COTTON T-SHIRT
From his photos and words, you can clearly feel that he has firmly planted in his life the principles of striving beyond the limits, becoming one with the vehicle, and the spirit of off-roading. If fashion is an expression of one's inner state, then self-determination, toughness, and freedom have already become his immovable and invaluable mindset – fearless and equanimous.
Q&A for ModeStar @ Ji_Vo
ModeSens:When did you fall in love with fashion? What has fashion brought to your life?
Ji_Vo:I don't remember when it started, but my fashion story goes like this:
Fashion is a lifestyle. Not everyone loves poetry or painting, but fashion is an artistic expression that lets everyone in. It represents your inner state and reinforces your social status. Like language, it's a silent way of communication. It is also a way to pass on faith, customs, and cultural heritage to the next generation. The clothes we choose reveal our aspirations and feelings, whether we like it or not. Fashion is everywhere, and it excludes no one, but it differs vastly from person to person.
I began choosing my own clothes when I was ten years old (my mother was very disappointed because she has always wanted to dress me). For me, fashion has always been a way to highlight my personality – how I view myself, how I wish to be viewed by others.
GUCCI
BLACK AND GREEN WEB STRIPED SLIDE SANDALS
ModeSens:What is your ideal lifestyle?
Ji_Vo:My lifestyle is very simple. Always smile, don't be overly trusting of anyone. Never retreat from hardship, face it head on.
ModeSens:As a seasoned fashionista, what do you like to purchase for yourself?
Ji_Vo:When we buy a piece of clothing that we never wear, the worst reason is that we were shopping for the future. You know that elusive future self who goes to the gym all the time, who has finally lost all that fat. But in reality, the one doing the shopping isn't your future self, it's your present self. Buying clothes that you might never wear is the easiest way to spend money in vain.
Shop for your present self. Be honest with yourself. When you realize you're wondering if a particular piece suits you, you should put it back on the rack, and look for something that truly works for your present self.
Shopping with restraint is an exercise of self-discipline. It's also a reward for persistence and will power. Setting boundaries is going to make you shop more efficiently and tone down buyer's remorse.
GUCCI
TIGER PRINTED COTTON JERSEY T-SHIRT
NEIL BARRETT
CROPPED TRACK PANTS
ModeSens:What does great fashion look like to you?
Ji_Vo:Fashion fades, only style remains the same. — Coco Chanel
ModeSens:What is your favorite brand and who is your favorite designer?
Ji_Vo:Favorite brand: Alexander McQueen, Philipp Plein and Fendi
Favorite designer: Karl Lagerfeld and Philipp Plein
ModeSens:What is your style bible? Do you like to chase the trends or create your own style?
Ji_Vo:You can wear whatever you want, whenever you want, in whatever way that suits you. For me, it's about developing a structured way of thinking. Using a consistent standard to guide you, no matter who you are, where you are. Even if it's not perfect, I find this way of thinking helps me achieve winning looks.
ModeSens:What do you like to do in your spare time?
Ji_Vo:All kinds of off-road adventures, browsing ModeSens, shopping, traveling.
LEVI'S
1947 501JEANS
ModeSens:Have you been following any fashion events recently?
Ji_Vo:Browsing ModeSens, shopping, traveling.
ModeSens:What was your first impression of ModeSens? How is ModeSens different from other platforms?
Ji_Vo:Every time I think of a product, I immediately go on ModeSens to find it. I really, really like your website.
ALEXANDER MCQUEEN
SKULL CREST WOVEN SHIRT
SALVATORE FERRAGAMO
BUCKLE LOAFERS
Watch this space for more exciting content from@Ji_Vo
If you are passionate, positive, and have an opinion on fashion, YOU can be our next ModeStar!
Become a ModeStar, ignite the "M" symbol:
1.Receive ModeSens long-term recommendation, become a fashion icon
2.Earn commission by posting ModeSens"Moments"and sharing ModeSens links*.
3.Invitation to ModeStar Club fashion events
How to get involved**:
1.Post at least 20 "Moments" on ModeSens
2.Reach 100+ followers on ModeSens with your account
* After a user clicks on the product in your "Moments" or the link you shared, you will earn commission from all purchases he/she makes at our partner merchants within 15-30 days.
** Once you have fulfilled the requirements above, please email bella@modesens.com to apply to become a ModeStar. (ModeSens reserves the right to update the detail and terms without notice.)