Most popular brands
Most popular brands
On italist's innovative e-commerce platform, one can purchase unique, high-quality international & Italian luxury fashion brand items that are hand-picked and sold by authentic Italian high-end, boutique store-front retailers. This unique offering is made possible by italist's close working relationships with over 150 luxury boutique fashion shops all around Italy. With its reputation and sales growing rapidly around the world, italist is excited to release its ranking of the top 15 best-selling brands in 2017 for Chinese markets.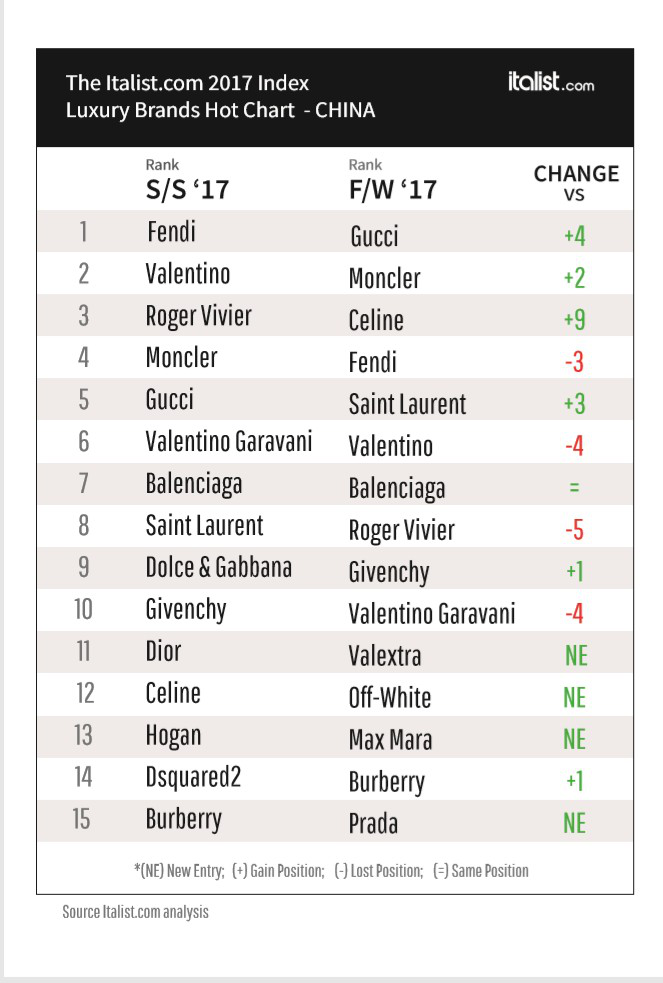 2017 has been treating Gucci well. According to the latest data analyzed by Italist.com, Gucci has become No.1 during the fall/winter season in 2017. And in the Spring/summer season, Gucci is also in the list of Top 5.
Another real success story this quarter is the impressive ascent of Virgil Abloh's Off-White, which jumped to No. 12 during fall/winter season.
Celine also jumped to No.3 in the Q3 of 2017. It might be the result of the news that phoebe philo will leave.
There were other more expected shifts in the ranking for the Fall/Winter season as well with Moncler, the beloved down jacket brand, placing higher in each market in anticipation of the coming change of seasons. Not surprisingly, Fendi, Valentino, Saint Laurent, Givenchy, and Burberry continue to remain the preeminent global fashion brands and were most consistently represented in the sales rankings across China's markets in both seasons in 2017.
Italist is constantly increasing the number of new fashion items from various established and emerging brands and designers to its online platform every day. Best of all, Italist is still offering the sale price on many items from the Fall/Winter 2017 collections.