Must-Reads Must-Haves
Natasha Stagg's Intellectual Accessorizing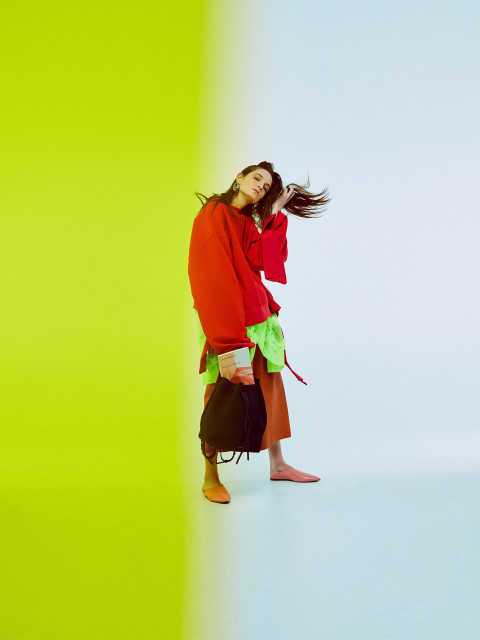 Your favorite book often shares a very symbiotic relationship with your favorite bag—living inside it for the duration of its digestion, dragged around the city in the soft leather of a satchel, or toted in an evening bag to dinner for one. Even after you've finished a book and set it up on the shelf, a profoundly good read will stay with you forever. Natasha Stagg is a fashion writer, and, as of last year, a published author—her debut novel, , was released through Semiotext(e). An avid reader with a keen sense of style, we asked Natasha to discuss her favorite books of the moment, and pair each with one of her favorite bags. This is intellectual accessorizing.
NICOLA, MILANMansur Gavriel Navy Suede BackpackLodovico Pignatti Morano's (Semiotext(e), 2014) tracks Nicola, a man who has Milan's nightlife fully figured out, from the perspective of a narrator who feels peripheral to it. Nicola is that person we are embarrassed to admit we find fascinating and cannot help but follow anywhere, if only to see what happens next—he is fashion branding personified. Through achingly accurate detail, the narrator of attempts to explain any possible reality behind that airtight throwaway descriptor, "charisma." He chases something meaningful between towers of aesthetic as the reader chases him through the city of Milan, hoping to become bored with it, and with the luxury market that we know holds value only because it is made exclusive. But through our narrator's astute observations of these synthetic hierarchies and invisible boundaries, the opposite happens: I'm engrossed from start to finish.
SING THE SONGIssey Miyake Blue Linear Knit RucksackMeredith Alling's debut fiction collection, (Future Tense Books, 2016) reads like trying to access the memory of a dream. The prose here is energetic and funny, sometimes laugh-out-loud—it is easy to imagine Alling reading these two-page long stories at an avant-garde comedy show instead of at a bookstore. 's language shifts wildly, making its assertions concerning structure feel more like questions. The plots, too, are contoured in an almost impressionistic manner, bouncing and blurring inside their studio apartment-sized homes. Here, familiar places become bizarre, recognizable characters become alien. We are left with a loose timeline of squirming interactions that mimic the flexibility of every lived moment.
RELIEF MAPBuilding Block Black BackpackRosalie Knecht's debut novel, (Tin House, 2016) mirrors a classic countryside coming-of-age story with its soft-edged small town characters, its first love tension between young neighbors, and its vast-yet-limited landscape that rolls through each day as effortlessly as the radio station jingle you don't remember memorizing. But the sleepy rust belt town in Pennsylvania is made at once larger in status and smaller in scale once a fugitive from the Republic of Georgia is said to be holing up there. While the town is barricaded, the longings of two teenagers and their family members are thrown into sharp relief. The shift towards adulthood is made only more complex when the fugitive is found. Knecht's modern take on a Boo Radley-like twist is evidence that young adult fiction need not be morally simplistic, and that sometimes, as in , a clear path to a right answer is never found.
THE SELFISHNESS OF OTHERS: AN ESSAY ON THE FEAR OF NARCISSISMJ.W. Anderson Red Medium Pierce BagKristin Dombek levels with us in by admitting that it is difficult to write about the recent rise in popularity of the word "narcissism," without partially falling into some of the same traps the subjects of her studies are subsumed by. Describing narcissism in others can feel, at times, hypocritical. That's because our basic understanding of narcissistic tendencies, Dombek suggests, is retrofitted to our own bitter feelings of undeserved abandonment. Crying "narcissist," it turns out, usually follows a surprise blow to the ego. But, as this poignant and well-researched essay finds, the plot of the Greek myth of Narcissus and the history of the disorder named after it give precedent to a vague understanding of the word's meaning today. Is narcissism more rampant in the age of the Internet, or is the Internet simply acting as the mirrored pond Narcissus can't help but gaze into for hours? The examples Dombek chooses to consider this and other concerns are both irresistibly extreme and revealingly familiar.
DOUBLE TEENAGESee by Chloé Blue Denim Patchwork Andy ToteIn (Book Thug, 2016), Joni Murphy's debut novel, the close friendship of two girls growing up in New Mexico becomes the backdrop and curtains for an at times essayistic narrative about youth, violence, and the media. Under wide-open sunsets but hugged by hot air, Celine and Julie discover theater and tragedy with stage performances they will forever superimpose onto their lives. Through accounts of brutality, they learn about detachment and fetish. And after spending days and nights watching it stretch out before them, time is sectioned out in screens. traces the power of young female friendship and then lets that theme fade, as it tends to with real people, to be replaced by media reflections of it, as small and staccato as bad stage plays.
WHEN THE SICK RULE THE WORLDPrim by Michelle Elie Brown Wood E1027 BagDodie Bellamy's (Semiotext(e), 2015) is a collection of essays that fall apart evocatively. As we begin to see a dissection of a subject—the gendering of whistling, for example—the very format of her essay tends to break down, offering instead a story: the story of Bellamy writing and remembering. Together, we realize that nothing she is tackling here has an easy, Freudian answer. Even in satire, we are left with an absence of solution. And who cares if Bellamy's aversion to whistling has a traumatic source, or if it can be traced through pop culture? It's fun to think about it for a while, like we would in a conversation with friends, and then to drop it, say, for the subject of a road trip back to a Midwestern college from Florida. It's interesting to think about Eileen Myles's process, but an anecdote about her clogged toilet is more entertaining.
SWING TIMEMansur Gavriel Black Leather Sun ToteZadie Smith's fifth novel, (Penguin Press, 2016), has been called her most autobiographical. It follows a girl with Smith's physical features, interests, family background, and hometown through an unwieldy best friendship, a growing awareness of the implications of race in London, and essential introductions to the roles of celebrities—moments always couched in bouts of growing pain. But when a fictional pop star, Aimee, appears, and our narrator becomes her personal assistant, even the past feels more frantic. While the delusions pile up—characters fall in love with films that employ blackface and believe in reptoid conspiracies—the story stays incredibly controlled.
PROBLEMSKara Silver Tie ToteJade Sharma's debut novel, (Coffee House Press, 2016), is funnier than it is sad, and it is terribly sad. Its narrator, Maya, is a heroin addict, and most of her other problems stem from this fact, but heroin's presence here isn't romantic or overwhelming. Instead it's humming in the background of each scene, like the high-pitched whine of fluorescent lighting that must be endured in sad hotel bathrooms. In fact, addiction is no more exoticized than is falling out of love with a husband while desperately wanting to have children. Each one of Maya's crises is close-up and pulled taut until every dark corner of motivation—including an uncomfortable situation's inherent humor—is exposed. Her addiction, depicted through the kaleidoscope of Sharma's fresh-voiced insights, nags at the reader, too, asking when it can leave, while simultaneously making itself essential by driving the plot into fantastic territories.