My Four Curated Looks with LVR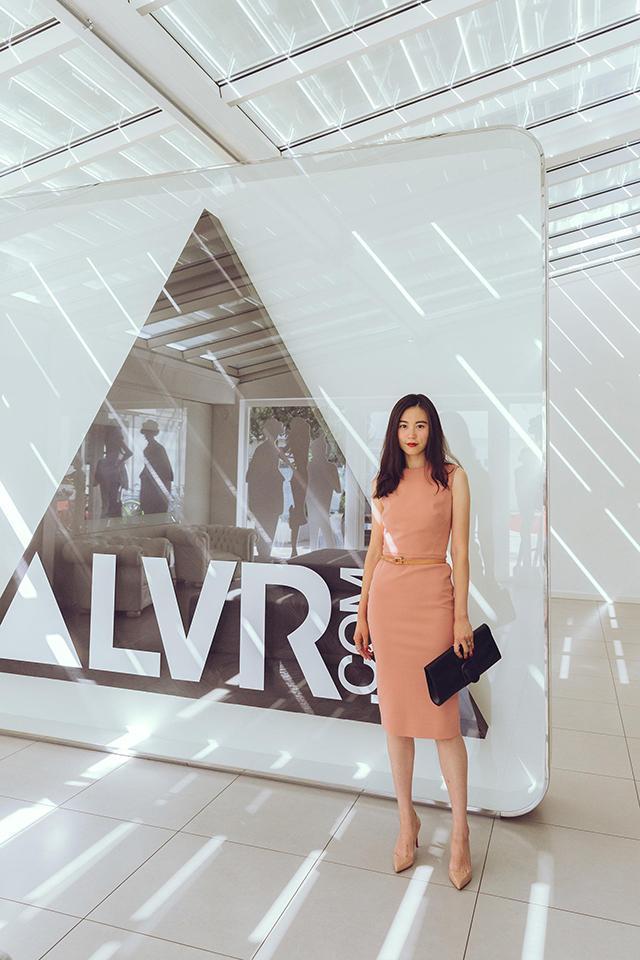 As a fashion shopper, I've always visited LUISA VIA ROMA's website at least twice a week; and to meet Andrea, the CEO of the website I frequent so much, is beyond wonderful. As a customer who's witnessed the progress of LVR since 6 years ago, I felt both a sense of familiarity and curiosity when I visited the company's headquarters in Florence as a ModeStar.
Andrea is a youthful person himself; oft joked that he has the heart of a young man throughout our talks. The same sense of youth is reflected through the business — which he described to be adulthood coming into fruition. It's even more apparent in his constant support of up and coming young designers and his goal to create a educational and experiential place for young people to connect in the realest sense. Since his early days of discovering KENZO and being the first online merchant to carry the brand, Andrea is still very much invested in discovering new designers of the now.
After learning more from Andrea about LUISA VIA ROMA's careful curation of brands new and old, across many categories, I felt inspired to put together four looks in partnership with the LVR team to showcase the company's utmost sense of curation and selection. See and shop them below.
Look No. 1
Being a fashion buyer, I'm constantly on the lookout for edgy and unique pieces. During my travels, I'm a fan of wearing outfits that have a comfortable construct with a touch of design flair. With the newly released LVR x Dilara Findikoglu collaborative red lurex jacket and pants, I'm loving the mix between edge and travel comfort.
What I Wore
Sunglasses: Markus Lupfer Star Acetate Squared Sunglasses, Black
Jacket and Pants: LUISA VIA ROMA x Dilara Findikoglu
Shoes: Ann Demeulemeester 20mm Suede Sneakers
Bag: Ghurka Surplus Cavalier Ii Leather Duffle Bag
Look No. 2
Here's a early fall look that I've put together with the help of LUISAVIAROMA. I chose a bright dress paired with various black accessories. The feels of leather on the sandal and the bag's velvet touch both add some gaze-worthy details to the outfit.
What I Wore
Dress: Salvatore Ferragamo Open Back Light Crepe Sable Dress
Bag: Gucci Medium GG Marmont 2.0 Quilted Velvet Bag
Heels: Giuseppe Zanotti Design 105mm Garconne Mink Sandals
Look No. 3
This Dsquared2 Tattoo Printed jumpsuit is undeniably confident and loud. There's always been a sense of rebel in me. Even though I've never gotten a tattoo, that urge can sometimes be expressed through clothing to show an alter-ego like version of myself. Besides the jumpsuit, the tee, denim shorts and white sneakers are my summertime favorites. To me, wearing clothes is a form of language.
What I Wore:
Top: Alexander Wang Cropped Jersey Tank Top w/ Strict Patch
Shorts: Alexander Wang Fringed Cotton Denim Shorts
Jumpsuit: DSQUARED2 Tattoo Printed Stretch Tulle Jumpsuit
Shoes: Ann Demeulemeester 20mm Suede Sneakers
Bag: MOSCHINO Biker Cotton Canvas Shoulder Bag
Look No. 4
Achieve a dazzling look by combining colored leathers and silver metallic tones. The mint green sleeves on the fur coat and the shine on the socks create a contrast that I love. To me, matching various styles, materials to match and clash in interesting combinations is one of my favorite musings of fashion.
What I Wore
Dress: Dolce & Gabbana Silk Satin & Lace Slip Dress
Coat: Vladimiro Gioia Striped Fox Fur Coat
Socks: Gucci Webright Sequinn Socks
Shoes: DSQUARED2 150mm Ayers Platform Sandals
Sunglasses: Gucci Pink Swarovski Cat-Eye Sunglasses
Lastly, I highly recommend an amazing Italian restaurant that Andrea helped us reserve — Trattoria Coco Lezzone! Here's a wonderful photo of Laura @ LVR and me.
------------
If you are passionate, positive, and have an opinion on fashion, you can be our next ModeStar!
ModeStar is an exciting fashion influencer program only on ModeSens, dedicated to discovering and enabling a new wave of fashion tastemakers and rallying them together to mutual expand each individual's influence in the fashion world.
Join the ModeStars program — become an official influencer partner with ModeSens
- Get original content opportunities with ModeStar. Earn a verified ModeStar Badge and become official influencer partners with ModeSens.
- Have opportunities to work with and gain exposure through all ModeSens platforms — homepage, original interviews, content & product exclusives, and more ongoing benefits.
- Connect with other ModeStars, cross-promote to grow audiences together. Enjoy feature opportunities on ModeSens' Instagram, Weibo and other social and digital platforms.
- Receive exclusive invitations to official events and parties by ModeSens or by partners, such new product announcement/try-on's, fashion weeks, and more.
-Gain access to exclusive tools such as publishing Blogs, Collections, affiliate programs and other advanced web and app features.
With so many exciting benefits, begin sharing your everyday style Moments on ModeSens to receive a select invitation to become the next ModeStar.
If apply for ModeStar, please contact bella@modesens.com. Final interpretation is owned by ModeSens.