Never Lose Sight of Your Own Happiness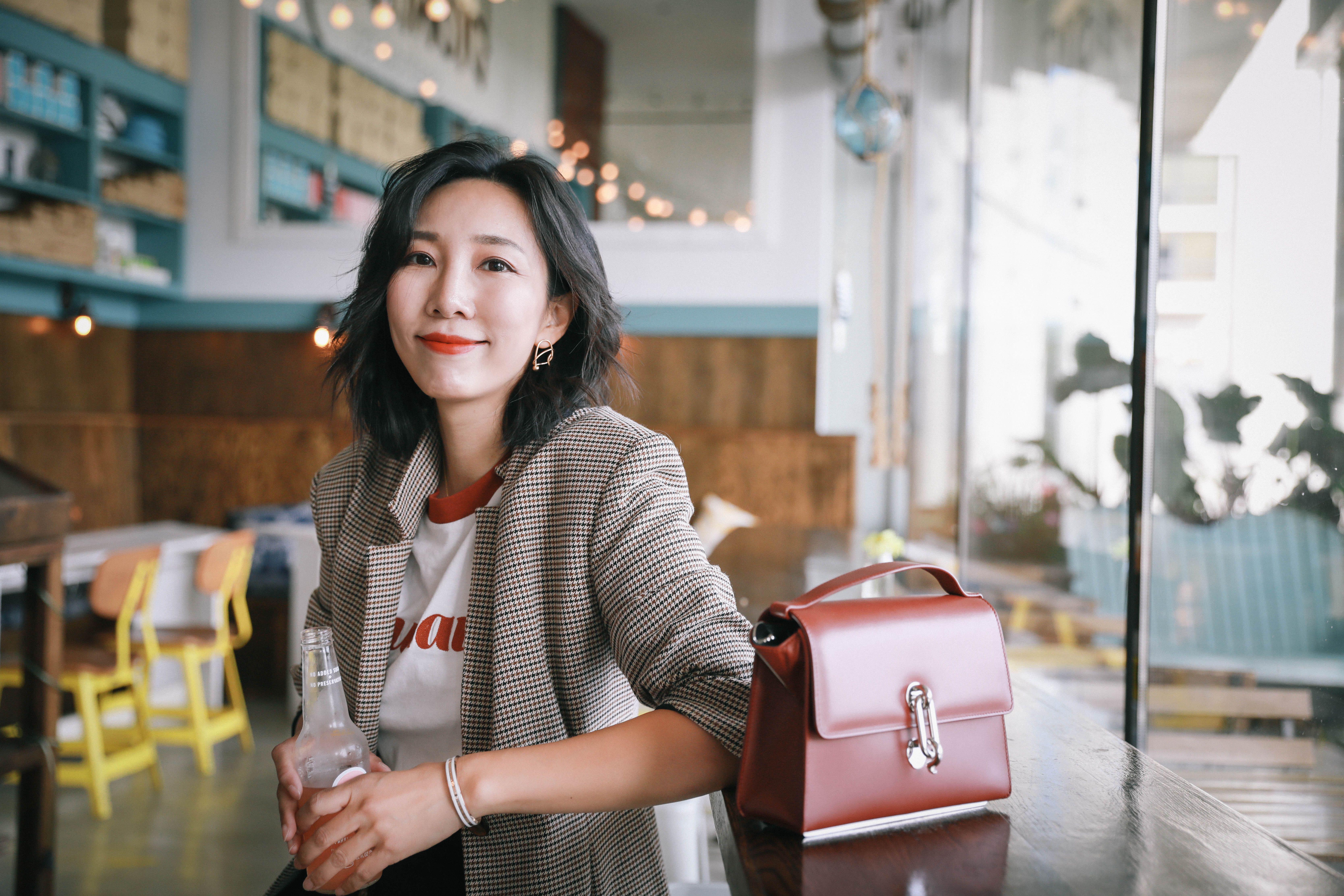 Click image to enter ModeStar @FionaSunnyDay's wardrobe
Introducing our ModeSens Community. Believe it or not, our top ModeStars are mom bosses. For example @jinglengstyle and @FionaSunnyDay. They are modern day girl bosses! They have successful careers, are social media influencers, are full-time parents, and, most importantly, they have impeccable taste in fashion. In this segment we have the pleasure of interviewing our ModeSens shining style icon @FionaSunnyDay.
ModeSens: When did your love of fashion begin? What does fashion bring to your life?
@FionaSunnyDay: I started noticing fashion as my career advanced and I had more disposable income. To me, fashion is a seasoning to spice up my daily life. My current job is kind of boring and to be completely honest, it is not something I enjoy a whole lot. That is why I take so much pleasure in devoting my after work time to what I truly love, fashion. After having kids, my passion for fashion became even more influential in my life. Fashion really keeps me driven and makes me want to take care of myself and my body. I understand that as moms we tend to devote all our time to our kids, but I would like to remind all the mothers out there that you're worth it. Don't give up on yourself and make sure to allow all the beautiful things the world has to offer into your daily life.
ModeSens: What is your ideal lifestyle? As a girl boss, how do you balance your different roles?
@FionaSunnyDay: I am actually living my ideal lifestyle right now, hahaha. I have stable income, which affords me the ability to purchase the things I like. I really enjoy having time outside of work to share my style with everyone. Although my lifestyle is very busy, it is also very fulfilling. Developing your own time management strategy is definitely the key to achieving in different roles & duties. My love for fashion also motivates me to work faster at my job so I can spend extra time on Instagram, Weibo and ModeSens. Every week I dedicate either a Thursday or a Friday afternoon for a photoshoot session. Then, throughout my week, I will use my spare time to edit and create my social media content. Personally I do not watch much TV, I prefer to spend my free time editing photos or browsing social media.
ACNE STUDIOS
Zora Chunky-Knit Sweater in Grey
Click Product Image to Get Details
BALENCIAGA
Triple S Logo-Embroidered Leather, Nubuck And Mesh Sneakers in White
Click Product Image to Get Details
ModeSens: As a fashion enthusiast, does it interfere with your daily life? Is there anything special you would like to share?
@FionaSunnyDay: No, fashion blogging does not interfere with my work life or mom life. That is why being a fashion blogger is so much fun for me. I use fashion as my motivation to avoid laziness. I enjoy being busy and confronting challenges in my daily life. I also gave myself the title of a fashion blogger to push myself to be the best version of myself. As a blogger it is crucial that I fulfill my own happiness first, rather than seeking the approval of others.
ModeSens: What is your favorite type of style? What do you normally enjoy buying the most? What is your preferred shopping method?
@FionaSunnyDay: I love trying new things and challenging myself. Therefore, I am really drawn to all different types and styles of fashion. I really like the variety that fashion has to offer and that's why I never hesitate to try new styles. Having your own personal style is great, but I love pushing myself to explore new styles and reinvent my look. As a blogger who only blogs for my own entertainment, it would get really boring for me if I didn't change or explore new styles. But if you're asking what I like to purchase the most… umm, that's got to be clothes? snacks? shoes? bags?... I guess that I just like to buy everything.
ANINE BING
Maureen Houndstooth Blazer in Multicolored
Click Product Image to Get Details
ModeSens: What is your favorite brand and designer? and why?
@FionaSunnyDay: I really like BALENCIAGA and ALEXANDER WANG. I love how both of their designs are avant-garde and not overly feminine. I also love, love CÉLINE's minimalist style. I particularly appreciate CÉLINE's apparel design. Their womenswear designs are simple, yet have their own unique creative twist in the silhouettes and the cut. Without further adieu, my favorite designers of course are Demna Gvasalia, Alexander Wang and Phoebe Philo (not the current one). In my opinion these three designers truly own their distinct style and they rarely get influenced by current trends. I love their attitude of being true to themselves, and I believe they are the designers other follows.
BALENCIAGA
Shearling Pouch
Click Product Image to Get Details
BALENCIAGA
Talon Slash Leather Ankle Boots in White
Click Product Image to Get Details
BALENCIAGA
Tweed Pointy Toe Half D'Orsay Pump in Black White
Click Product Image to Get Details
ModeSens: What is your favorite style and why?
@FionaSunnyDay: Although I really enjoy trying different styles, but my overall style is pretty minimal. I am drawn more toward designs that is not too over the top or feminine. Being a feminist, I believe everyone should live his or her own unique life and not let anyone define who they are. As a woman we can also be highly accomplished in "man roles" but still be sexy and ladylike. These are the styles I like, but I will never stop working hard for new improvements.
ModeSens: If you were to give yourself a #Hashtag, what would it be and why?
@FionaSunnyDay: The two hashtags I won't miss out on are #myfashiondiary and #streetstyle. These two hashtags target a broad spectrum of audience, which makes it demographically very well rounded.
ModeSens: Can you share with us your photo shooting tips? How do you truly express yourself during your shoots?
@FionaSunnyDay: I am more into sunglasses. Not because it is the best way to express myself, but it creates the best looks in photos. My tricks for blog shooting is to take as many photos as I can. Picking from eight hundreds photos you definitely have options.
BOYY
Boyy Fred Tote
Click Product Image to Get Details
TOTÊME
Toteme Taupe Wool Bellac Jacket in 802 Mole
Click Product Image to Get Details
ModeSens: What is your view on skin care and personal health management? Do you have any recommendations?
@FionaSunnyDay: I highly recommend the concealer from CLÉ DE PEAU BEAUTÉ. This is by far the best concealer I've ever used. Before discovering this concealer, I tried many different brands including M.A.C, BOBBI BROWN, CHANEL and MAKEUP FOREVER. The second I put on the CPB concealer, I knew this is it. I would not use any other concealer ever again. I am currently on my fourth tube of CPB concealer. You can tell I really love them, because I stock up at least two tubes at a time.
As for skincare, I pick them based on my age. Before 25, any skincare I used showed great improvements on my skin, therefore at that time it would be a waste of money to invest in luxury skincare products. Between the ages of 25-30, work has given me a better financial foundation to have the ability to try higher priced skincare products. After 30, I spend even more time and money on my skincare. LA MER is the brand I love using since I turned 30. On top of skincare, it is very important for me to take care of my health.
I used to not exercise much, but as my kids grow older I realized my strength level started to decrease. I couldn't carry them as I could before. I needed more muscles. Since July this year, I've been going to the gym. After I started working out I really see all the benefits in exercising and it is even hard for me to leave the gym. I am healthier, more confident and overall in a better mood. Being committed to exercising is something I never saw myself accomplishing. This really made me even more willing to take up challenges and not let my own imagination fear me anymore.
WE ARE LEONE
Star-Print Silk Maxi Jacket in Black
Click Product Image to Get Details
ModeSens: What is your first impression of ModeSens? What do you think sets ModeSens apart from other platforms?
@FionaSunnyDay: I really like ModeSens platform, from the page designs to the overall layout. I love the fashion immersive experience every time I land on ModeSens homepage. ModeSens fashion bloggers are great style inspirations. I really enjoy browsing through their feeds. I particularly enjoy reading about editors item selections as well. I add a lot of their picks to my collections. I also love the price comparison function as it really makes shopping much easier. The first thing I do when I see an item I like is to go on ModeSens to check the different offers they may have.
Compared to other platforms, I really like how fashion forward ModeSens is and most importantly the design/style choice is completely in line with mine.
In life we might subconsciously fall into a pattern of worrying over what other people think of us. You might be concerned about what your boss thinks, what your partner feels, what your kids think of you…. All of the things you worry about will later build up into anxiety. From our conversation with @FionaSunnyDay, we learned that it is not that you have given-up on yourself, but it is because you forgot to care for yourself. @FionaSunnyDay stands for the preservation of her own happiness and we could not agree with her more.
We are excited for many more ModeStars to share with us their fashion values. We know you are out there, so don't be shy. We sincerely look forward to learn about everyone's fashion experience.
We will be here waiting for you.
If you are passionate, positive, and have an opinion on fashion, you can be our next ModeStar!
ModeStar is an exciting fashion influencer program only on ModeSens, dedicated to discovering and enabling a new wave of fashion tastemakers and rallying them together to mutual expand each individual's influence in the fashion world.
Join the ModeStars program — become an official influencer partner with ModeSens
- Get original content opportunities with ModeStar. Earn a verified ModeStar Badge and become official influencer partners with ModeSens.
- Have opportunities to work with and gain exposure through all ModeSens platforms — homepage, original interviews, content & product exclusives, and more ongoing benefits.
- Connect with other ModeStars, cross-promote to grow audiences together. Enjoy feature opportunities on ModeSens' Instagram, Weibo and other social and digital platforms.
- Receive exclusive invitations to official events and parties by ModeSens or by partners, such new product announcement/try-on's, fashion weeks, and more.
-Gain access to exclusive tools such as publishing Blogs, Collections, affiliate programs and other advanced web and app features.
With so many exciting benefits, begin sharing your everyday style Moments on ModeSens to receive a select invitation to become the next ModeStar.
If apply for ModeStar, please contact bella@modesens.com. Final interpretation is owned by ModeSens.