New Suiting with Molly Bair
How to Tailor Your Sneakers To Your Two-Piece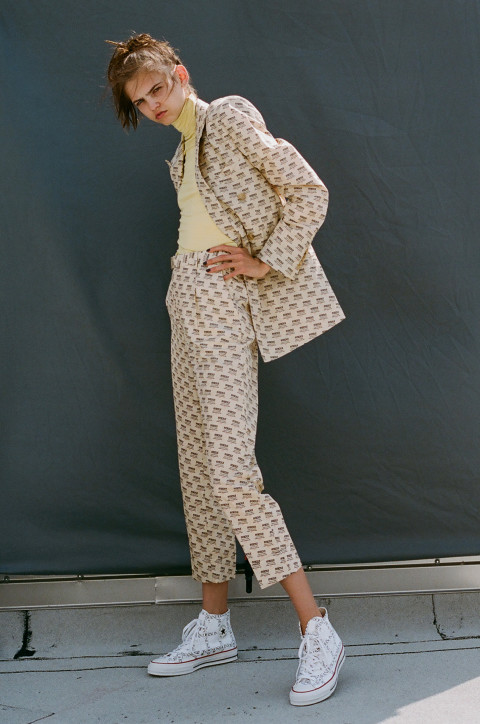 The old notions of power that a suit once represented are now dated. Today's CEO is dripped in athleisure, not a bespoke three-piece suit. Peter Lindbergh's famous 1990 photo of Linda Evangelista, Christy Turlington, and Naomi Campbell in Brooklyn, marching across a cobblestone street in orange, blue, and black suits, hair slicked. Model Giedre Dukauskaite in one of her staple oversized blazers styled expertly off-duty. Artist Ivy Haldeman's "Chartreuse Suit" painting of two synchronized, figureless skirt suits, bending in unison at the elbow. They all provoke the staid act of suiting up. When examined, a suit is a sum of its parts. Blazer, collared button-up shirt, tie, pleated trousers, belt. This combination of garments can signify many things: stature and wealth, joy, mourning, a willingness to conform, a desire to rebel. There's an authority gained when appropriating something once intended for powerful people. Frida Kahlo, after all, painted herself wearing one of Diego Rivera's suits the year that she divorced him, reclaiming its strength for herself.
In his latest editorial for SSENSE, photographer Felix Leblhuber, stylist Stella Deopito, and model Molly Bair show us how to dissect a suit. With sneakers, a turtleneck, or a blazer belted at the waist. It goes without saying that in 2018, the new power suit is whatever you want it to be.
This article is part of our Sneaker Week 2018. Click here for more.