No Time Zone: A-Cold-Wall*
Designer Samuel Ross Speaks About Urban Rebirth and a Designer's Duty in a Skype Transmission to Japan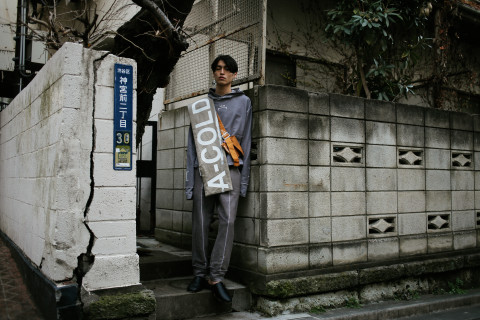 Samuel Ross is staking out fresh ground in the graphics-heavy world of streetwear. The 25-year-old designer and artist's brand A-Cold-Wall* is heady, celebrating the English working class, youth culture, and the elements of the urban environment often overlooked. Each piece is an architectural experience, a collision of cityscape textures. A t-shirt's construction can be asymmetrical with uneven dying, visible stitching, masking tape and graphics. Each one is slightly different. Its hybrid nature is what first caught my attention, and thanks to Ross' pedigree and versatility, it has a built-in desirability factor. The former right hand to Virgil Abloh is a fashion designer, a music-maker (check the sounds on his site), and he has just released a newly-minted line of concrete objects for the home. And he plays things his way, finding his own path through the fashion system. Sam and I first met around six months ago at an izakaya in Tokyo. Soon after, we hung out in an apartment in Paris—the secret location of his showroom—and by the time you read this we'll have celebrated his first presentation at London Fashion Week. This story was shot over a week's time between these three locations, including a couple of pieces from A-Cold-Wall*'s runway debut and some snaps Sam took himself of his beloved Londontown and crew.
Talking, texting, messaging... I think it's been a few hours' worth of tapping back and forth between many different cities. When we first started talking about working on this project, you immediately came up with focusing on geography. Why did you want to go that route?Do you think that we're losing this sense of geography and locations and identity? I feel like London and Tokyo are both cities undergoing transformation. I think Paris kind of stays a museum, but these other two cities that we feature in the shoot are really not nostalgic…
What appeals to me is there's such a harmony between A-Cold-Wall*'s references being linked into a geographic landscape. For example, the earlier compositions and ideas were literally based off wall palettes. So, instantly, you start out with this really small idea of, "I'm going to base these reference points on my geographic surroundings," but you quickly realize as you travel more and more that the housing estates and fabrications that we replicate in cloth, which start from concrete blocks and different shades of slate and tan, are actually quite inclusive of circumstances you find across the world. So, you'll always be able to find A-Cold-Wall* in different continents because of the fact that we live in a capitalist environment. You can go to any of these places, wherever they may be—Mexico, Paris, Japan, like you went to, or London—and you can find this capitalist structure, which means you will find a working class subculture.It kind of touches on gentrification and what that really means. What you tend to find is that more areas that represent a specific sense of class which may have been representative of a time just begin to change or emerge. So yeah, these cities do continually rebirth themselves, and not necessarily improve, but they do continue to rebirth. For example, Brixton was known as like a black hub of London that was like Harlem. I have loads of childhood memories of Brixton because my family are from there, so I spent a lot of time there as a kid. Now, it's been gentrified to such a point where it's no longer got as much of an Afro-Caribbean feel to it. That community exists—they've just been pushed further out. Cities are continuously evolving and developing. These areas tend to move around.
By the time people see this, you're going to have presented your first collection at London Fashion Week.What do you want the final takeaway of the experience to be, since you are coming from much a different point of view?
Which is insane, yeah. It's a lot to fathom, even on my end, because of course I did study design and worked as a product graphic designer. I did advertising for a few years before working with Virgil. To be accepted in the fashion context, it means a lot. It's somewhere where an eye for detail is obviously appreciated big time, and also your opinions. What I found with graphic design, specifically working in advertising, is that it's quite an old world, so people may say in conversation regarding fashion that fashion needs to speed up, things need to change. If you compare the graphic design and advertising industry, compared to fashion those two industries are completely archaic, so now joining the fashion industry in a more formal construct, it's a great feeling to know that more expressive and experimental ideas can be supported both commercially and independently.My job is to express a lot of information that's been misconstrued, or misunderstood, or that people don't know really exists. I'm almost re-introducing and celebrating a new phase of British culture that people just didn't know existed. I feel like it's my job to present these new ideas and push more radical ideas and extremes. A kid who has no education, if he was to push a similar idea, it might get shut down because he hasn't gone through the process of what it takes to go through an idea, whereas I have. So, it's my job to make sure that the purest form of what I know is expressed and represented appropriately. My job is really not to make people necessarily feel comfortable but to present a new way and a new idea of doing things. To push things forward, you know?
What are some of the highlights of the new collection for you?
In the presentation, I'll be debuting my Nike collab, an Air Force 1 High which I've completely deconstructed. A lot of people are having their own takes on Nike shoes right now, which is great, but my job once again as a designer is to slow down time a bit. I don't want it to be of the moment or trendy. I want it to be something that will age beautifully. It's almost like synthesizing conversations that I've had about what I feel I can bring to the table for them in terms of a smart sneaker. And by smart I mean something that's not just commercially viable, but something that people really want.