Only Available At SSENSE
Exclusives From Maison Margiela to Marine Serre Menswear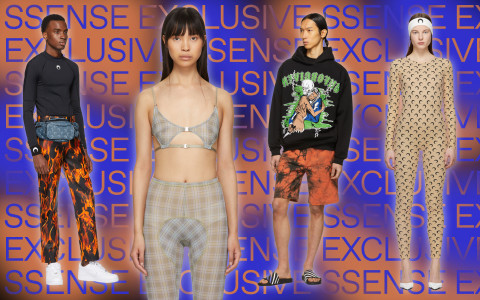 How do you stand out? Maybe the answer lies in the source, instead of the output. Today, we celebrate the items that can't be found elsewhere; re-upped from a previous season, produced in a rare colorway, or special-made just for us. Here's a round-up of just a few of our SSENSE Exclusives, items only available here.
Marine Serre SSENSE Exclusive Tan Moon Catsuit In 2017, Marine Serre received the LVMH Prize for Young Fashion Designers for her eponymous label's debut collection, "A Radical Call for Love." It was Serres's outlet for grappling with the recent terror attacks in Paris and Brussels at the time, and took cues from 90s sportswear, as well as 19th century Arab dress. The Islamic crescent moon was borrowed and transformed into a pattern, and, among the collection's preliminary offerings was a crescent-moon cat-suit—insignia of the Marine Serre ethos. Now central to her brand identity, the crescent-moon cat-suit is re-offered this season, exclusive to SSENSE.
Eckhaus Latta SSENSE Exclusive Grey "Keep That Date" Lapped Turtleneck Rihanna and Kanye West are known fans of DIY cult label, Come Tees. Spearheaded by Sonya Sombreuil, each piece is hand-printed and one-of-a-kind. Eckhaus Latta is a friend and collaborator, and has worked with Sombreuil to create a variety of garments over the years. Gauging the popularity of Eckhaus Latta turtlenecks with SSENSE shoppers, this season we secured a Eckhaus Latta x Come Tees t-shirt style in the form of a turtleneck, as one of our exclusive offerings.
Acne Studios SSENSE Exclusive Yellow and Multicolor Rockaway Sneakers The Rockaway sneaker is Acne Studios' take on the chunky sneaker. Amid the classic beiges, blacks and other styles of the same shoe available at other retailers, the SSENSE Exclusive offers two refreshing alternatives. A crisp, clean white iteration, as well as this one that's a little more colorful—seen here with accents in mustard, black, fuschia and teal.
Charlotte Knowles SSENSE Exclusive Beige Vyper Bra Sheer ruching, architectural cut-outs and tastefully muted color palettes are all central to the designs of Charlotte Knowles. The foundation to her collections is a lingerie-inspired homage—bringing sculpted bras and corsets to the fore. To celebrate the designer's intrinsic knack for reimagining the ways in which bodies can be revealed and concealed, SSENSE worked closely with the brand to differentiate its curation on several exclusive pieces: see the Vyper bra in this collection's seasonal fabric.
Warren Lotas SSENSE Exclusive Black Unforgiven Hoodie READYMADE, Fear of God, and now The Weeknd have collaborated with L.A.-based Warren Lotas to create graphic, pseudo-punk apparel. Sometimes a t-shirt feels better as a hoodie, which is what we requested this season with the SSENSE Exclusive Unforgiven motif.
Maison Margiela SSENSE Exclusive Red Leather Tabi Boots Margiela Tabis continue to occupy a quintessential space in closets across the world. Their comfort, clout, and classic silhouette simultaneously perpetuate their longevity, especially in an industry falling over itself to be the newest and fastest. This season, the Tabi is re-introduced in a classic "lipstick" red—a tease to the rumored SSENSE Exclusive capsule collection to come next season. Stay tuned.
Marine Serre SSENSE Exclusive Black Leather Flame Trousers Hot off the runway—literally—but in menswear sizes, these Marine Serre Black Leather Fire trousers offer an alternative definition to the term "lit." The trousers, among other items, symbolize an important moment in fashion—the debut of Marine Serre's menswear capsule collection, exclusive to SSENSE.