Our Fashion Director's Latest Picks from SSENSE
I, along with many of my friends and coworkers really love SSENSE. This ModeSens partner has a very vanguard vibe, with a great edit, and ordering online is super easy. I've selected four outfits from SSENSE for great early spring looks!
Look 1:
When commuting details are key.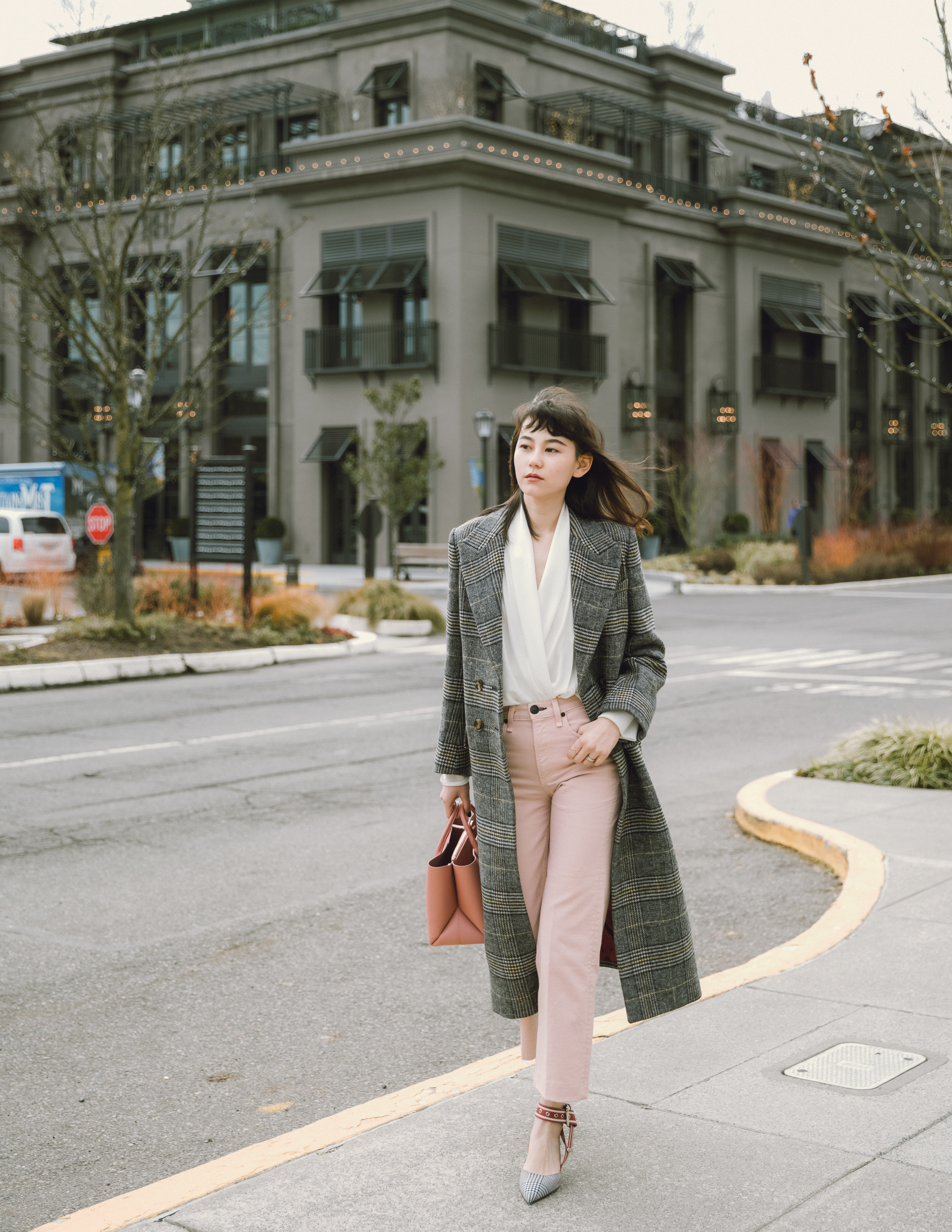 For going to the office, I love wearing collared blouses, especially ones with beautiful draping silk or satin. One of the bonuses of layering and heavy draping is that it gives the illusion of curves on top.
When picking out an outfit like this, you want to rely on the fine details, patterns and colors meshing together to bring a new level of elegance to the outfit. For example, the flesh toned trousers and handbag work together really well, and are accented even more by the salmon highlights on these pumps. Add a more muted color jacket, like this one by Alexa Chung with deep grey and fine yellow stripes.
I should mention waiting over 6 months for these shoes was totally worth it. You don't have to worry about incorporating large plaids and checks in a big way, with a little flair like these shoes, rocking this trending print is a breeze.
1 HAIDER ACKERMANN Front Drape Silk Blouse
2 MANSUR GAVRIEL Pink Mini Folded Bag
3 ALEXA CHUNG Black & Grey Wool Tweed Tailored Coat
4 RAG & BONE Pink Justine Trousers Recommend going down one size
5 MONSE Leather And Prince Of Wales Checked Twill Pumps Recommend going up a half size.
Similar picks
Glen Plaid Check coat
Blouse
Look 2
The perfect dress for wearing during the day at the office and going out the same evening.
KHAITE's NY based womenswear brand is a new discovery of mine recently. The reds the designer uses are exquisite, while the cut and form of the clothing is clean and elegant. Two weeks ago I purchased another one of her pieces, a red high waisted pair of cigarette trousers from the same line, and they are just as brilliant.
The hidden slit on this dress makes it convenient to wear on vacation for a bit of French elegance. Or you could wear it into the office with a more proper and formal vibe. For the office, add a collared blouse and some pumps. After work just add a drapey necklace and your favorite stilettos and you're good to go.
Early spring always has crazy temperature changes. For that reason I paired this outfit with an oversized khaki trench for the commute.
Versace's Empire bag is a classic and ModeSens brings together 25 different colorways of this bag throughout all of our partners' shops. I personally like the medium sized version for daily use.
1 VERSACE Palazzo Empire Shoulder Bag
The medium size is perfect for day to day, you can hang it from the shoulder or just tote it in hand. The volume is huge and the Medusa locks are so beautiful.
2 KHAITE Christy Button-Detailed Piqué Midi Dress
I found the sizing is on the bigger side. I typically wear a size 4 dress and this size 2 is still a little big.
3 KUHO Beige Funis Oversized Trench Coat
The fabric is super lightweight, with a very loose relaxed silhouette, and easy to fold for commuting.
5 Isabel Marant
6 ISABEL MARANT Gold & Ecru Band Bracelet
7 CHLOÉ Gold Darcey Round Double Pearl Cuff
Similar picks
Dress
Amber Button-Down Linen Midi Dress
Trench
Look 3:
For that long legged look, you gotta go all the way from the waist to the toes.
Often I'll have friends say that long and high waisted pants are only suitable for women who already have long legs, but I know that is not the case. Regardless if it's skinny jeans, suit trousers, or high waisted pants, there's always ways to make the legs look longer. The advantage of straight cut trousers is that your leg shape isn't readily visible, so bow legs, long, or short, they all look the same in these trousers. Bringing on the confidence, I paired these trousers with a pair of flat soled sneakers, even though I'd love to also try them with a pair of pumps to make me look even taller!
Pairing these pants with a deep-v, fine-striped cardigan also helps to extend the lines. Spring/Summer 2018 is all about buttons and other adornments all over the fabric, and pairing that with a statement necklace, like this black crystal piece, helps bring together the whole ensemble.
And I just love this "to go bag" clutch. You can find tons of colors and variations of this piece on ModeSens!
1 JACQUEMUS Brown 'Le Cardigan Tordu' Cardigan
2 SIMON MILLER White Bonsai 20 Leather Bucket Bag
3 ANN DEMEULEMEESTER Black Wool Trousers
4 Gucci
Similar Picks
High waisted trousers
Look 4:
Workwear is hot, hot, hot! And one of my favorite trends I want to explore more this spring.
Clothing is the most straightforward way to express your character, with emphasis on cut and color. I always find a plethora of unique styles on SSENSE.
These khaki parachute pants tighten at the ankle to taper the silhouette in just the right places. However they still have a loose vibe that is very flattening to the female figure.
In my daily wear, I'm all about color. Heron Preson's oversized bomber is super light, but weatherproof, very warm, and has orange and black reversible sides. My entire outfit is made up of taupe, khaki, and brown for a nice base of strong earth tones. With the pop of orange, it is just perfect.
1 TOTÊME Off-White Navais Turtleneck
2 3.1 PHILLIP LIM Tan Utility Cargo Trousers
3 HERON PRESTON Orange Heron Short Bomber Jacket
4 RAG & BONE Tan Boyfriend Belt
Similar Picks
Utility Pants
3.1 PHILLIP LIM Navy Utility Cargo Trousers

(Different color, same piece)
Flight Jacket