Poggy Speaks Through Style
The United Arrows & Sons Director and Street Style Star Looks To the Future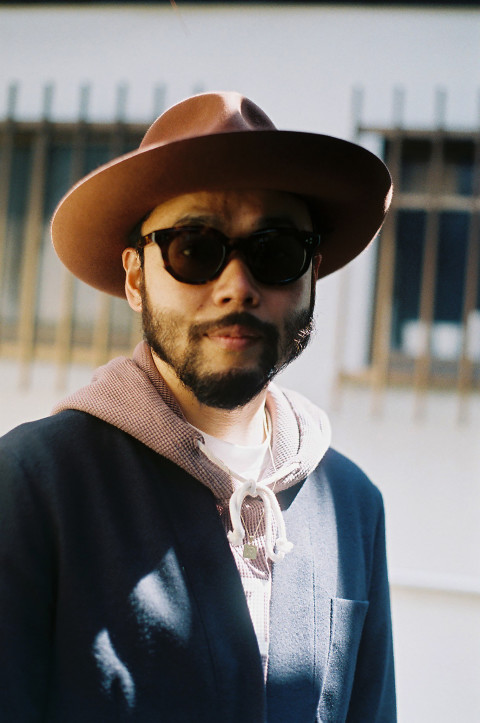 If style is a language, Motofumi "Poggy" Kogi is a human Rosetta Stone. His bold, idiosyncratic style blends cues from seemingly incompatible sources—a basketball jersey under a tailored suit with a wide-brimmed formal hat, for instance—and has made him a favorite of street style photographers at fashion weeks worldwide. His outfits suggest a deep cultural knowledge earned through earnest pursuit, drawing out hidden connections between distinct traditions of dress. For the past two decades, Poggy has used these instincts as a buyer for United Arrows & Sons, the menswear arm of United Arrows, one of Japan's most influential department store chains. Poggy began working for United Arrows in 1997, just as the first wave of Japanese streetwear was cresting with the sudden rise of the Ura-Harajuku scene and labels like A Bathing Ape, Hiroshi Fujiwara's Goodenough, and Undercover. He has grown into a guiding force in Japanese fashion.
Adam Wray met Poggy near United Arrows & Sons in Harajuku to discuss how A.I. might change retail, what makes a good collaboration, and how his musical tastes have influenced his personal style.
You travel a lot for your job. How important is it for you to be able to travel, both as a person and as a professional?We now have so much access to the rest of the world through our phones, too.With the rise of e-commerce, there are now way more brands that sell directly to their customers, without a middleman. Do you think that multi-brand retailers like United Arrows will continue to be important?You mentioned a collaboration with adidas—what do you think makes a good collaboration?
Every country has its own mindset. It's very important to me to learn about them, all of those different opinions, to remind myself that the things I believe are not everything. That helps me reflect on my life here in Tokyo. So, it's not really about my profession so much as it's about communication, and I'm able to do that through fashion.That's definitely a good thing. This collaboration we did with adidas that I'm wearing, before, it would have been very difficult to share globally, even though we really love the vision for it, because it was made only for the Japanese market. Now, we put it on Instagram, and we get so many calls from overseas. At the same time, people are doing really small stores and not making websites on purpose, because they want to chat with customers face-to-face. Without the internet, you don't get that reaction.Our business is going to shrink, probably. At the rate A.I. is improving, in five or 10 years, maybe we're going to lose our jobs. But in the meantime, it's really important to see faces. Even though A.I. might make us irrelevant, doing the job you like can still make you happy. If people are coming to the store, it means people are coming to you, so that's a very happy thing. Maybe eventually someone can turn my sensibilities into A.I. and make a new store using that. I'll sell my mind and then I won't have to go to work anymore. []So, in Japanese tradition, when you get married, we say , which means we are knotted together. It's a very, very important cultural thing for us. For example, if you go to a countryside shrine you might see a big, old tree with huge strings knotted around it—that's because people believe those knots contain the spirit of gods, . So, that might be a little exaggerated, but collaboration should be between friends with this same mindset. Nowadays, people say, "Hey, it's a collaboration," and it's just business.
"Even though A.I. might make us irrelevant, doing the job you like can still make you happy."
A lot of the fashion collaborations being produced these days reference older, nostalgic styles. Like, Vetements working with Juicy Couture. Do you think anyone is doing anything really new in fashion?In the west, Harajuku is often what we think of when we think of Japanese style. How has it changed since you started working at United Arrows?Can fashion be good for your life?
Maybe this doesn't exactly answer your question, but the younger generation wants cheap, vintage clothing, one-offs that are unique. They think if you buy Gucci, and people recognize it's the latest Gucci, that's embarrassing. It's like how people who work in the fashion industry used to buy a new Jil Sander piece but wait a year to wear it because people would recognize that it's Jil Sander's collection from this season. There are always moments to cross old and new. I'm really looking forward to seeing what kinds of designers will emerge from this generation.After the Lehman shock, Harajuku became surrounded by Forever 21 and H&M and that kind of fast fashion, so the sensibility changed. Then, after the earthquake in 2011, we felt like, "Oh my God, we're going to die, easily." So people's minds kind of changed. It's fun to enjoy new things every half-year, but at the same time, we're thinking, "What is good for your life?"If you've got a fever, you're not thinking about fashion. But after you recover, you start thinking, "Oh, maybe I should get a new Gosha Rubchinskiy sweatshirt." [] As soon as you recover! That's my nature.
You're from Sapporo—how did growing up there influence you?We were talking about collaboration earlier—I wonder if it's become such a popular working method because hip-hop now dominates popular culture. It's very collaborative in nature.
There's a club called Precious Hall in Sapporo, and a party called Body & Soul. It's a famous house music party. The sound system at Precious Hall was designed by David Mancuso, and the DJs from Body & Soul always have parties there. Not anywhere else. My elder friends often said that they have better sound than Tokyo clubs, because Sapporo is very cold, very dry. I'm not very good at music, but I'm influenced by it. The music I've listened to has always coordinated to my style. I used to listen to punk rock, so if I wear Dr. Martens, of course it's connected to that culture. You can say the same thing about Timberlands—I wear Timberlands because of my respect for hip-hopSampling.
"Even now, once in awhile, I pick out my outfits by taking my clothes out in the middle of the night and mixing them together."
MCs work with many different producers and feature on each other's songs. It's fundamentally different from rock music where you typically have a set band.Because of your job and your personal style, you're very recognizable. Do you ever get tired of being focused on or being photographed? Do you ever just want to wear plain t-shirt and jeans and blend in?
I'm thinking back to the roots of hip-hop culture, and Afrika Bambaataa. He was a member of a gang called the Black Spades, but he was fed up with fighting and wanted to bring people together with music and dance. So many are now focusing on the culture of African- Americans. So many designers are using hip-hop artists for their campaigns or visuals. I thought it was good at first, but it's become a little too much. If you think back to early hip-hop culture, it wasn't about what you wore, it's how you wore it. I thought it was kind of interesting that A$AP Rocky was wearing fake Fendi with real Fendi.Not really. I enjoy coordinating my closet, wearing basketball jerseys with tailored suits. Even now, once in awhile, I pick out my outfits by taking my clothes out in the middle of the night and mixing them together. I'm happy that my styles from own closet have been picked up by street style photographers and sent out to the world. I enjoy fashion, but of course sometimes I get tired. If I wasn't doing this job, maybe I would wear plain Uniqlo t-shirts and jeans. They're cheap, but the quality is good. Maybe I'd be happier. []