Rap's Fashion Fathers
A Look at the Early Aughts Breakthroughs of Sean John, Rocawear, and Phat Farm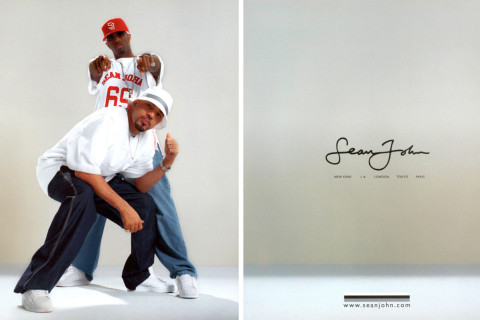 This is a story about fashion and about forgetting. About a world in which hashtags herald new idols before the old ones have ever even left the stage. This a story for an age when Yeezy seasons are the calendar for a generation of young fashion acolytes whose collective consciousness was just developing as the United States invaded Iraq—the second time. For them, the land before Ye is a haze of decontextualized references. In the years surrounding the turn of the millennium, a group of designers emerged to occupy a space in the industry that had once been denied them. Among the labels forgotten by the fashion establishment are Diddy's Sean John, Jay-Z and Damon Dash's Rocawear, and Russell Simmons' Phat Farm, whose presence in the industry proved that an identifiably black aesthetic could become part of the mainstream vernacular on its own terms.
In a 2002 article in The , fashion writing stalwart Guy Trebay visited Diddy as he prepared a $1.24 million dollar Sean John show. Describing how he showed up for the interview, Trebay wrote: "Mr. Combs wore a simple white T-shirt and baggy jeans, set off by a diamond-encrusted crucifix worthy of a Spanish infanta and a ring with a single round rock of bottle cap size." This would be a study in contrasts. Reporting on Diddy ringing the opening bell at the New York Stock Exchange, he wrote, "Some on hand remembered that the last time Mr. Combs appeared publicly downtown was to hear of his acquittal in criminal court on charges of carrying a concealed weapon in a nightclub." The success of Sean John impossible to ignore, Diddy was seen as a curious anomaly. He was an interloper who had capitalized on a chastened fashion industry in a post-9/11 America that sought entertainment to outrun the new reality of terrorist threats on national soil.
Trebay seemed unaware of the dangerous dichotomy he was concocting as he described Diddy's turn to tailoring for his new collection. Noting that it might have something to do with the "demise of Casual Friday," he suggested that, "it may result from a desire to sanitize the less salubrious parts of his past." Trebay misunderstood. What Diddy offered was the possibility that his man could be both—he could both have a past with "less salubrious parts" and be inspired by Savile Row suits.
The mid-90s and 00s saw a proliferation of labels run by rap impresarios-turned-designers that recast the look of a decade, not only establishing the foundation for the Kanyes that would follow but for the paradigm-shifting rise of streetwear. The commercial success of these brands, embraced by an America eager to turn away from grunge, was a force that even the fashion intelligentsia with their characteristically anachronistic treatises on taste couldn't scrub from the record. The perceptiveness of their vision lay in overcoming the conventions of fashion that equated class and dress. They did this while asserting black America not only as a multifaceted source of inspiration—as white designers have often done without admitting—but by putting it front and center.
The soft sheen of the velour tracksuits linked to these brands recalibrated the uniforms of power. Suits, the markers of corporate capital, became just an option rather than the standard. The dissolution of office dress codes, the rise of athleisure, and the luxe explorations of these motifs on which brands like Vetements have based their businesses must have found a crucial strand of their DNA here. Instead of a gaze turned towards European shores, from where fashion has long been thought to originate, these labels turned their sights inward, riffing not only on black culture but on the tropes of American sportswear.
Many Rocawear ads featured Jay-Z himself as the protagonist, inhabiting a panoply of roles—you have Jay at the opera and at a ski lodge, on safari, and in the club. The conceit is distilled into a single line from an early ad: "It's not where you're from, it's what you roc." Diddy did the same. Over the years, Sean John ads had him in helicopters and in penthouses, or staring directly at the camera pointing at the viewer. In one, his son replaces him at the head of a boardroom table in a Sean John Kids ad, his own take on the image of generational wealth that American sportswear labels like Ralph Lauren were built on. It was Russell Simmons though that most explicitly addressed the terms at stake with taglines that included "Classic American Flava" and "The New American Dream." Audiences also knew what was being negotiated here. In a 1994 article about the arrival of Simmons's Phat Farm store in SoHo, a 17-year-old from the Bronx, Melissa Gruenler, stated the proposition simply, "It's trying to make hip-hop look classic."
Fashion has always been about fantasy—or at least about a tacit understanding that your fantasies can be become momentary realities if you look the part. Faking it until you make it is one of the industry's foundational myths, and one of America's foundational myths, as well. The associations we wrap ourselves in don't exist isolated from one another. We shape ourselves into stars to join existing constellations. In designing clothing that spoke to markets ignored by the mainstream, Diddy, Dash, Jay, and now Kanye, crafted constellations of their own. These weren't attempts to reclaim youth or feign cool (frequent fashion obsessions), but to assert an agency that had been denied them. Kanye's larger project—his music, his designs, his monologues—however occluded at times, are a piecemeal dismantling of a double standard that prizes the products of black culture but rarely honors its producers. On in 2013, Kanye explained how troubling the dearth of black male designers at the end of Parisian runways was. Diddy agreed in a 2016 interview, drawing a line between Kanye's quest and his own: the desire to be heard. And yet fashion continues to mine black culture and conveniently forgets to footnote.
In this interview, Diddy, remembering the Ralph Lauren and Tom Ford references he was inspired by in the past, recounted a message he received from Kanye: "Look, you're all over my mood board!" As newer generations of designers scroll through Tumblr looking for their next season's inspirations, the accomplishments that Diddy and Jay wrought are being reinscribed into our clothing canon. It takes barely an eye half-opened to see their touch worldwide as young people discover and reinterpret those designs with the excitement of first contact. The Diddys and Jays are the Ralphs of today.