Reading Materials With Hanif Abdurraqib
The Writer, Poet, and Critic Shares His Literary Look at What's in the Bag feat. Ai, Lester Bangs, and Zora Neale Hurston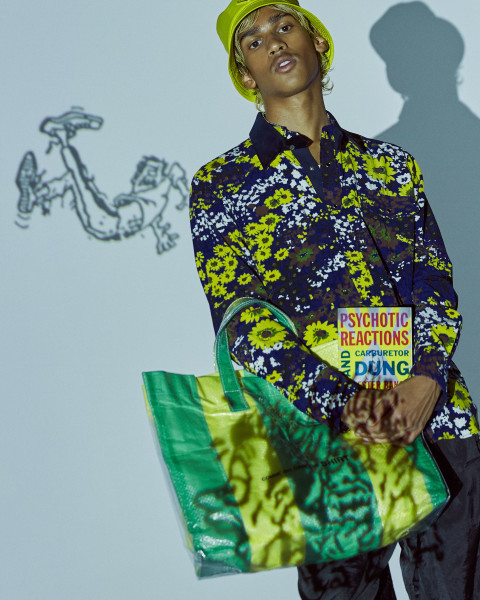 How impossible it is to list—with accuracy, certainty—one's favorites. Those albums that scored our adolescence, the movies that provided well-being and the prospect of different places or full-blown, rapturous first love. And those books, that at least for writers, for future poets and authors, made clear how the only way forward—write, write, write—is to . But there's an impossible joy, too, derived from reflecting on what originally compelled us; those books we return to, that remind us why we bother writing at all. Like that initial, totally chilling encounter with an author's voice. Her style. Her genius for the first line, or his commitment to his city. Or how his criticism was relentless. Legendary. Furious, too, and harshest when it came to his heroes. When a hero disappointments, it burns the worst, no?Here, writer, poet, and critic Hanif Abdurraqib shares eight of his favorite books, accompanied by an editorial styled by Romany Williams and photographed by Brent Goldsmith. A pink Comme des Garçons sweater—its puffed-out, "equipment" build—brings to mind Buzz Bissinger's American Tragedy: the unforgettable high school football team at the heart of Odessa, Texas. Or a busy but beautiful Sacai shirt: Lester Bangs' brash and rambling, gonzo-style prose. Or Molly Goddard, whose designs feel confessional. Like poetry.
by Lester Bangs
I learned to write about music in the way that I speak about music–as a fan first, with the assumption that the reader already knew the music that I was talking about. When I first started reading rap criticism, so much of it was bending towards explanation, when meant that it was catering towards people who didn't understand the culture. I learned to write against explanation by reading music writers like Bangs. He wrote about Van Morrison and The Clash as if I should know them already. Reading his dissections of music felt like sitting down at a table mid-conversation, and letting someone's passion build a mythology around their muse.It is important for me to remember, especially now, that criticism isn't an act which should be born out of a desire to take someone down. Criticism, at its best, is an act of care. To commit yourself to the close reading of some music, or some art, or some book, should be done out of some affection for an artist, even if you don't love the artist but still wish to see them reach their highest potential. I liked Bangs most in this book when he's directly challenging Lou Reed, an artist he loved. He spends so much time hammering away at Reed, because he's trying to get to the gold he knew was underneath. That's what criticism is to me. That's what it should be reaching for.
by Bebe Moore Campbell
There are black writers who, at some point in their career, have taken a story (or stories) of black death and attempted to make sense of the injustice attached to the grief or frustration. worked wonders for me as a young reader (about 14 years old when I read it) because of how delicately it treats death. The book begins with a black child's murder, but then spends the rest of its time showing how a single death impacts the people who have lives touched by it. The dead boy is not just the dead boy, but he is a dead boy with a mother who lost a son and then becomes fiercely committed to replenishing the empty space he left with another son. The dead boy was killed in the name of a white woman, who then lives an entire life through the book, oscillating between guilt and her own kind of grief. The dead boy was the son of a father who becomes drunk, and then sober, but never free of the trauma. This was the first book I saw that allowed death to echo–to really show how it weaves into the lives left behind.
by Ai
I came to poetry later than a lot of my other peers who write it–I didn't write my first poem until about 2011, misguided youth notwithstanding. Cruelty is a book of poems written entirely in persona, with the speaker taking on the voices of various characters engaged in cruel acts towards another person. I'm invested in the idea of persona work, only if the speaker grants the character some layering, or a type of mercy. I love, for example, the stinging sadness of "Disregard," a poem which closes: I press the gas pedal hard. I'll get back to the house, the dirt yard, the cesspool, to you out back, digging a well you could fill with your sweat, though there is not one reason I should want to. You never notice me until the end of the day, when your hand is on my knee and the ice cream, cooked to broth, is hot enough to burn the skin off my touch.
by Lloyd Alexander
Lloyd Alexander wrote this fantasy series of books, . sort of typical, young adult high fantasy stuff, five books released from 1964 to 1968. The books revolve around Taran, an ambitious but kind of fool-hearted young farmhand who grows up through the books to fight battles and become the king destined to save his land. It's a very "boys playing with swords" narrative, but I fell for it hard. I remember reading in my living room with snow piling up and Christmas lights from the neighbors coloring the white on the ground. It was the first book I recall not wanting to end. That's a feeling I get a lot now, but the first path I had towards that feeling was this book. is the last of the five, and it's also my favorite because of the memories I have attached to it. I got into these books when I was in fifth grade. We read the first one, , in one of my classes, and I asked my teacher for the rest. She gave me the other worn down and torn paperbacks, and I took them home with me on winter break. I'm not really much for reading serial books anymore, and I don't know when I fell out of love with that practice, so I revisited last year. I still felt a lot of love for each character. It still ached when I bent the final page and turned it.
by Buzz Bissinger
Before the book became a movie, and before the movie was the inspiration for a show, I made a roadtrip to Odessa, Texas as a 19 year old in 2003, because I had become enamored with this book, which is essentially a piece of rigorous, longform reporting. There was a perfect storm of American Tragedy in the 1988 Permian Panthers high school football season: a star running back endured a career-derailing injury, a quarterback was faltering under the weight of expectations as well as caring for his ailing mother, an oil town which had long lost its oil and now relied entirely on football to bring joy and a sense of unity to a place that had become overrun with racial and class divides.Bissinger approached both the people and the town with gentleness and honesty in equal measure. When the star running back, Boobie Miles, went down with injury and suffered the racism of the predominately white football supporters, Bissinger didn't soften the quotes. He worked to hold the town accountable for its language and ideals, simply by archiving what he was taking in. There are definitely flaws in the book, as there are flaws in any text where an outsider comes into a place and then takes on the task of articulating that place for the entire world to understand. But it can also be said that it takes an outside eye to truly see all of the corners of a place that people who have lived there forever can no longer see. Racism, classism, worship of sport above all can become so commonplace that a town doesn't understand what flaws sit in the mythology of football and apple pie Americana. I became so fascinated by Bissinger's portrayal of Odessa, Texas, that I drove two days to it myself, two years after I read the book. I didn't come away with any grand understanding of the place. It was 15 years after the book was written, and the town and the football team were both in different places. But I had to see it. I think that is what good reporting does: it tells you of a place that you have to set your feet on, just to be sure it's real.
by Zora Neale Hurston
For my money, there is no greater first line in all of literature than this one: "Ships at a distance have every man's wish on board. For some they come in with the tide. For others they sail forever on the horizon, never out of sight, never landing until the Watcher turns his eyes away in resignation, his dreams mocked to death by Time. That is the life of men."With Hurston, I was so enthralled by her use of language in the book. How some of the characters spoke as I heard language spoken in my own home. There wasn't any shame in the vernacular used, despite being pushed by her peers in the Harlem Renaissance to project blackness to an audience in a very specific way, writing about race in a manner which presented black people as struggling and downtrodden. At the time of the novel's publication, this was a reality in many places. But I love that Hurston refused to grant blackness a single lens. does its best to complicate the primary colors of emotion, and so joy is given equal ground as grief and hope is given equal ground as trauma. But beyond all of that, Janie Crawford is speaking to the reader through Hurston, with language that a black reader might find a home in. I absolutely did.
by Walter Dean Myers
Walter Dean Myers was the first black world builder I fell in love with. His work is lyrical and has a tight grasp on narrative flourishes, across several stories. But I always felt like his greatest asset was his ability to take a character and make that character come to life in a way that felt like it could be adjacent to somewhere or someone in your life. When I was working on my first book of poems, , the whole concept I was wrestling with revolved around one simple question: "How do I build a landscape that is distinctly my city, but make that familiar to anyone who might not be from here?" I went back and reread , a story about Lonnie Jackson, a talented basketball player who is trying to use basketball as a ticket to get out of Harlem, but keeps running into roadblocks along the way. Again, it's not a very unique narrative template, but Myers wrote in a way that made the central characters both vital but also perfunctory. Lonnie Jackson could have been the kids on my block who I watched practice hundreds of jumpshots all summer long, or Lonnie Jackson could have been the hustlers outside the corner stores in my neighborhood. Myers made Harlem feel like my corner of Columbus, Ohio, and I found myself thankful for that.
by Khadijah Queen
This is a book of poems, but the poems read more like small scenes, or vignettes. They all revolve around the author's interactions with men–some famous and some not–growing up in Los Angeles. The book is written without any punctuation, save for its usage of ampersands. This leads to a breathless quality in the book's pacing, but also creates an accumulation of the events, so that a reader feels like they are consuming one continuous story. I loved the book first because of that accumulation, and how the stories seem to become more horrific as they go along, but the point is/should be that every interaction was always its own measure of horrific. It's a tracing of masculinity and the power it assumes across a long and exhaustive timeline. The thread unravels and unravels, and at the end of it, there isn't any particular beauty or hope, but a small and powerful reclamation in the poem "Any Other Name," which acts as a postscript, with the lines: Khadijah means wife of the prophet. Nothing about my name is casual. Your mouth has to make an effort. You have to commit to all eight letters, all three syllables, no nickname. It means something.
The Crown Ain't Worth Much They Can't Kill Us Until They Kill Us,