TEN LAST-MINUTE GIFTS FOR MEN
Shared from MR-PORTER . Click here to read more
Small in size but not on style: thoughtful presents for the discerning gent in your life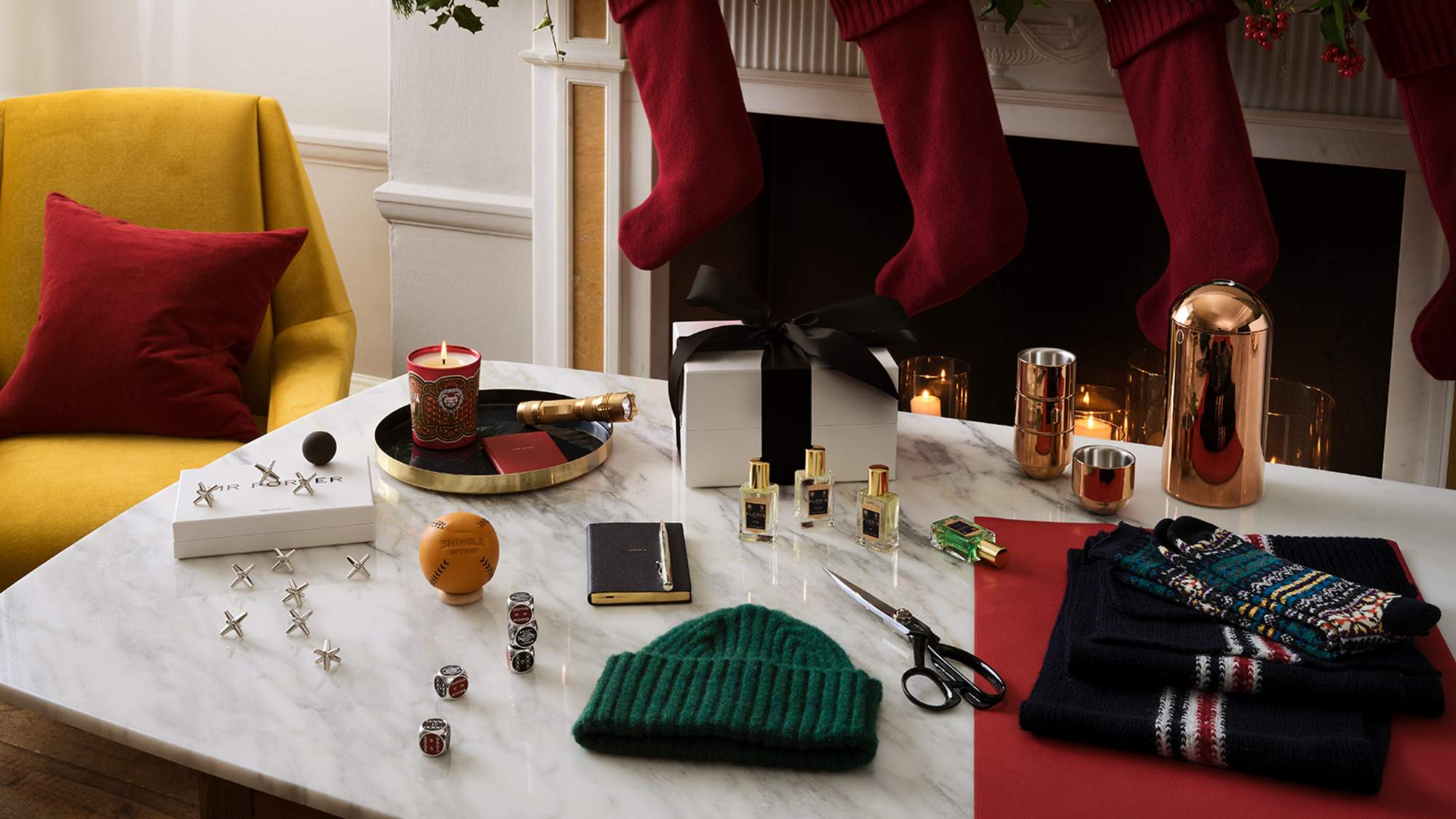 We're really in the thick of it now. There's not long left until the big day and, we suspect, a few of you might be in the throes of mild hysteria as you contemplate the long list of loved ones you've yet to check off your nice list. There's no need to panic, though. Most readers will have until 3.00pm today (GMT, to be precise) to get their MR PORTER orders in. OK, maybe you should panic a little. We've done the hard work for you and scoured our shelves to compose a list of the best stocking stuffers and last-minute gifting options that'll impress your nearest and dearest come Christmas morning. And if you're wondering how to go about said stuffing, read through our handy guide here.
Let's get the obvious out of the way, shall we? Socks are a prerequisite in any stocking (it is, after all, a very large sock). But the problem with giving a novelty pair as a gift is that they're essentially useless the rest of the year. No one wants to walk around mid-July in a pair of woollens emblazoned with a ruddy-faced Santa Claus. Merrily, this option from Japanese brand Anonymous Ism is appropriately festive, but still acceptable to wear in public after 25 December.
All that fun and frivolity really takes its toll during the festive season. And it doesn't end there: Boxing Day's hangover is likely to extend into January and by the time we get back to our desks after ringing in the new year, most of us will be feeling a little rough around the edges. So, get them something that'll remedy the pain somewhat. Armand Diradourian's impossibly soft cashmere and silk eye mask does the trick. Especially if the recipient in question has travelled far and wide to spend the holidays with you – they'll be thankful for an uninterrupted snooze on their journey back to the daily grind.
Stowing a couple of grooming treats in a stocking is wise – who doesn't want to look, smell and feel their best during the holidays? And since asking what his skin type is in the run up to the big day is likely to give away your intentions, a hand cream is a safe bet. Plus, it makes a much nicer addition to a desk or bathroom cabinet than those pre-packaged sets that seem to infiltrate the shelves of every store at this time of year. Haeckels' formula is one of our current favourites – it's packed with natural buckthorn, geranium and sea lavender.
Tradition dictates that a stocking's toe is stuffed with an orange and we're nothing if not sticklers for tradition at this time of year. Alas, our buyers have yet to be persuaded to add groceries to the MR PORTER product range, so we'll make do with a subtle nod to the custom. London Undercover's tangerine-toned umbrella is a suitable (and infinitely more stylish) alternative that will give your stocking some much-needed structural integrity.
By the time the big day rolls around, chances are your nearest and dearest will be rather sick of all the Christmas tunes they've heard on repeat while traipsing around department stores and shopping malls. Let them pick the playlist with Bang & Olufsen's BeoPlay A1 Bluetooth speaker as consolation. The compact device fits in the palm of your hand so it's a handy companion to take to the New Year's Eve party or, when the sun eventually decides to make an appearance around April, walks in the park.
Shared from MR-PORTER . Click here to read more