That's So Rhude: Meet Rhuigi Villaseñor
The Menswear Designer on Growing Up in L.A, Diane Keaton, & What Luxury Looks Like Now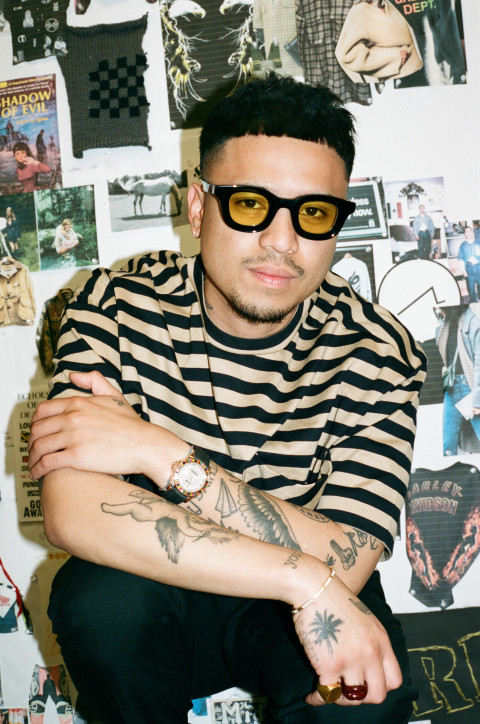 In the course of our conversation, Rhuigi Villaseñor, creative director of Los Angeles-based streetwear brand Rhude, manages to reference , Mary Kate and Ashley, and The Backstreet Boys. Confident, mischievous, flirting with life, Rhuigi possesses a youthful conviction, probably because he is young—he was on 2019's Forbes 30-Under-30, and the Soho House (of which he is a member) inaugural 27-Under-27 list. With a business brain, a vintage watch collection, and enthusiasm for gentlemanly elegance, he jokes about being an old man, but he remains playful and energetic in his approach to design. Having immigrated to Los Angeles from the Philippines (via Hong Kong, Saudi Arabia, and Thailand) as a little boy, Rhuigi became both infatuated with Americana and fearful he would be caught between cultures. That anxiety has propelled him into developing a sensual approach to creative expression, and an obsessive hunger for technical mastery: "I have this fear of not understanding something, so I do the most research I can to be acquainted and eloquent." And eloquent he was, when we sat down to discuss his brand, and the city he now calls home, Los Angeles.
Tell me about how you came to Los Angeles. What year was it?What neighborhood did you grow up in?Did you play basketball when you were a kid?
I moved to L.A. at the tender age of nine. I didn't speak English at the time. I can still remember the smell of America when I landed. 2001. To me, L.A. has been the soil to my tree of life. I learned how to speak English here, I developed my aesthetics through the culture.I grew up in Winnetka. It's in the Valley. I still coach a little kids' basketball team there, when I have time.Actually, basketball is one of the things that taught me how to speak English. I would watch Kobe Bryant and Allen Iverson, I would watch their swagger, how they spoke after the game. That, to me, was a way to understand American culture. And that was during the time of the Lakers' dynasty.
Who was your favorite player back then?It seems like growing up in L.A. really formed your sense of style.It's funny how older things, that have a story, are so much more valuable. They're invaluable.When did you get it in your head that you wanted to be a designer?It seems like it.Did you have anyone in the fashion industry as a role model or mentor at that time?
Kobe Bryant forever. I was a chubby kid, so Kobe Bryant, I was like, "I can get there." And then Allen Iverson, he wore the sleeve. I tried putting it on my arm, and I just looked like a Italian sausage. It didn't really work out for me.Totally. I grew up in a humble neighborhood, and I think a lot of my design knowledge has been rooted in not having much. Finding vintage Versace, or vintage Jil Sander was a way for me to educate myself on the quality of garments.Absolutely. That, to me, is new luxury. It's finding that perfect vintage t-shirt, or vintage Levi's. You can't replicate that feeling.I've been trying to figure that out. I wish I could go , and just speed back in time to when I built up the passion for it. I think it's a compilation of travelling with my family and watching my mother make our clothes, our costumes. By the time I decided that I was going to make clothes, the recession had hit, and my family was down more than ever. We had to downsize. It was designing out of necessity, rather than pure passion. I took the risk, and the risk rewarded me.At first I was studying Art History at a community college. When I moved to America, I was always afraid that I wouldn't be good at any language. Like, I left my country too early to understand the language at its best, and I came to America with very little understanding of the language. So much of my fear is based in being uneducated.It was the rise of this vintage culture, and Taz Arnold was a big mentor for understanding that you can mix street with high-end. Like Polo with Benetton t-shirts, and then Levi's and Gucci loafers.
Can you think back to the first collection you designed? What did it look like? What did you want to say?What were you hoping to convey with the collection you designed for Soho House?How do you feel about being attached to the word "streetwear"?I guess, yeah."Uniformal" sounds like a play-on-words. Like, a formal uniform.
I was sewing it in the living room. I remember Matthew Henson was one of my first supporters, who now styles A$AP Rocky and The Weeknd. He ordered this jacket and I was like, "Jesus Christ, I've got to make this." So I made it, overnight, to ship to New York. I was using what I had, and seeing that as luxury. Like these gel sandals that I got from Payless are as high fashion as like, Prada sandals. It was Margiela-esque, using the material that you have, and reworking it.I wanted to make our greatest hits. But more so I wanted to create products essential to someone staying in the hotel—clothes you would want to sleep in, walk out in, and spend the day in. We have this blanket that says, "I'm not going home."I think the labeling of things is very passé now. "Streetwear" is rooted in the idea that it's like, what? Being worn in the streets?I don't want to say my clothes are not to be taken seriously, but I think it's not too stiff. There's a "uniformal" approach to it. I grew up wearing uniforms, but I love the way men look when they look sharp. How do we move it forward? It's like using a really, really fine silk, and then washing it and treating it like it was a beat up t-shirt. It's an oxymoronic way of designing.Yeah. Uniformal. Yeah, I like that. I just made that up, huh? It sounded so fluid, too. Must be the Nespresso.
I saw a photo of you with Diane Keaton.And he was like, "That's Annie Hall!"She's legendary.It might be Diane Keaton.What are some of your favorite things to do in L.A.?If you were going to go on a long drive to clear your head, where would you go?
Oh my god. This has to be one of the best moments. I was at the Rodarte show and we were walking down and Diane comes up to me. She's like, "I love your work, I love your jacket. I just wanted to say, I'm a big fan." I turned to one of my friends and I was like, "Who is this lady?"He was like, "Bro, are you kidding me right now?" After, I had to apologize. Then she was like, actually trying to get the jacket that I was wearing, off my back. Have you seen how chic Diane Keaton is? Like, wow.This lady is like, style. She's not even here. She's in the year whatever-it-is. Now that we're making womenswear, we've been asking ourselves, who is the girl?It would be very powerful for me to shoot Diane Keaton in a campaign.Watch movies. Cook at home. I go to a few shops to buy furniture and pottery and different objects. And then I go to Soho House every Sunday. And now it's going to be closer to my work, with the Warehouse opening downtown.Sometimes I skip the freeway, and hop on Ventura and drive down. That's actually the first thing I did when I landed. It's a nice drive, it's calm.
What's your favorite corny tourist landmark?For sure.What makes Rhude an L.A. brand?What advice would you give to younger designers trying to start their own brand?
I love the mall. What is our modern day architectural wonder? It's the mall. Mall of America, or the Westfield Topanga Mall. I have such a closeness to it. I used to walk around with my mother, holding her hand, and then she'd buy me lunch. When you wanted to take a girl on a date, you'd go to the mall. When you wanted to meet up with friends, you go to the mall.It's a dying thing. But it's America's Colosseum. Looking for something to do in L.A.? Go to the mall. Or enjoy a taco. Like, go the taco stand. Now you got $12 tacos. What are we doing here?We use the California sun when we treat our t-shirts, and I love sitting in traffic.All the time kids ask me this, and I think the answer I always give them is: get off your phone and get to it.
SSENSE. Editorial Magazine.