The Business of Womanhood Featuring Rosetta Getty
The Designer Reflects On Her Love of L.A. and Her Favorite Female Artists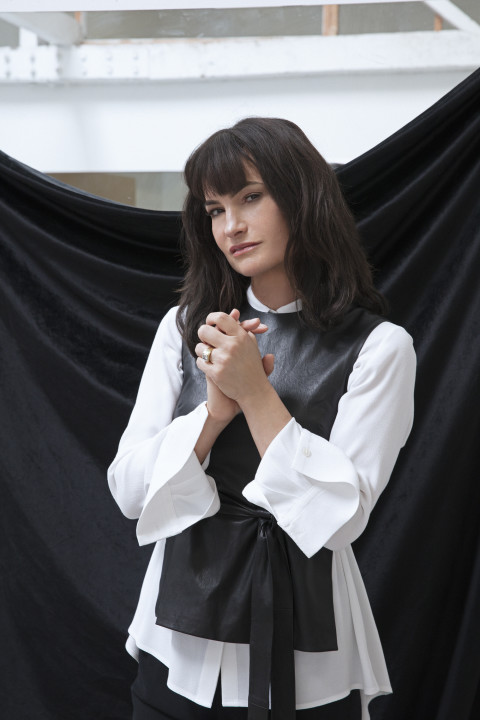 Rosetta Getty's penchant for female painters, female art dealers, female art directors, female sculptors, and female gallerists paints a purpose as clear as crystal. She is a very calm and soft-spoken woman, but also pleasantly trite in her views. The kind of person who speaks softly, not for fear of what she knows, but because it rouses others to make an effort to .
Walking into her home, I was surprised that it was right off Sunset Boulevard, but then immediately understood why the front door was positioned toward the back of the house. I approached the gate, stated my business, and watched as it slowly swung. It seemed like any other Hollywood Hills estate, but as I made my way past the matte black Porsche Carrera I took a moment to take it all in. One, it dawned on me that, actually, all the cars were matte black and two, that I was about to interview a Getty.
I imagined her differently. In my rendition of Rosetta Getty, she would be Meryl Streep, I would be Anne Hathaway, and while I did play my part to the T, there is something about the in-real-life Rosetta Getty that is not intimidating but instead, reassuring. With my phone on 2%, sweating through my knit wool Prada pants, Getty appeared suddenly, neither amused or disrupted by my disarray. All of a sudden there was a charger in my hand and on a tray, hot coffee, and cold tea. Our 20-minute session stretched to an hour, it was a relief to sink into the sofa discussing art, fashion, and the like.
Being Los Angeles natives, there was much prattle about how the city is finally beginning to find its footing. We talked about the women of Sprueth Magers and how important their vision is to art as well as other up-and-coming galleries in the city like Club Pro, Karma International, and House of Gaga. "A lot of great things are happening here." It was not until a week after the interview that I realized each artwork she chose to discuss was created by a female artist. This prose would not be a coincidence. As the designer of her namesake label, Rosetta Getty, the subtle strength of her character is well dictated throughout her approach to fashion. Before landing here, at her current line, Getty had two fashion brands—each short-lived—but important to the designer she has grown to become. Her designs elude the sleight of hand that can bring a woman's silhouette from day to night the same way a woman's work is never done—from night to day. It is born of a minimalism so deeply studied that she can define it in many ways. This sense of discernment touches all areas of her womanhood, but nowhere more profoundly than her art collection.
ALICJA KWADE
"I'm very interested in all the places where art and fashion collide. For example, the collaborations I have done with artists like Alicja Kwade. Her minimal approach to sculpture and simple abstraction of reality aligned perfectly with the vision I have for the clothing I make. Art collectives like DIS are also very inspiring because they don't see a separation between art and fashion. Today designers and artists have very similar processes; the 20th-century caricature of designers themselves cutting and sewing on their hands and knees isn't really a real thing anymore. If not for design, I would have probably gone into architecture. It seems normal to me that you would pay attention to lines and shapes; to see something, but not in the same way everyone else would. I take it into consideration all the time and more so as I get older."
TRISHA BROWN
"There are moments when you want to be more sexy and expressive. Trisha Brown was a pioneer of post-modern dance along with Yvonne Rainer and Lucinda Childs. For my Spring 2016 collection, I studied Trisha Brown, her persona, and body of work. I focused on creating clothing so agile that dancers could wear them on stage. Movement is important. Women have spent so much time conforming to these uniforms that are so uncomfortable, we are only just now beginning to look at shoes as something that needs to support women, not stifle them."
CHANTAL JOFFE
"She takes fashion into consideration with a lot of her work. One of her paintings, , of her and her daughter, really spoke to me. I was moved by that painting and its depiction of her life, my life, and how she paints about it. This particular piece reminds me a lot of something I would do. It's got these lines that are not overly sexual, but a peek of sexuality. My designs are pretty good at being balanced about either showing what you've got or concealing that which you do not want seen. She also has a great sense of color that I gain a lot of inspiration from."
CHANTAL AKERMAN
"Her movies were incredible. She really took you through the lives of average women when no one really cared about the intricacies of our day-to-day. One film titled follows a woman who is not a housewife but a woman caring for her child. The film goes on for about four hours, very, very slowly, throughout her entire day. She's making meatloaf and that scene alone is 20 minutes. You're really immersed in the reality of her experience, feeling what it would be like to live that life. There's another film of hers that is more autobiographical and also very slow paced. It is about a female director who is returning home to Belgium to attend an exhibition of her work. All the moments throughout the day are presented in real time. It's unfortunate we never got to experience the full blossom of her genius."
BETTY PARSONS
"She was a pioneering artist, art dealer, and collector of the early 20th century. She had this brilliant art gallery and represented genius artists like Jackson Pollock, Robert Motherwell, Clyfford Still, and a few others from the abstract expressionist movement. She worked to ensure they got the careers they deserved, but her life had many chapters. I discovered her while doing research for my second collection. She had incredible personal style and is the perfect example of the woman I design for."
Novembre, 032c, and more.