The Coolest Color of the Moment, Styled 3 Ways
The Coolest Color of the Moment, Styled 3 Ways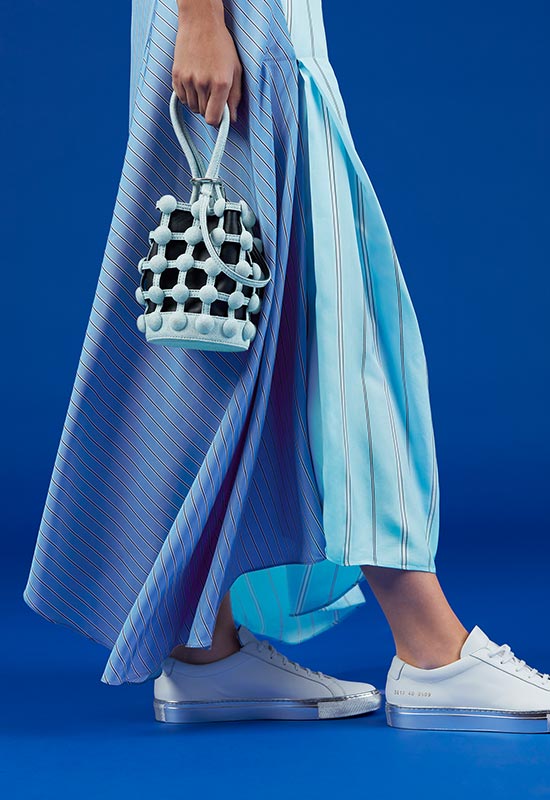 Shared from INTERMIX. Click to Read More
If you're like us, you may or may not build your outfits loosely based on your iPhone's weather app. 45° and rainy? A sleek turtleneck layered underneath a dress and tights fits the bill. 32° with snow showers? Cashmere, denim—and lots of it. That all said, it should come as no surprise that we're currently obsessed with all things wintery, icy blue. From ethereal silk skirts to crisp, borrowed-from-the-boys (but better) shirting from British brand Palmer Harding, we have a hard time picturing an occasion where we wouldn't wear this color. And you heard it here first: This is the color of the season.
Dressed up
There's a reason it was Cinderella's signature color. After all, nothing evokes classic elegance like pale periwinkle; We love it in the form of this romantic off-the-shoulder dress by Adeam.
Destination: Everywhere
Some pieces were simply made for getaways and indulging wanderlust—look no further than this recent pic from our Instagram for proof. Pair this Alice McCall cold-shoulder halter with crisp white shorts or a wrap mini skirt like this exclusive style by Derek Lam 10 Crosby.
Weekend cool
Stay laid-back and luxe with a cozy, voluminous alpaca knit with a chic blouson sleeve. This exclusive 3.1 Phillip Lim piece pairs perfectly with jeans, a velvet mini or a luxe track pant.