The dream of fashion always beats Love and faith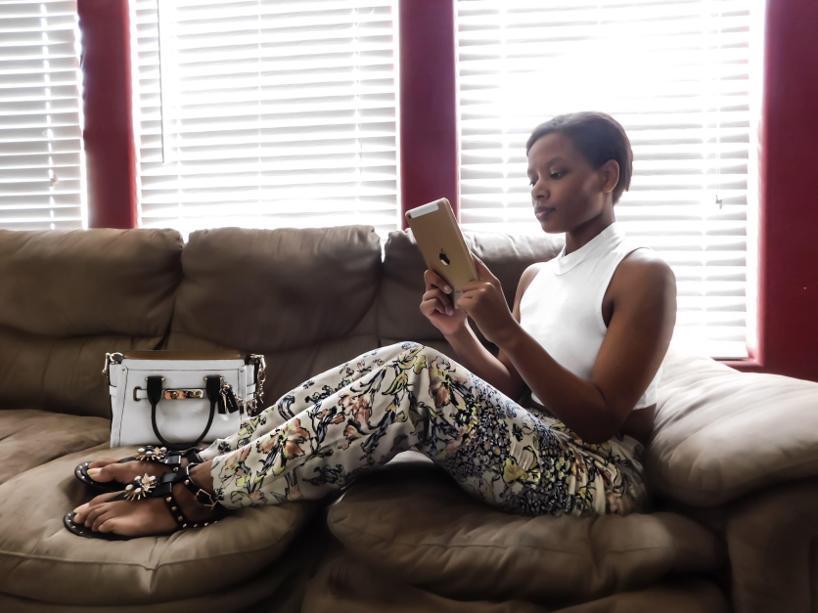 (click picture to enter @thedailyjonesedit wardrobe)
In this interview, we talk to a fellow US-based ModeStar, @thedailyjonesedit, on her aspiration and determination to have her own seat at the table in the ever-changing fashion world. Learn about her view on fashion below.
COACH
​Backpack Bag
ModeStar Q&A
​ModeSens:When did you fall in love with fashion? What has fashion brought to your life?
@thedailyjonesedit :I fell in love with fashion at the age of 17. It just hit me one day. I love how fashion thrives on creativity and it's what you make of it. It has enabled me to express my sense of style, who I am and it brings nothing but happiness in my life.

COACH
Bandana Rivets Market Tote In Pebble Leather
ModeSens : What is your ideal lifestyle?
@thedailyjonesedit :My ideal lifestyle is meeting up with good friends at the best hangouts, wandering around downtown seeking new thrills, and exploring the wonders life has to offer.
COACH
Coach Swagger Carryall In Nubuck Pebble Leather
ModeSens:As a seasoned fashionista, what do you like to purchase for yourself?
@thedailyjonesedit : I love shopping and spending money so when I do, I like to treat myself to a new pair of shoes whether it be sandals, wedges-you name it! Each season brings new styles and colors that last a lifetime so naturally it's a must for me. And you can never have too many shoes!

SALVATORE FERRAGAMO
Varina Laser-Cut Leather Flat, Macadamia
ModeSens:What does great fashion look like to you?
@thedailyjonesedit :Good fashion is effortless, chic, glamorous, sophisticated and refined. It's being able to combine separate pieces into one cohesive look that turns heads. And if you can do that, you have good taste
IVY KIRZHNER
Ivy Kirzhner Stellar Leather Sandal'
ModeSens:What is your favorite brand? Do you have a favorite designer?
@thedailyjonesedit : I love so many brands, it's hard to choose! But if I had to pick just one...Stuart Weitzman. He knows how to make a GOOD shoe! As for my favorite designer…I really admire Olivier Rousteing of Balmain. His aesthetic is absolutely beautiful and he never disappoints.
COACH
Coach Swagger 27 In Colorblock Leather
ModeSens:What is your personal style? Do you like to chase the trends or create your own style?
@thedailyjonesedit : I'd like to think of my style as uniquely chic and fashion forward but I do like to implement trends in my wardrobe, too. But only trends I like, not all of them all the time.
ModeSens:What do you like to do in your spare time?
@thedailyjonesedit : Sometimes I do so much in a day I forget to take a break from it all so when I do, I unwind by grabbing a drink from Starbucks and go for a walk. Or I'll sketch at home.
ModeSens: What fashion events are you interested in right now?
@thedailyjonesedit :I'm into any fashion event, really. I read up on all the posh parties thrown by designers for the unveiling of their collections/collaborations, the runway shows-I love it all!
ModeSens: What was your first impression of ModeSens? How is it different from other platforms?
@thedailyjonesedit : When I first perused ModeSens online, I thought 'this is a great site!' I'm all about luxury brands and it's nice to know there's a site available that links to all the brands I love. It makes online shopping easier by providing consumers the ability to search a product and see which sites carry it on one page, versus searching in Google and going from site to site!
Watch this space for more exciting content from@thedailyjonesedit
If you are passionate, positive, and have an opinion on fashion, YOU can be our next ModeStar!
Become a ModeStar, ignite the "M" symbol:
1.Receive ModeSens long-term recommendation, become a fashion icon
2.Earn commission by posting ModeSens"Moments"and sharing ModeSens links*.
3.Invitation to ModeStar Club fashion events
How to get involved**:
1.Post at least 20 "Moments" on ModeSens
2.Reach 100+ followers on ModeSens with your account
* After a user clicks on the product in your "Moments" or the link you shared, you will earn commission from all purchases he/she makes at our partner merchants within 15-30 days.
** Once you have fulfilled the requirements above, please email bella@modesens.com to apply to become a ModeStar. (ModeSens reserves the right to update the detail and terms without notice.)