The Epic of Donatella
An Interview with Versace's Creative Director about Loss, Addiction, and the Power of Blonde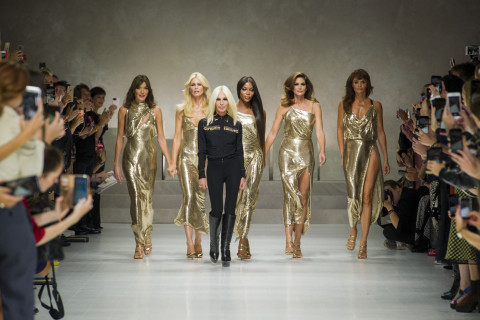 "To be blonde means to be caressed by the sun, and to be your own sun," Donatella Versace remembers about discovering her signature platinum-haired look at the age of 12. Since that time, Versace—both the woman herself and the fashion house founded by her late brother, Gianni—has come to embody a hedonistic idea of luxury so iconic and enduring that it can no longer even be called . This past year marked the 20th anniversary of Gianni Versace's murder, a date widely publicized by a television series on the event that was unauthorized by the Versace family. But 2017 also marked the year in which Donatella surpassed her brother as Versace's longest serving creative director. The story of her reign, which she shared in conversation with Michael Ebert and Sven Michaelsen, is one that resembles the mythological provenance of her house's Medusa emblem more than it does real life.
What do you remember about July 15, 1997?What was your first thought?A member of the family had to identify the corpse, so you took a private jet to Miami a few hours later.There is no convincing evidence that the killer knew your brother. What do you suspect was his motive?
I was in Rome with my two children preparing a fashion show on the Spanish Steps. Suddenly my brother Santo shouted, "Stop right away! Gianni had an accident!" I was given the phone number of a hospital in Miami. When I reached the doctor in charge, I asked how my brother was doing. The voice on the phone said, "I'm very sorry, your brother died three minutes ago." The world stood still.My children! I have to go to them! It was agreed that they would watch a cartoon on TV at the hotel. When I stormed into their room a few minutes later, I saw that they had suffered a shock. The cartoon had been interrupted because of a special broadcast, and they had seen their uncle lying in his blood. Every life contains an event that redefines one's outlook. After that, everything is different, and the past fades. My brother's murder was that event for my children and me.The sight of my dead brother haunts me to this day. One bullet hit his neck, the other his face. After identification, I drove to Gianni's villa on Ocean Drive. Madonna was waiting for me inside. I will never forget that she was trying to comfort me during these hours. There were FBI agents everywhere in the house. They interrogated each of us and opened all the drawers, a nightmare. My brother had just been murdered, and we were being treated like suspects. But that's probably what FBI agents have to do.The man was a psychopath, a monster. His parents have said that he had a pathological, extreme desire for status from an early age. He thought murdering Gianni would make him world famous and immortal. The day before he had tried to buy a t-shirt in a shop. He came up short at the register, so he told the saleswoman, "Give me the shirt cheaper. You won't regret it, because I will be a celebrity tomorrow." Gianni was not supposed to be his last victim. The police found a list of names of celebrities among his belongings. Some of the names had been ticked. They were on his murder agenda for the next few weeks.
The two years before your brother's death were the bitterest of his life. He had cancer in his left inner ear and thought he was going to die. You were the company's secret number one at that time.Your brother left a glaringly unfair will. Your then 11-year-old daughter Allegra inherited 50 percent of the company, your brother Santo 30 percent, you 20 percent. Your son Daniel was to inherit the art collection.Did you know about your brother's plans for Allegra before his murder?You were named creative director of the company after the funeral service for your brother. If you could give the Donatella Versace of that time advice, what would it be?
Gianni was depressed and hid from the public, because his face was heavily swollen. I visited him several times a day to get his opinion. When I finally got home late at night, he would often call me three or four times to discuss business. When I groaned, "Gianni, we just talked on the phone!", he said, "So what?" It was only after his death that I understood that he was giving me lessons and wanted to test if I could bear the burden of being his successor. Half a year before his death, he told me that a miracle had happened, that the doctors had confirmed that there were no more cancerous cells in his body. What a mockery that he was murdered a few months later.The will was crazy, but all creatives are crazy. Gianni idolized my daughter and always called her "my little princess," but he put a tremendous burden on her with his will. Making headlines at the age of 11—I wouldn't wish that on any child.Yes. When Gianni wanted to draw up his will, he asked me to accompany him to the notary. By giving half of Versace to my daughter, he forced me to take responsibility for the company until she came of age. Without this trick in the will, I might have left the company after his death.Take three months off. Meet no one. Trust only your inner voice. Develop a plan for the first year. And, most importantly, never try to be like Gianni! I did the opposite. The more advisors I let into my life, the more insecure and lost I felt. I have almost no memories of the first four months after Gianni's death. I crawled around in a tunnel of loneliness and pain. Then, every week, men in suits came to me and said, "Sell us the business. None of your family will ever have to work again." What these people were saying scared me because my brother would not have wanted me to sell a single office chair. To him the company was family, and you don't sell family.
Instead of letting yourself have these feelings, you snorted cocaine for 18 years.In 2007, you told a journalist about a recurring nightmare you were having: You're putting the finishing touches on a collection a few minutes before the start of a fashion show, and suddenly your brother is standing there, making a scene.In his memoirs, the actor Rupert Everett describes a spooky New Year's Eve party that you threw in your dead brother's villa in Miami in 1999. Guests included Madonna, Guy Ritchie, Gwyneth Paltrow and Jennifer Lopez. Describing your state of mind, Everett writes: "Donatella was clouded by tragedy that night. It curled around her in wisps and tendrils, obliterating her from time to time. Suddenly she was there for a moment, visible through its icy, receding fingers, laughing at a piece of gossip, but otherwise it was always pulling her in deeper… People didn't see the depth of her sadness, though sometimes she offered it, humbly and in a conversation, but it was always overlooked. She had built an image that had become a prison. Nobody could see through that peroxide wall."Because it's better not to bleed among sharks?Your friends knew about your cocaine addiction. When you gave your daughter's 18th birthday party in 2004, Elton John took you aside and said he was not forcing you to do anything, but there was a jet at the airport ready to take you to he Meadows Premier Drug Rehab Center in Arizona, and a spot reserved for you there. How ill were you feeling at that time?
I made one mistake after another and tried to give people Gianni. But it was never enough Gianni. Whenever I tried something new, people would shake their head and say, "What's she doing now?" It was only after seven or eight years that I became stronger and learned to bear the pressure of succeeding a genius.In my dream, Gianni is as real as the two of you. He yells at me, saying, "Donatella, what are these ugly clothes? That's supposed to be Versace? How could you have forgotten everything I taught you?" Then he knocks the clothes racks over. Thank God I have this nightmare only rarely.Every word is true. My hair got blonder and blonder, my makeup thicker and thicker. I felt like the whole world was looking at me with daggers in their eyes and I created a mask that would give me protection. I didn't want anyone to see what I was going through.I was the new face of Versace. Who buys fashion from a weak, unstable designer who's out of her mind because she takes drugs and therefore can't stand herself? Nobody! So I created a second Donatella: cold and aloof, aggressive and scary.I worked from early in the morning until late in the evening so I wouldn't have to ask myself that question. In the few moments when I was alone with my addiction, I realized that I was very, very ill—but then the next appointment was waiting for me again. Some evenings I couldn't function anymore and embarrassed myself in front of my children. My self-hatred became more and more intense.
Elton John was not invited to your daughter's birthday party. How did his intervention come about?How did you react to his suggestion to seek help in a rehab center?Flat shoes?What was going through your mind during the flight?You spent five weeks in the detox clinic. What did you learn there?What surprised you most in the clinic?Did you make friends there?You used to smoke all the time. Your accessories included a cigarette pack holder with your initials in Gothic letters, designed by your house's studio in Milan. Did they let you smoke in rehab?Do you still smoke?Your 31-year-old daughter is a phantom. It is said that she studied French, art history, and theater in Los Angeles as well as worked as a costume designer at a theater in London under a pseudonym. What is she doing today?Your 28-year-old son Daniel is a phantom as well. No photos. No trace of him on the Internet. We only know that he played in a punk band called Nucleus a couple of years ago.Do you understand his decision?Where does your son live?Is he still making punk music?
I had been to a concert of his a few days before. Rather than disappear into the crowd, I stood on the sidelines of the stage, weeping and crying, and crying. I didn't know why I was crying. Elton kept looking at me as he performed. That evening, he must have understood that I needed help.By saying something stupid: "I will go there only if there is low-fat food. I want shrimp and grilled fish. No oil, no salt." Nobody thought I would accept Elton's offer, but a few minutes later I traded my evening gown and diamonds for a jogging suit. I made my way to the airport with a ponytail and no makeup.No! No way!At first I was just shocked, then I started rattling off questions. I had no idea what a rehab clinic was like, and I wasn't exactly sure where Arizona was, either.That addiction makes everyone the same. What was worse than withdrawal was the shock of reality after I was released. The drugs had blinded me to how bad things had gotten around the company.The irrefutable discipline. Two, three rule violations, and they throw you out with a snap of their fingers. No listening. No discussion.Yes, but you're advised not to continue these friendships after release. If one person relapses, the other shouldn't get drawn into it.There was a designated smoking area in the garden, but there was a total ban on smoking indoors. Once I tried to smoke with the windows open in my room. On the third drag, the door flew open and a nurse chewed me out. I hadn't felt that small since I was 10.No. The reason is my daughter, who can terrify anyone. Eight years ago, she said to me, "If you ever want to see me again, you'll stop smoking today, forever!" I have never touched a cigarette again since that day.Allegra is on the company's board of directors and works for Versus, our younger product line. She is highly intelligent and a very keen observer. Everyone pays rapt attention whenever she takes the floor at a board meeting—not because she owns half of the company, but because she asks the right questions.Daniel doesn't want to have anything to do with the Versace name. He took a new name so as not to be bothered.He believes the name Versace would damage his integrity as a musician and give him an undeserved advantage. I don't really understand that reasoning, because you're either a good musician or a bad one. But it's his life. He makes the decisions, and it seems they're the right ones. You should see him at his performances. It's rare to see a person whose music makes him so happy.In London.No. Rock 'n' roll and hard rock. He plays all the instruments himself when he records an album, and he's an excellent player. He also had good teachers. Elton John gave him piano lessons when he was little, and my friend Axl Rose was one of his guitar teachers later on.
The father of your children is an American by the name of Paul Beck, a former Versace model whom you married in 1985. What is he doing these days?Your brother Santo has been CFO at Versace for 30 years. In 2008, he joined Silvio Berlusconi's cause and became a hapless politician. What's he doing now?Your sister Tina died of tetanus infection after an accident at the age of 12. Your brother Gianni died at 50. Your brother Santo suffered from depression for many years. Did you ever think there might be a curse on the Versaces?In 2013, director Sara Sugarman made a TV drama about your brother's tragedy called —There was another nine-part US television series about the murder of your brother called , released in January of this year. You are played by Penélope Cruz. Does time heal all wounds, or does it make wounds of Achilles heels?You could have called Penélope Cruz and ...The script is based on the 1999 non-fiction book by American journalist Maureen Orth.
We have been separated—no, divorced—for 18 years. Paul lives in New York. I have a good relationship with him because he is the father of my children. Anyone else you want to know about?I changed almost the entire management of the company two years ago. Santo still advises us, but he is no longer involved in day-to-day business. To this day I do not understand why he was for Berlusconi.No. What was unbearable was a certain kind of letter I received in the years after Gianni's murder. People claiming to be psychic mediums said they could help me talk to my dead brother. This was followed by their bank information. Others wrote that what happened to my brother was right, because God punishes every homosexual with death. Since I, too, lead a life of sin, I would be next on God's death list. I did not realize how many crazy people are out there. I was afraid for our lives, so I handed the threatening letters over to the police and did not allow my children to go to school unaccompanied.Stop it! The film is supposedly an absolute botch job, completely lousy. I refuse to watch it, which is why I can't tell you anything about it.I still get as angry as I did on the first day when people want to make money with lies about Gianni. My lawyers tried to file a lawsuit against this television series, but they lost because my brother is a person of contemporary history and therefore has limited personal rights. Around 25 books came out after his murder, each with a different theory about the perpetrator's motive. The wildest speculation was that it was a mafia contract killing. We were in countless trials, but no sooner had we won a case than another book came out. It was hopeless. Why does this TV series about my brother have to come now? The murder was 20 years ago. Can't people leave Gianni alone?Penélope called and told me about the project. She said that she has great respect for me, so I should write her if there are untrue things in the script.I had not heard of the book until last year. After reading it, I sent a list of factual mistakes to the production company working on the TV series. They replied that they were filming the book by Maureen Orth, so they could not take my findings into account. Viewers should know that the series is fiction, not a documentary.
You are one of those people that everyone immediately has an opinion about. How exhausting is it to be Donatella Versace? editor Anna Wintour once wrote, "Armani dresses the wife and Versace dresses the mistress." Is it true?The history of your company is divided into two reigns: 20 years of patriarchy under Gianni Versace, 20 years of matriarchy under Donatella Versace. What distinguishes your signatures?Your brother used you as a test mannequin and a projection surface. He dyed your black hair platinum blonde when you were eleven years old because he wanted you to look like pop singer Patty Pravo, an icon for gay Italians at the time. How did you feel when you looked at yourself in the mirrorYour father sold methane gas and charcoal, your mother was a tailor and ran a boutique. How did they react to their 11-year-old daughter staying out all night?What kind of grades did you get in school?You grew up in Reggio Calabria, in conservative southern Italy. Did your brother keep his homosexuality secret?After high school, you moved away to college in Florence at age 17 and graduated with a degree in Literary Studies. What profession did you envision for yourself?
The pressure has eased, which is why I've become softer in recent years. I've learned to trust people again instead of thinking they would stab me in the back at the earliest opportunity.Yes, I love this allocation of roles. Mistresses have much more fun than wives do.Gianni's ideal woman had a life that consisted mainly of chic cocktail parties. Her frivolous pleasure was to transgress boundaries of mainstream taste and provoke with flamboyant hedonism. My Versace woman is a multitasker with a job and a family. She's mostly looking for clothes that can be worn between seven in the morning and seven in the evening—perfectly tailored, a whiff of glamour, but without bombast. She uses fashion as a corset for her self-confidence, not as a means of provocation. To sum it up in a sentence, Versace's fashion has become more realistic.My first thought was: "That's who you are! You've finally found yourself!" To be blonde means to be caressed by the sun, and to be your own sun: strong, full of energy, bright, warming. Gianni made me his closest confidante at the age of 12. He made cool leather mini-skirts for me, took me to discotheques, and treated me like a woman. I loved his craziness and felt the envious glances of my girlfriends whenever we went to a rock concert late at night. It was the happiest time of my life. I felt like an adult, but had the long-term perspective of a child. I thought my whole life would be like this.When we got home at four in the morning, my mother screamed at Gianni: "What are you doing to your little sister? Leave her alone! And stop telling people that she's 16 already!" My mother was southern Italian and thus the head of the family, but Gianni flouted her severity and wrapped her around his finger with his charms.Gianni had horrible grades. Mine were very good—even though my mother would often keep me from going to school. In the mornings when I came down to the kitchen with Cleopatra eyes, she would shout: "You are not leaving the house like that! Either wash off the make-up, or you stay home!" I was obstinate and locked myself in my room.No. He was one of the first men in Italy to deal with it openly and confidently. I was 11 when he explained to me exactly what was going on with his sexuality. I thanked him for his openness and felt ennobled.I was a very good student, so professors suggested that I pursue a career at the university. I had a great desire to become a lecturer, but Gianni told me I should design fashion with him. He was an autodidact working for the Callaghan company and was about to make a name for himself. He showed me every one of his designs and wanted to know what I would do differently. By 22, I was ready. I skipped the university and was his right and left hand from then on. When he founded the company Gianni Versace, I became the one person who dared to contradict the king. He was annoyed but listened. And he had the good sense to correct his decisions when he needed to.
Last September, on the 20th anniversary of your brother's death, you sent five of the past century's most famous models down the catwalk in gold chain dresses: Claudia Schiffer, Naomi Campbell, Cindy Crawford, Carla Bruni Sarkozy, and Helena Christensen. Wasn't that something of a nostalgia overdose?Leading fashion critics are saying that 2016 and 2017 were your most successful years to date as creative director of Versace. Could there be a better time to announce your successor?Building up a new number one, letting go, filling the day with something other than work—can you do that?What happens to Versace if you die in an armchair after this conversation?Are you seeing the vanities of the fashion world as more and more of a comedy?
What a stupid question! Gianni invented the supermodel concept and made these women world famous. They are rightly revered as role models because they made the leap from celebrity to globally successful businesswomen. I know few men who are as smart and enterprising as Cindy or Naomi. Their biographies can make any women's rights activist proud.I will stay as long as I can use the company. But I promise you, they will not have to carry me out of the office feet-first. I am looking for a successor with my eyes wide open, but I don't see the ideal solution yet.I think so. I proved my nose for outstanding talent when I hired J.W. Anderson, Christopher Kane, and Anthony Vaccarello for Versus. My design team at Versace consists of a bunch of people in their 20s who studied at Central Saint Martins in London. I'm not afraid of people who might be able to do more than me. On the contrary, I'm looking for them. Because any fashion designer who keeps only his or her own council will soon find themselves on the sidelines. My ego can stand saying to a 25-year-old employee, "Yesterday I thought your idea was wrong, but now it makes more sense to me than my own."90 percent of the employees will applaud loudly. [Laughs] The serious answer is that the management will appoint a new number one after consulting with my daughter.Ridiculously inflated egos only exist with the old guard. A designer under 50 who thinks he's a god would make a fool of himself. A scientist who invents a drug to cure cancer can exalt himself and feel like the greatest, but we're just making fashion. We love it, but it's not a deity worth worshiping.
Your dog…Your Jack Russell Terrier...Whose?Audrey's life can be viewed on Instagram at @Audrey_Versace. She can sometimes be seen wearing a multi-strand gold necklace with pendants around her neck, at other times you see her lolling on the seat of a private jet or wearing a cap that reads "Power."
Please do not say "dog" to Audrey!Audrey would be offended if she were listening to us, because you are not referring to her by name. Audrey has the intelligence of a human being and a strong personality.She thinks she's me. Whatever I do, she wants to do, too. She doesn't lie down on the floor, but comes to me on the couch. Rather than sleep in her dog bed, she jumps into my bed and wants to cuddle. When I eat, she sits in the chair opposite me and acts as though I were having dinner with her in a fancy restaurant. She loves to be photographed. She discovered our in-house photographer, and now she follows him everywhere.Audrey is a girl, plain and simple. You want to reproach her with that?
Do you have a talent that no one would suspect?Can you cook?Your distinguishing feature is your blond, parted hair. Could you imagine changing hairstyles and hair color after 51 years?Any journalist who asks about your private life gets the terse answer: "I don't have one." In 2007, you told a reporter from the , "I have an interest [in men] of course, but I'm too busy. And then I think, 'Oh my God, who wants to date me? I'm so complicated.'"You have not had a steady romantic relationship since your divorce from Paul Beck. Is it because whoever stands at your side would be too much in the shadows?Is it better for the brand's image if the boss is single, rather than posing at home by the fireplace with a husband and gaggle of kids?You are 62. How many sit-ups do you manage after more than 40 years of professional activity in the high-speed fashion industry?How would you dress if you had to go before God today?
I am a good listener. And it makes me happy to help others.No. I do not want to learn, either. My mother never cooked.No, because then I wouldn't recognize myself. Karl Lagerfeld wouldn't recognize himself without sunglasses. Besides, blond is a way of life. You face the world like an Amazon. I survived the catastrophes in my life because of the strength that my blonde hair gives me.To be honest I had a lover in 2007, but I think it's okay to lie to journalists when it comes to that topic.I lead a strange life because the fashion world is made up of strange people. But judge my fashion, not my personal life. I have an army of friends that I talk to on a daily basis. Knowing these people gives me happiness and fulfillment. And don't forget my two kids. I do not lead a loveless life. Is there a pleasant question for a change?Why do women need men nowadays? Certainly not to prove strength, determination and independence anymore. Men are needed only for love affairs and for physical relaxation.I do 300 sit-ups every morning between six and seven o'clock, often with weights on my stomach. When it comes to my abs, I'm as obsessive as Madonna.I would wear high heels. I'm sure God hasn't seen them.