The New Generation of Teachers: Style Icons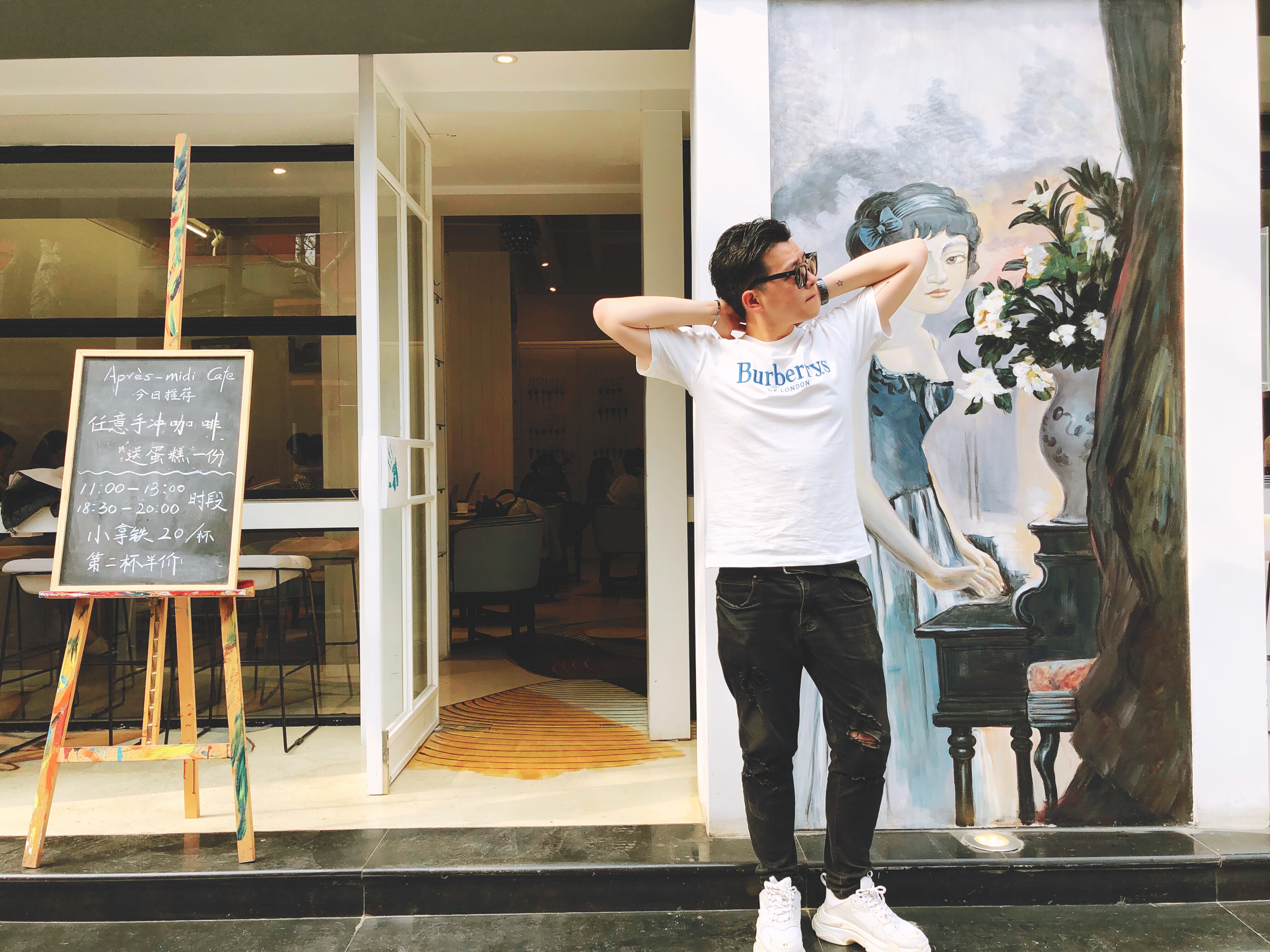 Click picture to enter @Mr.Z涅槃's wardrobe
Previously, we showed everyone the different faces of @megafan who works in state jobs, this time we will once again subvert your views! When you think of teachers, what is your first thought? Demure and dressed in traditional, strict garb? Quietly watching you at your desk as you stare out the classroom window? The solemn image of a man tucking his dress shirt into his pants, topped with a sweater cardigan and blazer? In ModeStar @Mr.Z涅槃, all the above preconceptions will be broken! The words "sunshine", "handsome", "tidal boy" and "literary and art" all apply to him. Let's get to know him more now.
CHAMPION
Black Jersey T-Shirt
ModeSens: When did you first find an admiration for fashion, and what has it brought to your life?
@Mr.Z涅槃: Living in Shanghai, it was very easy to get exposed to fashion. From childhood to university, it has always been about music and art, both which are inseparable from fashion. So, this is a kind of subtle influence. It is the environment that I've always been living in and has made me into the person I am today. Not intentionally. These influences on my own fashion has made me a Modestar, and I have established a friendly relationship with ModeSens. It has brought me a lot of interviews, hahahaha. In fact, fashion enhances my own understanding of culture in all aspects, and it also gives me more self-confidence. It is not just external. It has influenced both my life and work, and it adds a lot to all aspects of it.
ModeSens: What is your ideal lifestyle?
@Mr.Z涅槃: Clearly know what you want and work hard for it, and not change yourself in order to cater to others. I am a person who distinguishes work from life. When I work, I don't want to be disturbed by the trifles in my life. I also don't love to bring my emotions toward work to my personal life. In my own time, I try to slow down the pace of life as much as possible. I like to drink a cup of coffee or a cocktail in the sun, think quietly about some issues, or carefully observe the people and things around me. The rhythm of life is really fast in Shanghai. It's almost too fast for us to even have time to think deeply about some issues or truly appreciate the good things in life. Of course, it is also very good to share some interesting things with my other half or go out on holiday together, but that's a rare choice for me.
BURBERRY
Taydon Embroidered Sweatshirt
FEAR OF GOD
Double Striped Track Pants
VANS
Old Skool sneakers
ModeSens: For someone with a fairly developed and refined style, what are you mainly looking for when shopping?
@Mr.Z涅槃: For me, it's not really about having a developed style, it's much more about just understanding myself. I don't really have any ideas of what I want to purchase, and most of my purchases come about inadvertently, if I see something and have that feeling of inspiration, or that it suits me, I'll pick it up.
ModeSens: What is fashion to you?
@Mr.Z涅槃: I like to think of fashion as being strictly only about the clothes one wears. It should be an attitude, an aura, even reflected in your work as well your person. Take me as an example, I try to bring fashion into my teaching style as well, and bring a feeling of newness and innovation into all aspects of my courses, incorporating many derivatives that have inspired me based off my study and hobby in fashion.
ModeSens: What are your favorite brands and designers?
@Mr.Z涅槃: BALENCIAGA, ALEXANDER MCQUEEN, CHROME HEARTS, YEEZY, LOUIS VUITTON these brands, I'm quite partial to, each brand has its own specialties, so I will choose different brands for different individual pieces, mainly based on the design. The recent big news that shocked the entire fashion world is LOUIS VUITTON's announcement that Virgil Abloh has become the new art director. The reactions to this news have been mixed, and I can't comment whether it's good or bad, but it's definitely something to talk about When I first knew of Virgil, was his time at PYREX, we had met several years ago when PYREX was in full swing. And though the meeting was great, the vibe of the clothing at the time was not really my thing. From PYREX to OFF-WHITE, from the offset printing to the concept, I felt like he really fell into his stride. The "not satisfied with the status quo" temperament; and finally, from Kanye West's "Walker" to the OFF-WHITE that is behind BALENCIAGA and GUCCI in the 2017 BOF "Top Brand" rankings, and now to be the artistic director of LOUIS VUITTON, all of these changes happening in almost rapid succession, is just inspirational.
GUCCI
Original Gg Canvas Baseball Hat With Web, Black
ModeSens: What is your favorite style?
@Mr.Z涅槃: Everyone has their own style, but what's strange is that many people are pursuing the same individual products, so we can always see some people styled with a virtual pile of "money", totally without their own personality, just wearing hypebeast grails. For me, I prefer a subtler design, with emphasis on details. I feel like I'm getting old.
ModeSens: Is there any good upcoming brand recommendation?
@Mr.Z涅槃: I believe ModeSens users are very familiar with big names, so I would like to recommend a Chinese fashion brand called DCFJ, they're a small brand committed to new design and very invested in producing quality construction and products. At its current price point, it's definitely a brand to keep an eye on.
ModeSens: You seem to travel quite a bit, when you get the time, what pieces are most crucial to you?
@Mr.Z涅槃: Sunglasses, for sure. There's nothing worse than having a perfect style, out on the road, and just continual sun-glare making you uncomfortable.
PRADA
Phantos Pilot Sunglasses
GENTLE MONSTER
Tilda Swinton x Gentle Monster Eye Eye 45Mm Subtle Cat Eye Sunglasses
ModeSens: Many people have preconceived notions about teachers and their wardrobe. How did you break out of that mold? Especially with expectations of teachers in China needing to uphold certain standards regarding dress.
@Mr.Z涅槃: Shirt stuffed into pants is actually coming back! With dadcore and old school making their way back it can be turned up into a pretty fashionable look. Beyond that, I always aim to flirt just on the edge of what I'm allowed to wear in my position.
ModeSens: What was your first impression of ModeSens? How does it compare to separate platforms?
@Mr.Z涅槃: As an e-commerce platform, it's fantastic since there is so much variety and deal-hunting. But regarding other style sharing platforms, I haven't really used any. I've downloaded them before and never really had a good vibe from them, until I started using ModeSens.
For all of our student readers, I hope you can all take a new look at your own teachers after reading this interview with @Mr.Z涅槃. And feel free to follow him, and check out our other ModeStars, as well as all the fantastic styles and looks shared by our users!
If you are passionate, positive, and have an opinion on fashion, you can be our next ModeStar!
ModeStar is an exciting fashion influencer program only on ModeSens, dedicated to discovering and enabling a new wave of fashion tastemakers and rallying them together to mutual expand each individual's influence in the fashion world.
Join the ModeStars program — become an official influencer partner with ModeSens
- Get original content opportunities with ModeStar. Earn a verified ModeStar Badge and become official influencer partners with ModeSens.
- Have opportunities to work with and gain exposure through all ModeSens platforms — homepage, original interviews, content & product exclusives, and more ongoing benefits.
- Connect with other ModeStars, cross-promote to grow audiences together. Enjoy feature opportunities on ModeSens' Instagram, Weibo and other social and digital platforms.
- Receive exclusive invitations to official events and parties by ModeSens or by partners, such new product announcement/try-on's, fashion weeks, and more.
-Gain access to exclusive tools such as publishing Blogs, Collections, affiliate programs and other advanced web and app features.
With so many exciting benefits, begin sharing your everyday style Moments on ModeSens to receive a select invitation to become the next ModeStar.
If apply for ModeStar, please contact bella@modesens.com. Final interpretation is owned by ModeSens.