The New Icons
Our Contenders For the Next It Bag
Status symbol. Consumer fixation. Instant signifier of taste, class, subculture, and aspiration. Few items carry the symbolic weight of the It bag: that exclusive, must-have luxury item that sells out within minutes every season. Getting your hands on one is nothing less than pure gratification. But the second it sells out, another It bag is already rising to replace it. And as trend cycles accelerate and collections change the conversation, even those favored few begin to look outmoded.To keep up with the adventurous combinations of cut, proportion, and texture that our favorite labels are proposing for Fall, we chose six bags on track to become the next most-wanted style. Calculated to complement unorthodox choices, these carryalls are less expected, but all the more exciting for it.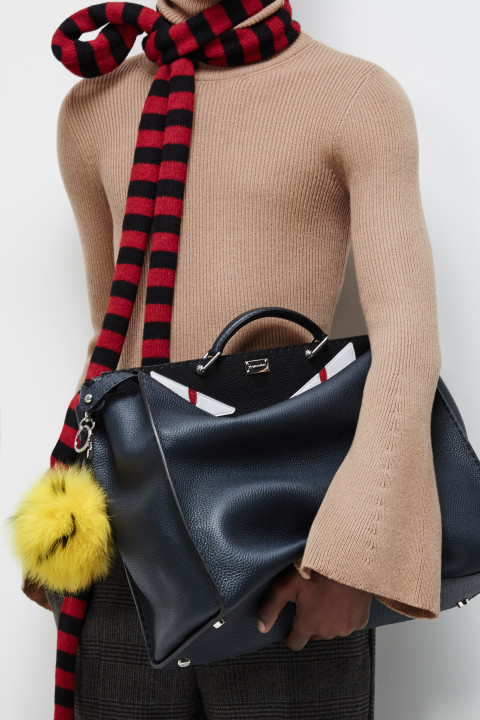 Pull up some street style shots from any recent fashion week, and something strange happens. All the accessories make you smile uncontrollably. Enter Fendi, who's drawing on its quirky side to make the most of this moment of pure fun. Colorblocking cartoon monster eyes on a briefcase, that most sober of carryalls, is the kind of so-goofy-it's-brilliant gesture anyone around the world can appreciate. It comes as naturally as laughing to Sylvia Venturini Fendi, whose fluffball Bag Bug keychains are the runaway hit that set the whole trend off.
The 70s are always back at Chloé, but every season they seem to look more and more contemporary. It's a testament to the nuance of Clare Waight Keller's vision, which never fails to capture exactly which retro currents are currently resurfacing. The new Faye shoulder bag is a spot-on example. A structured update to a classic flap bag, it pairs suede and leather in muted throwback tones with a tapered shape and circa-2015 ring and chain hardware. Understated yet interesting, it's a perfect pairing for this season's wide culottes, turtlenecks, and oversized overcoats: ladylike dressing at its most modern.
"Past, present, and future." Jonathan Anderson has chosen a mantra for his reboot of LOEWE that's anything but restrictive. So it's fitting that the Puzzle, his first signature bag for the label, draws on its legacy of geometric, modernist design to produce a style with limitless possibilities. Ingeniously pieced angular planes soften into a relaxed yet rigid shape, with removable straps that allow the Puzzle to be worn in five different configurations. And with versions available for both men and women, it may be the world's first post-gender It bag. The always progressive Anderson sends an inspiring message: choose your own adventure.
A truly novel design creates alternatives where none existed before, but must appear familiar enough to be adopted. Jonathan Anderson effortlessly strikes this balance with LOEWE's crossbody backpack: a slouchy yet shapely one-shoulder sack that renders a futuristic form in shining, supple calfskin. LOEWE's 19th-century origins as a cooperative of Spanish leather artisans continue to translate into craftsmanship of a consistently high quality. All the better to pair them with a visionary like Anderson: an innovator who understands that futurism's best counterpart is something organic, earthy, and touchable.
Alber Elbaz and Lucas Ossendrijver design for a life in flux and in motion. The sports-luxe fusions perfected by Lanvin's menswear duo are smart and dynamic, designed to give an athletic outfit polish and a formal one some zip. Take a backpack that's returned season after season: soft, papery black leather plays off utilitarian nylon paneling, rugged zippers, and a sporty plastic buckle and webbing straps. Bring it anywhere and watch it perform.
Downsizing has its benefits. Saint Laurent's Sac de Jour tote has been a hit with practically inclined women spanning the spectrum of grunge and elegance ever since its first appearance in 2013, as Hedi Slimane's second handbag design for the label. Now, in a scaled-down Nano size, the Sac de Jour's classic appeal gains a Pop art punch. It conveys a new charm and wit in miniature: the confidence of a design iconic enough to riff on itself. Think of it like the sped-up punk cover of a classic oldies number. SHOP WOMEN'S BAGS