The Sportswear Industry's One-Man R&D Unit
A Visit with Errolson Hugh of Acronym in Berlin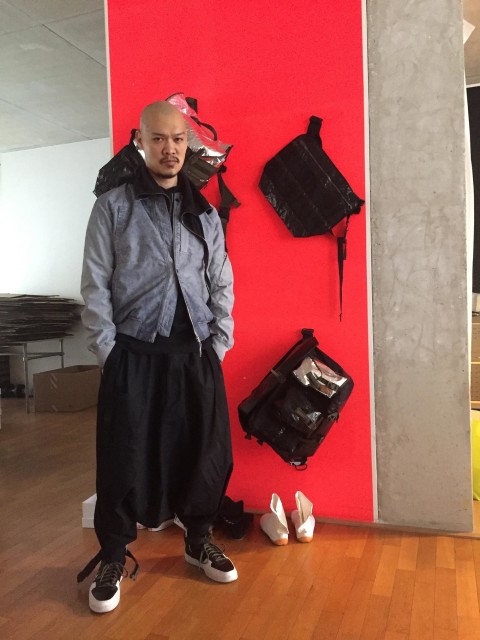 Berlin—February 1st, 2017. I am rushing through the neighborhood of Mitte, slaloming my way through icy mud piles along the streets. Google tells me the sun is setting today at 16:53. I have two more hours of daylight. Just about enough to get a few shots of Errolson Hugh, the Canadian designer behind the Berlin-based performance wear brand Acronym.
We get together at his studio in the Mitte neighborhood in former East Berlin, which is now a popular bourgeois-bohemian neighborhood. In his loft-like studio, I almost crash into one of the stacks of the hundreds of shoe boxes that dot the floor plan like Greek temple columns. "Sorry about the mess," Errolson says in a calm voice, "all these shoes go online for sale tonight." Inside the boxes is the Acronym Nike Air Force 1 Downtown sneaker, the latest edition of their ongoing collaboration. Like almost everything Acronym puts onto the market, it is in high demand and soon to be #VeryRare. I find out later that night that all 600 sneakers sold in less than 12 minutes online.I look past the shoe boxes through the massive floor-to-ceiling windows. The sky is grey and darkening at the horizon. We dash out in the backyard to catch the last rays of gloomy light. Errolson grabs a couple of black jackets, among them the J1A-GT, a revamped version of Acronym's first collection from 2002. "It's damn cold," I gasp, and Errolson smiles, replying, "Oh, this is nothing compared to where I come from."
Born in Canada, Errolson grew up facing another echelon of cold winters. To keep ourselves warm, I ask him if he can show me a few martial arts moves, knowing that he has been a karate pro since he was a kid. He shortly considers, looks around the neighborhood, then says, "Yeah, why not." Errolson tells me that he and his younger brother both started training together, when they were 10 and eight years old, respectively. The uniform, the karate gi, is a very traditional example of Japanese pattern-making, and its geometry is such that there are no restrictions to physical motion. That was the first time Errolson realized a piece of clothing could limit or enable the way the body works. "I was always driving my mom crazy trying to find pants that I could wear and kick in. Any kind of pants. I'd always be in the department stores in the changing rooms, throwing sidekicks," he says.Errolson is dressed in his own collection, wearing black P25-CH pants, exactly those ones he dreamt of as a kid—pants you can move in freely, stay outside in, and practice karate. I ask him what he learned from karate apart from how to do a badass axe kick. "Martial arts fosters self-reliance, and you learn to trust your own judgment. You realize, in a very real, physical way, that you can do more than you think you can. The whole mind over matter thing, mastering situations, all of that has real world application, particularly if you're an entrepreneur or you're in a super competitive industry, like fashion."
Only much later would the designer apply the merits of karate to his work process, design, and brand. Errolson's parents, Chinese-Jamaicans, moved from the tropical Caribbean to the woodlands of Alberta to study architecture. After graduating, they worked together all over Canada, moving around to wherever the jobs would take them. "For me, Canada was the feeling of alienation and total isolation," Errolson says about his up-bringing, "Growing up there was myself, my brother, maybe one other Asian kid at school, one black kid. People wanted to grow up and be hockey players or work in the oil industry, that's kind of all there was, so being a designer was about as realistic as becoming an astronaut."Nobody knew anything about fashion. Errolson remembers one shop, which had a copy of and , that was like a message from outer space. "I think it was my guitar teacher who first gave me an issue of ," Errolson remembers, "That blew me away. Then my dad gave me a copy of magazine at Christmas in 1985. Madonna was on the cover, along with handmade pencil drawings. It was this giant newsprint magazine. I still remember spending the entire day reading. I knew every single page of that magazine by like a week later." With no internet, those rare magazines were the only channel to see what was going on outside of Alberta.
In 1989, Errolson enrolled at Ryerson Polytechnic University. He graduated, but it was a bumpy road. "They tried to kick me out, twice. I was a horrible student—very disruptive and not respectful," he confesses. I ask him if it had to do with his karate mentality, the idea of being self-reliant and one's own boss. "Yeah, there had always been that outsider perspective," he answers. "It is still that way with my brand."In 1999, Errolson registered the brand Acronym with his partner and former girlfriend Michaela Sachenbacher. From the start it focused on experimenting at the edges of what apparel can be. "Acronym is conceptual," the designer says, "You take something and make it compact and useable. You express something very complex in a compact way, which is similar to everything we're trying to do with apparel."
Michaela and Errolson are both trained as designers. She now runs all of the legal, production, and finances of the company from Brooklyn, while Errolson does all of the Acronym studio work, collaborations with Nike or Stone Island, rotating between Berlin, Milan, and Tokyo. They both design Acronym together. "I'm the visible part, but Michaela is equally strong as far as aesthetics, and Acronym definitely wouldn't look the same if she wasn't co-owner," Errolson says, "She is the person I've probably learned more from than anyone else in my life. I've known her since we were 18."Before establishing Acronym as a fashion brand, Michaela and Errolson had a creative agency in Munich. They were designing and art directing mostly active sportswear, for mountain bike or snowboard brands like Burton. Both picked up on the technology that was there and through friends came across military and industrial apparel, which at some point led to the question, "Why can't we have all of this for everyday use?" The couple realized that what they were looking for in clothes was not yet on the market. "People were like, 'Oh that sounds terrible, it's so difficult, it's expensive, why would you want to do that?' So we started Acronym almost out of frustration. We said, 'Alright, if you don't want to do it, we'll do it.' At first, people didn't care. It was like five to six years before anybody was interested."
Errolson is well-connected in the fashion world, having lived in Los Angeles, Tokyo, and New York, but for years the brand remained something like an outsider, a well-hidden secret. Another reason Acronym stayed detached from the fashion system is the way the company and the studio work. "We operate in parallel with it, and sometimes we intersect with it," the designer says about the industry at large, "but for the most part our process and the way we work has almost nothing to do with the way everyone else works. This is our strength and it's also obviously our weakness. The strength of it is being so outside of the system you develop your own independent way of doing things, and it really gives you an individual approach and a fingerprint. Then the negative part obviously is to interface with the system at play. You're not limited by the limitations of the system, but you also don't get to benefit from the advantages of being in the system."From the beginning, Acronym was focused on soft and light shell fabrics like Gore-Tex, a lightweight, waterproof, breathable fabric membrane designed for all-weather use. A lot of what Acronym does is taking an unattractive or not obviously stylish fabric and finding a way to make it look good. It always starts with the function of the apparel. There is a lot of thought that goes into each design and an obsession with details. The architectural influence from his parents comes into play with Errolson's approach to materials. "The whole form follows function thing, fitness to purpose, all of those broad architectural concepts. My brother and I grew up with those all around us, and so it was very natural for me to apply that to apparel."Acronym's collections never have more than 15 pieces, an indication of the painstaking detail that goes into each design. It took three years to work on the brand's first collection, named Kit-1. It was released in 2002 in an edition of 120, consisting of a jacket, a bag, and accessories. The industry noticed, liked it, and the Fall/Winter 2003 collection was picked up by concept stores like Colette in Paris.
There is a misconception in the fashion world that Acronym limits its number of pieces on purpose to create artificial scarcity. In fact, there is so little of Acronym because it is so hard to make. It is very difficult to find a factory that can meet the technical criteria to produce it, Errolson explains to me while pouring himself a glass of Coca Cola. "There's always a very specific reason for the things that we put in, and those things happen to be expensive, and that's why it's expensive. We're not trying to create something purposefully scarce or purposefully luxurious, we're just trying to make the best possible thing we can. It's not a marketing strategy."Until 2009, Errolson and Michaela were the company's only employees. They got so used to working by themselves and for themselves that when people started knocking at their door, they were surprised. Errolson wondered, "Wow, where did people get our number? Why do you call us?" Even today, it is still kind of like that. There is no PR, no marketing, hardly any events. It was not simple to reach Errolson as he travels and focuses more on work than doing publicity. Yet the team has grown slowly over the years. "I basically hired all of my friends. We joked that all of the lost children of Berlin end up in our office. In other cities, people talk about being cool, because it's actually a bankable commodity. The way they describe it, that kind of cool actually exists in Berlin as a real thing. People are legitimately cool here, and it's not about knowing it. I think that also comes because it's the least materialistic city I have ever lived in. People just aren't about money. They just don't care. I think that's super healthy."
Only in the past few years has the visibility of Acronym increased. One factor being the cultural shift in the industry in favor of their aesthetic and the rise of high fashion performance wear. Acronym pioneered the introduction of technology as its own category of design aesthetic, and their moves have paved the way for many brands' ready-to-wear collections in recent seasons. Today, technology is one of the industry's big trends, blending traditional sportswear with high fashion. Dubbed athleisure, active wear, or performance wear, it is casual clothing designed to be worn both for exercising and for day-to-day use in the cityscape. Fitness and athleticism has become one of the defining cultural paradigms of contemporary urban life, similar to the powers of street culture, that has turned the fashion world upside down in the last decade.When I ask Errolson about his relationship to streetwear, he says it is hard for him to have an objective view on that, because he knows those guys, and through his work with Burton snowboards, way back in the day, met a lot of the people who invented what everybody calls streetwear today. In Tokyo, he met people like Nigo, Jun Takahashi, and Hiroshi Fujiwara. "Everything we take for granted as streetwear today," the designer says, "started there organically. They're all friends. They worked together. They invented the idea of collaboration."
Acronym itself slowly began working with very carefully selected partners. After five to six years, they realized that trying to do it all by themselves was not possible. "You can't change the industry as a single brand," Errolson admits. Among the collaborations are well-established sportswear and streetwear brands that were part of Acronym's growth. When Paul Harvey retired from his job as creative director at Stone Island, the Italian brand approached Errolson to be a part of that team, a partnership that gave birth to Stone Island Shadow Project. "That's been super amazing because we get to do things ourselves," Errolson says. "That's the only collection we've ever worked on where you get to design not only the pieces but also the fabric of those pieces in the collection. They're so up for trying different things, difficult things, and stuff no one else would even attempt. They're like, 'Yeah, let's add these three processes on top of it and see what happens.' And you just don't get that anywhere else."Since 2013, Acronym has had another mutually successful partnership with Nike. Both brands worked together to create iconic sneakers, among them the Lunar Force 1 and recently the Presto Air, which has helped Nike develop an avant-garde feel and reach out to the premium menswear segment of the sneaker market. Both companies also worked together on another line, relaunching ACG (All Conditions Gear), Nike's iconic mountaineering-inspired offering. "It's the first time we're really able to work at a scale where we can take an idea and put it on the street in a way that's much more accessible to more people than we would with Acronym," Errolson reflects. "Working with Nike means that you're really working with pop culture. It's not just a product or a collection. It's so ingrained into so many people's histories."
When Errolson says this, we both glance at the hundreds of shoe boxes in the studio, holding the latest much-anticipated collaboration between Acronym and Nike. By the time the interview ends, the sun is down, leaving this part of the studio in the shade. It is hard to imagine that all the sneakers will be gone soon. Other parts of the studio show pieces of older Acronym collections and accessories, most of them designed from black materials. I ask him if that color is a fetish. "According to my dad, I used to wear all black when I was 10, which is kind of strange to me because that's before Yohji and Comme des Garçons, which I never would have heard about anyways. He thinks it's from being influenced by Arata Isozaki, who is a Japanese architect, which kind of makes more sense because there were definitely a lot more architecture books around. But with Acronym later, and the size of production that we used to do, black was the only color that all of the suppliers would have on stock, and that you could order and expect to look sort of okay. That's why everything is black."Besides the underlying constants of dark colors, select materials, and a focus on functionality, in recent seasons, Acronym started to concentrate on pattern-making and how the garments move on the body. As with everything, Acronym takes its time. It's a culture of methodical tactility. When Errolson mentions this shift, I am reminded of his karate gi and how it sensitized his perception of fashion and empowered him to become a better fighter. "That's why fashion is so powerful," Errolson says. "It's that intersection of design, communication, and identity. It's a large part of who you are, how you define yourself, how you present yourself to the world. So people definitely get attached to that. Plus, it's just hard to find a pair of pants that fit you perfectly. It's actually quite difficult."Before leaving his studio, I ask Errolson what was the last mind-opening thing he learned from someone. He tells me about his daughter and seeing her grow up: "It's amazing to see somebody discover everything for the first time and it's a good reminder that there can be magic in the most banal things."