The SSENSE Fall/Winter 2018 Trend Report: Part II
A Guide to the Future and Next Season's Products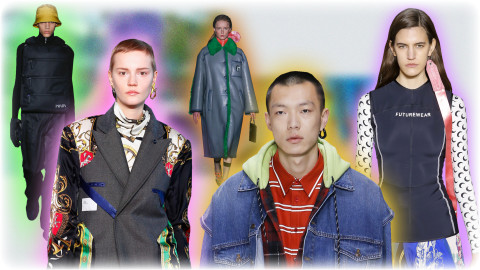 It's July and the collections we saw back in February and March are finally up for grabs. Information travels so fast today that six months from show-to-shelf is enough time to warp the cultural context in which the collections were initially debuted. We're all trying to keep up—so we've consolidated the upcoming trends and the cultural catalysts that drive them. Here in part two of our Fall/Winter 2018 trend report, the SSENSE editors dive deeper into the impending season.
Roko's Basilisk
Romance and Artificial Intelligence aren't the most likely of bedfellows, an assumption rightfully sown by ever having seen a science fiction movie. But this year Grimes and Elon Musk proved us wrong, coming together over their (adorably unclever?) pun about Rococo design and a deep Reddit neo-fable of a vengeful AI basilisk (a basilisk being a mythological serpent king with a fatal gaze). We're following this couple's every move with bated breath. Just as it is thrillingly bizarre to observe the union of a DIY-socialist?-vegan-Canadian musician who your friends went to high school with and a tech billionaire with expansion designs for outer space, so is it bizarre to witness a seasonal trend which yokes ornate silk garments with techwear (which is still manifesting as tailored spandex and extreme sunglasses in the never-quite-there vision of the future). Grimes encapsulates this trend when speaking about Rococo Basilisk, the fictional character that brought her and Elon together: "She's like doomed to be like eternally tortured by Artificial Intelligence but she's also kind of like Marie Antoinette."
Cozy Dirty
There's a sort of pressure that comes with wearing a pristine luxury garment. An obligation to subconsciously devote the day to making sure it survives along the way—committing to a cup of coffee could be the beginning of the end if paired with an unfortunate bump in transit. But designers are making it easier for us to make messy mistakes, or to at least look like we do. Unravelling hems, purposeful patinas, unconventional layers and grimy faux fur. There's something comfortably chaotic about an outfit of disparate garments and the odd imperfection—just as there's something unruly about that chaos, most especially through the eyes of staunch minimalists. Take it from Little Edie, "the best thing is to wear pantyhose or some pants under a short skirt, I think. Then you have the pants under the skirt and then you can pull the stockings up over the pants underneath the skirt. And you can always take off the skirt and use it as a cape. So I think this is the best costume for today." Comfort affords versatility, and this season there's no excuse to stay clean—get cozy dirty.
Kraft Singles
In Douglas Coupland's 1995 novel , Michael, a computer genius who spends the majority of his time locked in his bedroom coding, lives on a "flatlander" diet. Eating nothing but two-dimensional snacks that can be slid under his door while he works (like Pop-Tarts, saltine crackers, and "grape leather"), his chosen screen name reveals he clearly has a favourite: . The processed cheese (or is it plastic?) slice that, be it in a gooey grilled cheese sandwich or cold and wrapped up on its own, has undeniably provided us all with a sense of comfort at one point or another. And in times of constant crypto crises and rising Bitcoin addictions, it's probably no coincidence that designers seem to be nodding back to the friendly, soft-orange snack. This season—despite the flat habits—take a cue from Michael: peel off its shiny wrapper and embrace the joyous Kraft Singles hug.
Silk Worms
"According to an ancient Chinese legend," says Jeffrey Eugenides's narrator in his 2002 Pulitzer Prize-winning family saga, , "one day in the year 240 B.C., Princess Si Ling-chi was sitting under a mulberry tree when a silkworm cocoon fell into her teacup. When she tried to remove it, she noticed that the cocoon had begun to unravel in the hot liquid. She handed the loose end to her maidservant and told her to walk. The servant went out of the princess's chamber, and into the palace courtyard, and through the palace gates, and out of the Forbidden City, and into the countryside and a half mile away before the cocoon ran out." Thus inventing—albeit allegedly—silk as we know it; a discovery the narrator notes, isn't all too dissimilar to gravity's origin story. "In the West, this legend would slowly mutate over three millennia, until it became the story of a physicist and an apple. Either way, the meanings are the same: great discoveries, whether of silk or of gravity, are always windfalls. They happen to people loafing under trees." The significance of silkworms in is prominent, reappearing throughout, not just as metaphor but as a measure of the novel's sprawling tenor—how in order to map out an intergenerational story of migration and assimilation, what occurs over a time is a natural unravelling "before the cocoon [runs] out." Maybe that's why we associate silk scarves to what's passed down? To something borrowed or blue, or gifted hopefully, as remembrance, in honor of someone else's life. Like his silk handkerchief, only slightly worn. Or her, your grandmother's, silk pouch, meant for jewelry or coins. Silk's touch, which teases soft—like it might escape you, dissolve, or run out—is both forever (the timeless appeal of Hermes scarves or heritage brands in general) and also, it's worth noting, so totally fleeting, too. Like something that'll loosen on its own, fly away. Get free or lost. Is remembered.
Dip Cone
Impractical shape, advanced textural matching, rapidly degrading structural integrity—the dip cone and the fashion trend share similar properties. Both are pleasures too extreme to last long, so if you want in, it's a limited-time offer. The current predilection for compound sneakers, wherein one shoe sits inside of or on top another, is a great example that happens to match the dip cone on an aesthetic plane, too. I know, I know—you're an informed consumer with your own set of refined sensibilities who doesn't buy into trends. Consider, however, lightening up for five seconds and indulging yourself in a purchase that might self-destruct. Would you deny six-year-old you a dip cone, even though there's a good chance it'll end up all over your shirt? Of course not. The dipped sneaker: it might not be tasteful, but it's delicious.
Creative Director
It's almost as if certain occupations are contagious. Like the scourge of stylists and DJs before it, the creative director has solidified itself as the current must-have job. The "Hey, if they can do it so can I" type of vocation, oftentimes maligned, debated, and/or celebrated. At this point we've asked ourselves, and actual creative directors, "What is a creative director?" ad nauseum, and the truth is, we still don't know. One thing that we know for sure though, is this job's got a , and it's not going anywhere anytime soon. For the litany of up-and-coming insta creative directors, it's all about the hype pieces: Off-White industrial belt, Balenciaga Triple S, North Face Nuptse etc. For the more refined creative director, it's about the classic pieces, a Prada fanny pack mixed with an irreverent vintage looking tee for good measure. It just so happens that SSENSE has everything for every sub-category of creative director, and Fall/Winter 2018 is no exception. Go forth and ideate.
Digital Muscles
In 2015, San Antonio Spurs' Matt Bonner sustained an elbow injury, but not from basketball. His new iPhone 6 Plus, "was a strain to use—you have to stretch further to hit the buttons, and I honestly think that's how I ended up developing it." being a form of epicondylitis, or tennis elbow: an irritation and stiffness in the muscles that join on the outside of the forearm. As our bodies are affected by—or adapt to—innovations in tech, it makes sense that so too must our wardrobes. A zeal for contouring muscle patterns presented itself on the Fall/Winter 2018 runways with a shocking pervasiveness. It would suggest that we are at the pinnacle of fitness, but scarce are the health benefits that come with the scroll of a thumb and the slumping of shoulders. Short attention spans and poorer memory, as our bodies get slower, why have brawn when you can just put it on? Wear the imaginary stamina you wish to have in the world.
Inspector Gadget
Inspector Gadget was a "powerful but dimwitted cyborg police inspector" with thousands of tech gadgets integrated into his human form. A rather shaky premise, but none-the-less the appeal of existing as a bionic detective is felt. For starters, his hand just is a phone. Imagine if you were a trench-wearing scam-detector with all of your favorite apps integrated into you, and then an umbrella comes out of your hat. And also a helicopter. And every imaginable cooking utensil is literally at your fingertips. Nobody wants to be a cop, and we're a few scientific developments away from the option to go full cyborg, but we may still channel the Inspector's delightfully modern efficiency in the coming season with sleuth-approved trench looks and wishfully enormous hats.