The SSENSE Fall/Winter 2019 Trend Report: Part I
A Guide to the Future and Next Season's Products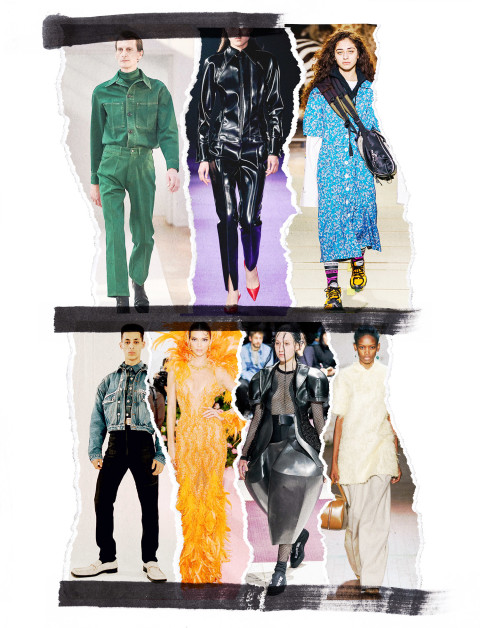 In fashion, Fall/Winter is the heavyweight season. The time of year that's most lauded by industry press and most widely anticipated by designers. Every campaign, editorial, and product is packed into the pages of the heavy, collectable, and , September issue, immortalized forever in fashion history. Autumn sees us ante up in layers as we look forward to sporting more gear and less sweat. Whether you're looking to refine your signature aesthetic or completely reinvent yourself, there's a fashion trend for you, and a backstory, too. So while you contemplate covering up, use our FW19 trend report as your cozy companion. Here's part one.
Joker 2.0
This October, rise like a (Joaquin) Phoenix from the ashes and take a (strictly!) sartorial cue from Arthur Fleck: the failed stand-up comedian driven mad and running amok as Joker in director Todd Phillip's vision of Gotham City. Honoring the supervillain's long history of technicolor tailoring, this Joker (costume designed by Mark Bridges) looks totally, disturbingly classic: a three piece suit in green, red, marigold, with hair and eerie clown make-up to match. Frightening as this rendition might be, come fall, expect plenty of Joker-type silhouettes on the street, as fashion continues its long-anticipated return to handsomeness (even the screwy kind) over hype. Dries Van Noten sent models down the runway in tie-dye suits while Francesco Risso's Marni man was what we'll choose to call "grunge-Joker": a puppet-suiting spree with psychedelic undertones, mohair, and dead-stares. Ralph Lauren Purple Label and Cobra S.C., along with E. Tautz (whose playful wearability is a testament to slouchiness as an unlikely form of slickness), all interpreted suiting, not as a tradition, but as an opportunity to recast those very traditions. Think: billowy corduroy, velvet, green plaid. There's more. Everyone from Fendi and Prada, to Paul Smith and emerging designer and Fashion East star, Mowalola, embraced the advent of leather tailoring (it's back with a vengeance!) by giving us coats and trenches that say, in the moodiest way possible, "Why so serious?" Off-White, too, jumped on the Joker bandwagon, interpreting new suiting in a purely DC Comics fashion. Boxy shoulders and deconstructed blazers. That something very cartoonish about exaggerated proportions. One surprising addition to this Joker roll-call is Lemaire. The sophisticated French brand known for tasteful luxury seems literally unfit to design a Joker fit, and yet. One FW19 look in particular comes to mind—an allover green denim-workwear number that says Joker-Realism, and why not? As the saying goes, not all heroes wear capes and not all villains wear…costumes? But perhaps nobody embodies this trend more than the Nigerian designer, Kenneth Ize, whose future-facing designs are bringing new vitality to tailoring, focusing on color, weaving, and the appeal of artisanal and long established Nigerian craftsmanship. His is a world far brighter than the Joker, but totally : polka dots and plaid, and bold takes on purple. His is the Joker with an alternate ending…(but even that sounds ominous!)
Nature Feels
It's official, fashion has fully descended into the wild side. For FW19, we saw outfits that look like they'd be more at home in a garden than on the big-city streets—utilitarian pieces, more cargos, chore jackets, and canvas. Looks that feel like they've been summoned from a florist's wildest dream—Richard Quinn's model-turned-flower ensembles. And lookbooks shot far out in the countryside—see Jacquemus' fantasy farm FW19 collection, goats and all. There are accessories too, basket bags, and hiking boots for mountain-side picnics, with pea-pod studs and vine-like earrings from jewelry designer Anne Manns to complete the look. With sustainability becoming an impossible-to-ignore conversation in the industry, outdoor gear and all things natural are starting to flourish. And if this summer's SS20 shows are any indication, it looks like everyone's finally got an organic state of mind. Let's hope this newfound appreciation for nature transcends just the aesthetic. After all, plant dye, not chemical, is the antidote.
No Logo
Logomania? We've been there. In a way. It only makes sense, now, that the fashion pendulum would swing in the opposite direction like it always does. FW19 is about taking a step back and embracing the understated. Where previous seasons saw shoppers flock to all-over print kits and logo-baring screen prints, the hype-fatigue has settled in and investment pieces are looking much more appealing than the quick hit of an uber trendy item (we see you leopard print midi skirt). That's not to say that pattern and color don't have a home here, it's just more about a tasteful peek of tie-dye than a fully psychedelic look with the waist pack to match. Think brands like AMI Alexandre Mattiussi, Lemaire, Totême, and Wardrobe.NYC. For FW19, elevated basics are back, and a blank tee has never looked so sexy.
Time Cher
"If I could turn back time…" sang Cher on her 1989 album . Although it's not totally clear why she would want to turn back time, seeing as she's had one of the most impressive careers of any female solo artist, and seems to only get cooler and more famous as time turns forward (Kim Kardashian has delivered many outfit homages, and deemed her "the most interesting to look at."). She is one of those icons who has accomplished so much and been present for so many pivotal moments in pop culture history that it's hard to believe she's still going. She sang with The Jackson 5, she won an Academy Award for her role in , she popularized auto-tune, and all the while pulling out countless looks. First it was hyper-60s oranges, knits, flares and tunics of the Sonny and Cher era, and then the endless shimmering gowns of the late 70s studio sets, and then feathers, glitter, head-dresses, dripping diamanté, 80s fishnet body socks, chaps, leather, scandalously unexpected cut-outs for the Oscars. For FW19, we're channelling Cher, throughout the ages, in lace bodysuits as seen at Alexander Wang FW19, or in glittering stretch-nylon and feathered hats from Saks Potts.
Scorpion Black
It's easy to consider the ever-changing tides of pop culture as the sole barometer for burgeoning trends. Time and again, we've scrolled past icons from Trinity to Bella Hadid in our curated feeds, wearing the same glossy black patent leathers and PVCs. We've categorized it as 90s, as Neo-Matrix, as tactical, as Trash Bag, as fetishly Freak in the Streets. What's clear is that black—its allure compounded through its dripping wet, slobbery luster—isn't , it just never gets . Especially where the world's most efficient recycler (fashion!) is concerned. Or maybe that's a title better suited to nature. Ever the innovator, it is nature who we have to thank for our most beloved form of black—nature gave us scorpions. Bulging gloss and hulking obsidian, see them scuttle down the FW19 runways, from Balenciaga, to Bottega Veneta, to Comme des Garçons, to Lemaire. We've already grown comfortable enough leeching poison into our surroundings—maybe fashion suggests we begin dressing the part. In 2019, we are venomous.
Square Toes
Chunky sneakers have long outlived their status at the forefront of "ugly" fashionable footwear, and this season, an equally controversial style is stepping into the spotlight. Enter the square toe silhouette—less bulky, more grown up, and perfectly adaptable to any environment (from the desert to the boardroom, cowboy culture to officewear), the style takes to the feet like the power suit to the body. Though the term "square" itself is often associated to prudeness and conventionalism, there's no denying the freak factor of Rick Owens' weapon-like heeled boots and croc-embossed, 80s-inspired loafers from Martine Rose. Square toes may have been met with hesitation in the past, but FW19's interpretations are definitely widening both our feet and our eyes.