The Velour Tracksuit: Dream of Doing Nothing
Tracking the Trajectory of Leisure Through the 2000s Staple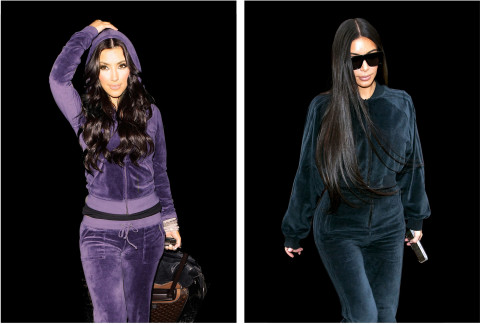 It is believed that Sasha Velour, of fame, chose her name because "the imitation of velvet" is an apt metaphor for drag. Velour is, simply put, velvet-to-go. It's velvet stuffed into a Starbucks cup and slurped through a plastic straw. Instead of silk, it's made from cotton or, increasingly, polyester, and woven to be plush and stretchable. Velour is Rihanna at the airport, Rihanna at the dentist.
While for most people, velour harkens back to a pre-sponcon, but peak-TMZ world, of Juicy Couture deftly getting their velour tracksuits into the hands (and onto the butts) of celebrities that mattered at just the right moment, athletic brands like FILA, adidas and Nike are still carrying the torch of the velour tracksuit. Younger, sporty brands Phipps and Martine Rose are offering unexpected updates, reworking the 2000s-era cut or using velour accents in subtle sport detailing. Luxury brands like Gucci, Balenciaga, and Y/Project (as seen on the SS19 runways) are defining the new look of velour by adding opulence to sporty nostalgia, mashing it with their respective iterations of upscale loungewear.Before the 1970s, velour was mostly used as a cheaper alternative for velvet in upholstery, becoming drapes and covering couches, and the tracksuit was quite literally a suit designed to be worn by a runner on a track to keep warm before a race. At the intersection of televised sports, athlete as celebrity, jogging as enduring popular hobby, a dizzying array of synthetic fabrics, and the prominence of hip-hop, velour tracksuits became a nearly universal garment by the 1980s, at least with men. Even James Bond briefly caved from his usual suit and tie and wore a navy velour FILA tracksuit in 1985's .
The boys of also frequently wore FILA velour sweatsuits. FILA, fittingly, was founded in Italy in the early 1900s (long before its present day iteration making chunky sneakers and cross-body bags popular with teenage influencers). When Tony Soprano needs to whack someone at 3, meet his mistress at 4, but be back home in time to eat ziti by 6, the velour sweatsuit is the perfect day-to-night option. As the unofficial daytime uniform of modern-day mobsters, both imagined and real (John Gotti Jr. spoke to the press upon being released from prison in 2009 while wearing brown velour), velour tracksuits took on a meaning distinctly separate from anything nearly athletic; they became an outfit that identifies someone who makes an enormous amount of money by doing very little actual labor. This was a sentiment Juicy Couture would later build an entire image on.Nas, who wore a bright orange velour tracksuit on the cover of his album , was also a fan of FILA, and cosigned a line of tracksuits with the brand in 2008. He explained at the time that the outfit was so important to him that when his best friend died, he buried him in a black FILA tracksuit. By the 1990s, a hallmark sign of a hip-hop mogul was selling velour sweatsuits with your brand's name embroidered on them. Jay-Z's Rocawear, Diddy's Sean John, and Russell Simmons' Phat Farm took over department stores everywhere. Instead of just endorsing established athletic brands and doing the work of making the brands look cool, they chose to carve out a corner of the market for themselves. In 1999, Russell Simmons' then-wife and model Kimora Lee Simmons, whose reality show would premiere two months before , launched Baby Phat as a women's offshoot of Phat Farm.
With baby pink and rhinestone-emblazoned velour tracksuits as one of its signature offerings, Baby Phat feminized the traditionally masculine outfit. "I didn't want to wear a football jersey from a man. That was not what I wanted in the sense that it was like your boyfriend's clothes, like his jerseys," Simmons told The Fader in 2016. "We were speaking to the women. At that time [our customer] was a young woman and she wanted to feel sexy. We were crossing over to be more feminine and fitted and sensual." While we don't want to explicitly accuse Juicy Couture of ripping off Kimora Lee Simmons, and their brands came to prominence around the same era, it does seem that Baby Phat ran so that Juicy Couture could fly.When Juicy Couture debuted their tracksuit in 2001, a combination of pre-recession era excess and savvy celebrity product placement turned the women's velour tracksuit into a bonafide phenomenon. Although it feels like Juicy began with the tracksuit, they had actually existed for a decade, first as a maternity jeans brand then as a line of 1970s California casual inspired t-shirts in a range of "juicy" colors. Founders Pamela Skaist-Levy and Gela Nash-Taylor reveal in their memoir (which, as of March 2018, is being adapted into a TV pilot for E!) that their role model was not another fashion designer or clothing brand, but rather the entrepreneur behind The Hard Rock Cafe, a global chain of tourist-y rock n' roll nostalgia-themed restaurants. "Like Peter Morton," they explain. "We wanted to create a whole Juicy empire."Pamela and Gela prioritized building relationships with celebrity stylists and being ever-present in awards show gifting suites. Instead of putting on regular runway shows, they saw Starbucks parking lots and valet waiting areas as their runways and the paparazzi as their PR team. The Juicy tracksuit became the official warm-up outfit to wear during much lower impact activities than actually running, ranging from Pilates classes, to getting your highlights touched up, to lunch at Mr. Chow. There remains a lot of nostalgia for this time, and a lot of nostalgia for Juicy Couture, but it seems to be coded in too much irony to actually be put into practice.The Juicy office maintained a "Wall of Fame" and "Wall of Shame," to keep track of their rise. Every week, an employee would purchase a stack of tabloids and cut out each celebrity tracksuit sighting, which sounds almost quaint by today's Instagram standards. The wall of fame was aspirational, featuring images of Madonna taking her kids to the park, Gwyneth Paltrow grabbing a coffee and J.Lo on her way to the gym. On the other hand, the wall of shame featured Mariah Carey during her much publicized "nervous breakdown" and Gucci murderess Patrizia Reggiani, who was convicted of orchestrating the murder of her ex-husband, Maurizio Gucci, wearing a tracksuit at his funeral. Somehow the constant documentation of the Juicy tracksuit on celebrities on the move, even if they were just on the move back to their hotel to cry in bed, made it feel less lazy than regular sweats and much more transitory and active. "We loved it all," say the Juicy founders. "We didn't care where you were going; as long as you were going, we were happy."The baby pink colorway of the Juicy tracksuit remains the most iconic, but also the most laughable, the easiest to point to when mocking the brand as a symbol of the bratty trust fund inheritor or the selfish third wife. There's that image of Kim Kardashian sprawled across the front of a white Range Rover while wearing hers. Or Nicole Richie on an episode of wearing the pants with a t-shirt that reads "Dude, Where's My Couture?" In Sofia Coppola's , teen burglar Alexis Neiers (played by Emma Watson) wears a cap sleeve version of the tracksuit with its only logical footwear pairing, Ugg boots. In Otessa Moshfegh's novel , set in 2001, the depressed heiress protagonist who self-medicates her way through a yearlong "hibernation" manages to buy a second-hand pink Juicy tracksuit without even waking.
A combo of cultural fatigue and sales of the brand from its original owners to giant clothing conglomerates are the reason why the once aspirational item can now be found at Kohl's for under $50. But there have been efforts to revive its velour heyday. Most notably, Vetements, in their habit of trying to elevate mundane American symbols, made a few Juicy branded items last year that cost thousands of dollars and had uncharacteristically high waistbands. This resulted in little effect other than a few articles claiming "Juicy is Back!" and an Instagram post of Kylie Jenner wearing a pair of pants that said "Juicy" across the butt. Rihanna was spotted going to the dentist in the red velour jumpsuit, but all the rhinestone Juicy logos seemed to be strategically disguised by her oversized leather jacket.As with many private sector industries, Rihanna is probably our only hope when it comes to bringing the velour tracksuit new life. Her Fenty line for Puma is the closest thing we have to the allure of early 2000s Juicy Couture—an aspirational piece of celebrity culture at a reasonable cost. She's introduced several innovative takes on velour, including a fitted lavender tracksuit she wore, in true celebrity form, while carrying a Dior logo bag and boarding a plane at LAX. Instead of Uggs, she wore white pointy leather boots, bringing the look into the future. Gucci, under Alessandro Michele's recent creative direction, has put the tracksuit at the center of its brand, releasing many ranging from casual velour, logo covered versions to super formal almost Elvis-jumpsuit-like versions that are embroidered, bejeweled, and covered in fur. In both their Dapper Dan collaboration from FW18, and in the SS19 runway show, velour was presented in 70s shades of brown, beige, yellow and green, undeniably opulent with kimono-type sleeves or jewelled accessories. But these are too luxury to be attainable, and at its core, the velour tracksuit should be for everyone. After all, it's not velvet. It should be adaptable, affordable, and comfortable—a practically glamorous tactile pod.While it seems only logical there would be an early 2000s fashion revival and a harkening back to the way the velour tracksuit was, the world is a different place. Wearing your actual workout clothes outside is now acceptable, even noble. Being photographed in a Starbucks parking lot instead of, say, Moon Juice is embarrassing because you should be bettering, not caffeinating. Self-indulgence has been rebranded as self-care. A trust fund is no longer something to brag about, but something to hide. It's all about showing off how hard you #hustle while #doingthings, even if your parents pay your rent. In the never-not-working era of constantly checking your email and building your personal brand, true leisure doesn't even seem to exist for the leisure class anymore. If there is anything to be nostalgic about when it comes to the velour tracksuit, it is how it represents the dream of doing absolutely nothing.