Tomorrow is the Heir to Our Legacy
The Founders On Re-Contextualizing Inspiration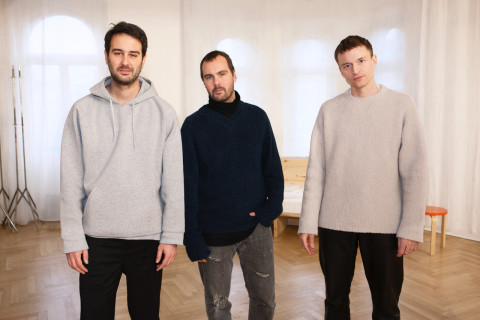 The second floor of the Our Legacy headquarters carries the feeling of a family home. An area where there is opportunity to play and be creative, but hidden away. Occupied by kids once—now marked with remnants of that time instead.
At the head of Our Legacy is Cristopher Nying, Jockum Hallin, and Richardos Klarén. 2017 marked 10 years as partners in steering the Swedish brand's direction. While recognizing that they are a company that specializes in clothing, a theme of Our Legacy's trajectory is the tendency to veer away from fashion. "More of a product-focused company than a fashion brand," —to be anti-fashion is one of the pillars of the brand's ideology. To this day, there has yet to be an Our Legacy fashion show.To reiterate the focus on products and process, the trio opened what they call "Work Shop"—a space in Stockholm where they reconstruct items from previous collections, and where they are free to experiment on a small, hands-on scale without jeopardizing the brand itself. Felicia Granath caught up with Cristopher and Jockum of Our Legacy to explore the Work Shop and unpack how the politics of desire perpetuate creation.
What lead to the creation of Work Shop?
Cristopher: We have wholesale customers around the world. Work Shop was a project where we could experiment a lot more on a day-to-day basis. Then it became something of a recycling store. It's nice to be transparent about where stuff comes from, that's a lot harder to show when you're wholesaling, or dependent on someone else.Jockum: This artwork was made by the artist Hans Isaksson, in which he stripped down one of our suits. The fundamental idea is to give renewed value to our old stuff—with another touch, its value can increase. I'm not talking about value as in money. I mean aesthetically, by adding something to it. It can be old Our Legacy garments, or fabric from previous seasons that we sew into new garments. What we do is take care of our footprints.
Do you like to work with symbolism in your design?
Cristopher: I think we are using very classic elements, and for me, that's very symbolic—there's a lot of symbolism in stereotypes. I like to think that we're angling it though. One season we did an army collection, that mainly was pink military jackets. Pink is maybe not seen that much in military garments.Jockum: That's also one way of using what we call the "hybrid garments"—we take something that is quite conventional, like a conventional fabric, and apply it on an unconventional item, which makes the fabric feel unexpected, and vice versa. An unconventional garment that has a very high level of design but use an everyday, generic, fabric. We work in this way a lot.Cristopher: For our Spring/Summer collection we were interested in the "boy room." When I was still living at home, I bleached a lot of denim. Tried to sew some military shirts. Jockum: It's all about the boy room, the room you grew up in. The style that you develop between 10 and 17 or 18, when you're ready to leave home. Cristopher: And we applied that to this collection, together with our first travels, like going to Thailand. We looked at backpacking—that was big when we grew up in the late 90s.
Why is that interesting to you?I've read several times that both of you say you, "became who you are during the 90s." Does that mean it laid the foundation for who you are today, or that you're into the same stuff now as you were then?Did you find your way back to that place when you started Our Legacy?Do you feel like you've grown into that person now?
Jockum: When you're a kid you don't have an infinite budget to spend on clothes. We had very little money to spend on clothing, so you had to be creative. You borrowed stuff from your parents, from your siblings. You borrowed stuff from your friends. You borrowed stuff from your mom and wore like a feminine knit with something else. Your style was bubbling. You started out maybe shopping in thrift stores, and surplus stores—adding an military element to what you were wearing. That whole mix is what the whole collection is about.Cristopher: I see my foundation more clearly now. There was a time when I wanted to create a distance from [the 90s]. I didn't like it, but when you're away from it for long enough, it comes back to you. When it comes back to you, you rediscover it—maybe it's because I'm getting older and I'm not as anxious anymore.Jockum: It has to do with experience and perspective. If you've lived something very intense, and you want to do something else, you have to break that completely. As you get perspective and distance from that, the nice elements come back. We were making clothing for ourselves, but in the beginning we were also creating this character that had all of these qualities that we wanted but hadn't developed yet. We weren't there yet, so we created that person with the clothing.Jockum: I don't know. Maybe that person has become something else.
What do you feel when looking back at your old lookbooks?Why didn't you want it to be obvious what was your clothing?
Cristopher: This one, together with the book is probably the most interesting. We had this idea of going "undercover." The keywords were money laundering and following people—surveillance. It also features a traditional Swedish graduation reception we took some pictures at. There are spreads in the book that I like, where you can't really differentiate between what's our clothing and what's not.Cristopher: Just for the purpose of seeing how it really looks. We didn't want to stage it. Here's a spread where people actually thought this was our shirt, but it was not. I was really happy about the result.
"By lacking the things we desired, we learned how to articulate what we truly wanted." When I read this in your book, , I really stopped and thought of this sentence. Can you comment on this quote? What were the things you desired?I read that one of the photo series in the book was shot in your hometown here in Sweden. Where is that?
Jockum: During our now 12 years, there have been different phases, and we've been lacking different things during those phases. In the beginning, since we were self-financed and didn't have a big investor that backed us with money that helped us do whatever we wanted—we could do whatever we wanted in terms of creative freedom. Nobody could tell us what to do. We did clothing that we felt was "missing," that we wanted to wear. Maybe that was what we were lacking. The plan has always been an aesthetic plan.Jockum: It's shot in Huskvarna, in Jönköping. Mikael Olsson was the photographer, he's a prominent architectural photographer.Cristopher: The concept of this was also about going back to look at places where we both had good and bad experiences. There are churches everywhere in our town, and I grew up close to this religious mentality. There are stories to each picture. This one with the stream—there was a rumor that a man was murdered here, so as kids, everyone was of course afraid to walk near it.Jockum: There's also a picture from a hockey rink. We actually met the first time playing junior hockey, in Jönköping.Cristopher: This picture here is of Erocenter. It's a sex shop in Huskvarna that has been really vandalized, they've also assaulted and beat the guy who runs it a lot too… Here's a big pipe going through the whole forest in Huskvarna, where all the shit goes. It's a very melancholic childhood, we don't wish to romanticize it too much.
How come you started making actual books out of your lookbooks?And you're selling these books right? I mean, usually, lookbook books are small catalogues that are given away for free. I think that if you do buy one, and you put money into it, you value it in a different way. If you treat it as a book, you look at it differently.
Cristopher: I've always liked photo books, and because we haven't done a show, this became our way of communicating.Jockum: I think the act of making something physical was also in the brand's DNA from the start, we wanted to create something sustainable that would last, you know. Something to pass on. A show is over in a few moments and the pictures are out and circulating for a quick moment until they're gone.Jockum: That's the whole idea behind this. Same goes for the clothing. We don't want to make something that you look at once, then throw away in the trash and it's gone.
What do you think the items in Work Shop say about Our Legacy and your ideology as a brand?
Jockum: I think that a certain part is predictable, another part I hope is more unpredictable, or coming from an angle you might not have expected. And I think that's the whole thing we do. If you're only doing the right thing, if you only do what's expected it becomes flat. Take a wrong element from an era, and combine it with something different, that's a way of making something new.
Recens Paper Wallet.