Tomorrow Never Dies
Looking Ahead with Celebrated Model Agent Eva Gödel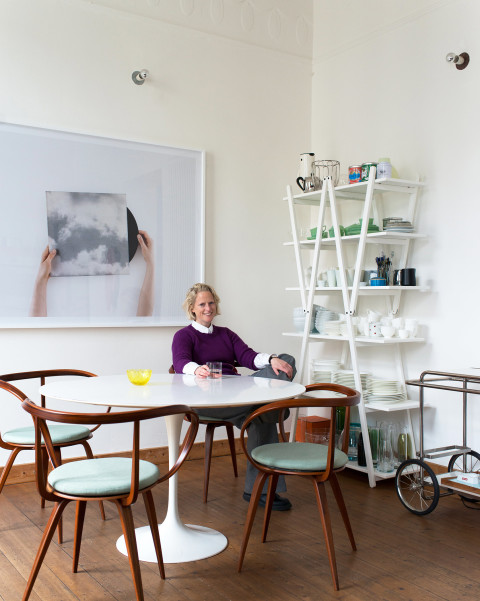 At Eva Gödel's model agency, Tomorrow Is Another Day, the attitude matches the sign on the door. Although the 40-year-old has been in the business for 15 years, and her modelling agency celebrates its seventh anniversary this year, she continues to represent male models whose books demonstrate forward thinking. Freed from oily Adonis complexes, the 200+ boys and men of the agency reshape fashion's idea of desirable masculinity. Skip bicep training and work on your manners instead. Gödel knows that beauty withers without personality, and therefore focuses on street casting her new recruits. From its beginnings in Düsseldorf and Cologne, TIAD today casts a wide net into multiple fashion capitals—and still Gödel prefers to hit the streets for new faces rather than scroll Instagram like so many others (she's not a fan of too much screen time). Ahead of her most recent trip to Helsinki, Bianca Heuser spoke to Gödel about scouting fresh faces, what it takes to be "it," and how to make an often short-lived career last.
How often do you go on casting trips?How do you prepare for your trips?So scheduling time for street castings is still top priority for you?
Very regularly. We started having more jobs in London and Paris, and a lot of the boys who live here still go to school, so if they have to travel for the job they miss classes and then are not available for the next request. I thought it would be good to have models who live in those other cities as well. First, I went to London, where people said I wouldn't find anyone who hadn't been approached by an agency before, which has proven itself to be untrue. Somehow, I always approach different boys.I usually try to find concerts, places that attract a lot of people that age, or places where there generally are a lot of people. I prefer doing trips when it's warm enough to be out on the street all day. I hang around shopping streets, Oxford Circus—busy, crowded places. It doesn't work when they are sitting down, I have to see them walk and move, see the way they act. If they're walking I have more time to observe them, walk behind them for a bit and check them out.It has to be! Thinking about the shows in July, I still have to go to London and Paris, to the biennial in Venice—we're doing the casting for Anne Imhof's performance there—and Helsinki and Berlin, too. My schedule is so tight, but it's the most fun part of my job. It's what makes the agency special—we always have a lot of new faces, and not just according to the market. I like having a spectrum. I can see something in most boys. For some, it takes time. I have a lot of models I met four or five years ago and, for the first year or two, our clients just didn't respond to them. Then, all of a sudden, they get a lot of bookings.
What kind of person are you looking for?Have you always been an observant person?
Of course, they should be of a certain height and slender—which is why it's better to go on trips in spring when people wear less—but when it comes to a face, it's just the person I take a second look at. Sometimes it can be a single feature, like cool ears. Sometimes it's the first guy you bump into at your supermarket. One time I casted a boy because I saw him at the supermarket on a Saturday, it was super busy and he was waiting in line with a bottle of water. Instead of buying it at another shop—because it's cheaper at the supermarket—he stood there completely relaxed and somehow very cool. His whole posture was super cool, very modern. Of course I wouldn't have approached him if he hadn't also been good-looking, but his attitude was what caught my attention from three cash registers over. I like a kind of shyness and nonchalance.Yes, for sure. I'm just good at that. Before I opened the agency, I found models for Rosemarie Trockel's art practice. The boys in her photographs are often ours. She was basically my first client. The fashion clients came later. Since there is hardly fashion in Cologne or Düsseldorf, I am way more connected to art and artists. I've always been interested in that. The people watching comes to me naturally. In general, I'm interested in what people are doing, how they are moving, what kind of bags they are carrying. I can't help myself.
Why did you decide to focus on men?
In the beginning, the market was much smaller for men than women, which was more relaxed, and I've always been more interested in menswear. My favorite designer when I started was Raf Simons and I dreamt of booking models for him—that did eventually work out. Now, menswear presentations are twice a year, and I think doing this four times a year with the same amount of effort would be too much for me. I see men better and I like that for most of them, it is not their main job.
How's that?
A lot of them just finished school and are not sure what they want to do. That's ideal because they're free to travel for us, but I also tell them to take this time to think about what they'd like to do. They learn how to work in an international team—team-work is so important in fashion. Backstage at the show of a big house, team-work is more important than in most other industries. Everything has to fit together perfectly: the designer, their team, hair & makeup, lighting, and the models. I always tell the boys—it's not like you're the star here, look around and see how it all works. Learn how to interact with someone who speaks a different language. That's what you can take away from this, no matter whether you go on to study business, become a lawyer or carpenter. A lot of boys only have the look for a year or two.
Right.It must be great for them to feel taken care of by their agency in this way.
There are exceptions, like Tillman who has been with the agency since it was my dissertation. These models age with their clients. He just did a Jil Sander campaign again, like he did ten years ago. Not everyone is lucky, but I still have four or five boys from the beginning. That's ideal.We get a lot of good feedback and that's important to me. When you're young, it's not obvious where you come from. You can look like a young prince when your parents are on unemployment. That makes it exciting when we go to Paris for the shows, the boys are from such diverse backgrounds, and at that moment, all of them have the same chances. It is about your looks first and foremost, but also about your behavior. And your social background says nothing about how you are, some boys learn such great manners from their parents. Their English might be worse, and I encourage them to study, but they are great with clients and fold their clothes after the show and say thank you. They're always on time. Their parents say: "What do you want with him? He gets high all the time and got kicked out of school." And when they start working with us, it doesn't matter if the flight leaves at five in the morning, they'll be there, looking fresh, motivated, reliable, with great energy. A client might book you once for your look, but in the long run, they have to like working with you. You have to show them you like doing this without being annoying, be polite without being boring. It's a fine line, and they can learn how to walk it here.
How does the shifting ideal of masculinity in fashion relate to our society's changing perception of masculinity in general?
I think right now is about diversity and global heterogeneity. That has to do with a borderless Europe, the discourse around gender identity—the issues that concern us these days. Of course this expresses itself in fashion and its image of masculinity. The first campaigns I saw that showed different men were Helmut Lang's. I tore them out of magazines and hung them on my wall. Those guys were the only alternative to the Cool Water type, which was never my thing. I was influenced by photographers like Larry Clarke and Nan Goldin. I think today is about something authentic. It's more about personality to me, something sweet but rebellious. In the beginning I casted whatever was real around me, people who went to the same parties as me. It's still like that.
Does the increasing popularity of "nodels" impact your work?What does the name Tomorrow is Another Day mean to you?
We get more good applications now. Social media helps with that. People come to think that they might be able to model too. It also makes for high fashion that's interesting to young people again. Vetements, for example. It's been a long time since there were designers that young people thought were really cool, and wanted to wear. Some boys who had been working with fashion houses for a while would be gifted a piece for a fitting, and it was never really their style. Now there is high fashion that is desirable to them again.It has a good vibe. Tomorrow just is another day, no matter what happens. I like that it looks right ahead. In my personal development, it often meant letting go of things and trying something new. You have to learn that. I like to control everything but you can't always do that. Our agency is about tomorrow. And I always tell our boys—"Well, if you didn't get that job – tomorrow is another day."