Total Exposure With Mowalola Ogunlesi
The Nigerian-British Designer (and Newly-Appointed Yeezy Gap Design Director) Is Making Clothes For The World She Wants To Live In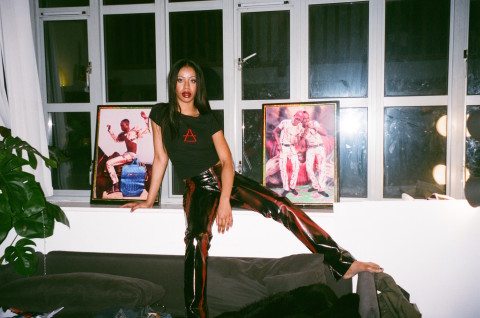 Mowalola Ogunlesi skimps on leather, . Earlier this month, the Nigerian-born designer's London Fashion Week debut, as part of Fashion East's runway—the pioneering non-profit initiative cultivating London emerging talent—was a kaleidoscopic mind trip of quite literally, minimal proportions (and maximal effect): skin tight teeny leather skirts and cutout tops, cropped jackets, tall boots. Designs that confessed the pure sex of thong straps and pelvic bones—of a curve, a nipple, a zipper, the dipped low-rise of leather pants, and the turn-on of a trench (worn with little under). Each piece was slick, suggestive, like some sort of leather hallucination. The palette was forceful, almost accelerated; turquoise, pulsing green, yellow and PVC-blue, red (pyretic and earthy). Even the concept of a classic white shirt was engineered by Ogunlesi to match her eponymous label's refusal to do anything too straightforward or for that matter, classic. A Mowalola white shirt flies open, is secured with nothing more than a bow—or is slim with a slit, bib-like. Fun. Clothes for never looking bored. For appealing to shock, the 80s, night; that something combative about leather that cinches and shows off the body.
We met a month before Ogunlesi's show, at her studio and flat in Dalston, to talk to the third-generation designer (who counts Skepta and Kanye as fans, and who dropped out of Central Saint Martins one year into her MA) about creating clothes that speak to and are inspired by tension, edge, Fela Kuti, the Nine Inch Nails.
Your family has a background in fashion, right?Is that still the case?
My grandmother started a womenswear brand in the 80s, in Nigeria, which my mum worked on. Both of them were designers. My dad does menswear—traditional Nigerian menswear. Clothes are a really big thing in our household. Growing up, I didn't know too much about it in terms of seasons, designers and stuff, because being in Nigeria, I was kind of cut off from the rest of the world. I didn't have Wi-Fi, I only saw what I saw on TV. My parents allowing me to go to England, to focus on that more was really great, because in Nigeria, they just don't see fashion as something worth even spending money on, like for studies or for developing.With people like me or other Nigerians I know that have proven to be successful in this industry, it does allow our parents to see the other side—what it could be if they let their kids explore. We need more of that in Nigeria because they're really scared that their child won't be successful. It's a very money driven society. Having children who do creative things, changes the world in a different way. I'm really happy that I got to be in this creative industry and be on this journey. I've been getting deeper and deeper in my thoughts of what I want the world to look like, and what I'm trying to do to create that world with my work.
Were you always set on fashion?That's interesting.What was it like at CSM?How so?
I didn't know what I wanted to study after boarding school. I wanted to be a plastic surgeon for one.When I was finishing my GCSEs, I was watching a lot of . I was like, this is so much fun, it looks like the most fun thing to do, cutting people up. When I did go to Central Saint Martins, to do a foundation, I actually didn't pick fashion. I picked textile. And then I went on to study fashion textiles.It wasn't hands on. It's kind of what you make of it. If you want something for yourself, you have to take it. You have to push for it. Being there, I grew so much as a person. I got to a point where I knew what I liked, and I knew what I wanted. I realized I didn't want to work for somebody, that I wanted to explore my own vision. I started the MA in 2017 and then left [in 2018]. They weren't understanding what I was trying to do.They are just a bit too dated. There's not really a lot of variety, tutor-wise. Everyone's white, British. Or like white-European. There's not really any people of color teaching us. But I did have this teacher, Reba, who taught us cultural studies. Reba Maybury. And she was amazing. She's a writer, she also does BDSM shit, but basically, she made us ask ourselves the questions we never really think of to ask ourselves. I know what I like, but I wasn't questioning I like what I like. She helped me become less complacent.
Is there one "why?" that stands out to you? That unlocked something for you, like a skeleton key?How do you feel about how your clothes are being received? Is your intention felt? Does that matter to you?Can you talk a bit about Fashion East?
Yeah, just what world do I want to live in. What do I want to see? That was the most important thing. You're designing for the world you want. How do you want to change the world with your clothes? What are you trying to say? Every time I design, there's a purpose. I might not be able to speak on it, I'd rather just put it out there.Definitely. I think people really understand why I do what I do. It's funny because when I was speaking to my Nigerian aunties about my collection, I told them I wanted to use lace on the guys. And they were like, "What? What do you mean? That's not going to look right. Guys don't wear lace." I was trying to explain to them that gender constructs don't need to have certain wardrobe restrictions—people can wear whatever. And they weren't trying to understand, but when they saw the collection, they were like, "Wow, we loved it. We understand it. We love the way you dress men." If I can change those peoples' minds, maybe that's the way to make change instead of trying to have the conversation over and over again.When I was doing my MA, I just knew I didn't want a show with CSM. I didn't like their platform. It was just too tight for me. I feel like I needed to be with people who understood me, who are more on my wavelength. So I dropped out and applied to Fashion East. I met Lulu [Kennedy]. She's such a vibrant person. [Fashion East] really helps you a lot in terms of everything. Very hands on. I'm with these people that I don't even pay and they're doing so much for me. Without Fashion East, there probably wouldn't be the new designers that we get here in London. It's really important to have that support, because brands like Burberry, and Celine, now, I find really boring. They don't excite me at all. The only people that excite me are Asai, Charlotte Knowles, which have all come out of Fashion East. That's where the fire's at.
Describe the kind of mentorship you're receiving at Fashion East.Are you good at promoting yourself?Are you nervous?Have you ever been nervous about your work?
Having your own brand, it's great but it's not as profitable as you think it's going to be. You lose a lot of money. So they're really good in terms of helping you understand the sales aspects of it and what you need to get to secure yourself. Things that you don't learn in fashion school, which you should. And not only the business, but promoting yourself as a brand or a person.That's what I like to do. [] That's what I like to do because it's the most interactive thing. It's fun. Making the collection is great, and the fashion is great, but I want to make a film or a crazy photo book. I always have so many ideas for the , I can't wait to get to that part. This is just my first time doing a proper season.No.I used to be, in my BA, early on. When we had a project with Loewe, I was too nervous to speak about my ideas. I could never do that before. My collection has given me a whole new sense of confidence. I know what I'm capable of, I know what my worth is. I'm happy to talk about myself and to speak about what I'm thinking. I'm not so scared anymore.
Because you return to Nigeria less and less, how is that impacting or not impacting your designs?Do you work with music playing?What do you mean violent?What's one of the best reactions you've had to your designs?
I'm Nigerian until the end. But in terms of research—fashion research—it's going to change. I don't think I'm going to be looking at what Nigerians are wearing forever. My mind is very sporadic. My voice is still there but what I take from, what I'm focused on, could be anything at that moment. I jump around. Like my music taste.Yeah. I blew my speakers though, so I'm suffering right now. I had too many parties. So now it's just my laptop speakers, but it's not the same. For me, as soon as I wake up, the music is on. It sets the mood. For my first collection, it was African psychedelic. But with this collection, it's a lot of rock and 80s electronic music. "Closer" by Nine Inch Nails. I could just listen to that, over and over again. Also Prodigy's "Smack My Bitch Up." The mindset of those songs, is exactly where I'm at with this collection. "Nightcall" by Kavinsky, too. This collection is about being exposed. It's about being dangerous. It's violent, but it's also provocative.It's aggressive. The feeling of it, the energy of it, is a constant mood for me. I get angry, but it never consumes me. The anger is pushing me to do more of what I want to do. In fashion, everything can make you angry. With people biting off your techniques or ideas. But I really couldn't give a fuck. My vision for what I want can't be replicated. You don't have my mind. You don't know what I want, what I'm thinking about. So I don't get caught up in that.That's such a cringe-y question! With everyone that wears it, it's the same kind of personal experience. They feel powerful. Even the male models, when I've asked them to wear a thong, they're like . But when they have the clothes on, they're all taking pictures, living in this whole fantasy world.
Is there a designer whose career is aspirational for you?I could see them all wearing your designs.When you talk about someone wearing your designs, you call it a collaboration.What does it feel like when someone who doesn't inspire you is wearing your designs?
Grace Wales Bonner. I worked with her when I was in CSM, for about three years, starting as an intern. I would do research commissions. I always try and work with people who I want to learn from, rather than working in a big corporation. She got me to see that creating a collection is more than just the clothes, it's the whole story. I got a lot from her, but I've executed it in my own way. With her it might be like, poems and readings, and with me it's more music and artists, people I get really excited about like Fela Kuti, Parliament, Prince, Andre 3000, Jimi Hendrix.So can I! I'm waiting for the day when I can do a shoot with Andre 3000. That would be a dream collaboration.Yes! It is! If there's something about you that's really inspiring to me, it becomes a marriage. I'm not going to collaborate with people I'm not inspired by anymore.I feel nothing. When I work with someone and it's a proper collaboration, I get so much joy out of it. Sometimes when stylists use my clothes, it's not what I want. Their aesthetic is not my aesthetic. But me working with musicians or people who have really sick minds, that makes me way more happy. I feel like we're really creating something new. It's really important to have more control about how your story is told. I don't give my clothes to just anyone. I'm not that bothered about being in magazines. I learned from Grace, you have to be really selective. It's your art, it's your baby, don't just give it to anyone. It's special. Everything doesn't need to be for everyone.
SSENSE.