Toughness and Style: The History of the MA-1 Bomber Jacket
Artist Simon Mullan Unravels the Iconic MA-1 Bomber Jacket, a Garment that Has Traveled from the Military to Subculture to the Center of Fashion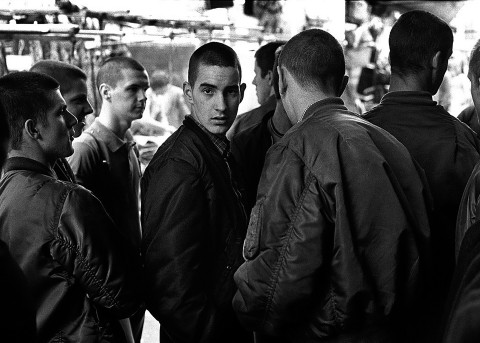 Nothing embodies masculine hardness like the MA-1 bomber. And few pieces of clothing have meant so much to so many.
Yet whether that power still remains after decades of appropriation by different subcultures—taking it from a jacket that could incite fear with its thug associations to a mainstream staple—is another question. From its military origins to its status as a skinhead uniform, through to gay culture and high-end fashion, its story follows the same continuous line as the ever-emerging youth movements it inspires."Being a teenage skater in Vienna was how I first came into contact with the MA-1," explains Austrian artist Simon Mullan over Skype from Berlin. "It was worn by neo-Nazis and football hooligans, and when you saw them approaching the skate park it meant trouble." His latest show at the PM/AM gallery in London, "Die Fläche (The Surface)," highlights the enduring relevance of the MA-1's rebel image by exploring what happens when you start stripping it away. Mixing with other groups who translated the jacket's rebel edge in less violent ways—like ravers at Berghain, for example—and then wearing one himself drew Mullan's attention to the MA-1 as source material for his work. The artist was heavily influenced by Joseph Beuys and his use of organic substances like fat and felt, which fueled Mullan's attraction to harvesting bombers for plasticky synthetic textiles like nylon and polyester instead. They first appeared in his work as props in video and performance pieces, in which he would dress his protagonists in MA-1s or force gallery staff to wear them as part of their uniforms. This meant he always had plenty lying around, and that started him thinking about the MA-1 in terms of art that could be hung on a wall.
In his , Mullan deconstructs the tough image of the subcultures that have traditionally worn the MA-1, from Hard Mods to left extremists, by deconstructing the jacket itself, taking sections of material from numerous bombers and quilting them together. In doing so, he questions the validity of their masculine symbolism and tells a new story rooted in the combined histories of every jacket patched into these larger composites. Each artwork features just one color MA-1, further emphasizing how the jackets are used as signifiers by different groups. "In Vienna these divisions were simple," says the 35-year-old Mullan. "Turkish gangs wore red ones, neo-Nazis green, anti-fascist guys wore black, and gays had silver ones. I talk about that a lot. So, when I bought over 60 original MA-1s worn by Vietnam vets from Los Angeles last year and used them instead, it was great because you had works that were the same color telling a completely different story."The skinned carcasses left over form a basis for . Mullan turns his byproducts into another comment on the MA-1's impact on subculture, making these neutral jackets stripped of their colors the uniform for a movement of his own. "One night I was wearing one out, and it attracted so many comments that I decided to work with it," says Mullan. "I give them away to people to borrow and wear as if they are part of a new subculture. But you can never own it, you have to give it back eventually. And I think that's a good counterpoint to the art market." Minus their shiny outer shells, with downy insulation exposed, the jackets have a soft, textured look that also transforms their original toughness. "That's really important. In Austria, we have a saying '' that translates to 'bomber-skin,' referring to how the MA-1 becomes your protection against the outer world."
Developed by the defense contractor Dobbs Industries for U.S. Air Force and Navy fighter pilots in the 1950s, the MA-1's defining features are rooted in battle-ready functionality. The overall design is sleek and not fussy, and avoids snarling up important equipment in the cockpit like the oxygen mask and headset. A nylon shell and synthetic Holofill quilting are lightweight but comfortable in sub-zero temperatures. The iconic flame orange lining was designed so that downed aircrews could reverse their jackets to signal to rescue teams. Originally available in sage green, as the jacket was adopted by other branches of the military and then the public, an offshoot of Dobbs that became Alpha Industries introduced today's familiar shades of black, midnight blue, and maroon.
The simplicity of the MA-1's design underpins its utilitarian appeal, and explains why the original is so widely copied today. Quality of materials aside, a $20 bomber on eBay varies little at first glance from the Alpha Industries model. But as with any vintage menswear classic, there is a sliding scale of authenticity. At the top end of the market are the likes of The Real McCoy's MA-1 replicas and limited edition Buzz Rickson's jackets, both from Japan—premium copies of the original MA-1 immortalized by William Gibson's character Cayce Pollard in his novel . Her Rickson's MA-1 represents a blank piece of anti-fashion that, when viewed in the context of being an anonymous basic, reflects the ease with which the MA-1 has been adopted and adapted. "It's definitely a stalwart of U.K. style," explains photographer Ewen Spencer, who created i-D's series. "It's often been reinterpreted, and at times has had a huge mass appeal because anyone can style it out."The MA-1 was part of a working class wardrobe. A replica jacket was cheap and functional. Love for them passed from father to son, along with practical advice like how to squash the puffed-up shape out of a brand new bomber by keeping it under your mattress for a week. "I think the MA-1 is quite nostalgic, because to me it's a jacket that has been able to withstand different changes in culture," explains Elgar Johnson, fashion director at . "Their appeal comes from the fact that anyone can wear them, and they have been a huge part of skinhead, gay culture, hip-hop, acid house, etc. The MA-1 just fits."
The MA-1's jump from esoteric subcultures to more mainstream fashion was eased as the gay community adopted the skinhead uniform in the mid-80s, which in turn made it more acceptable for the wider public. Jimmy Somerville's look when Bronski Beat released "Smalltown Boy" in 1984 personified this new appropriation, mixing the MA-1 with Levi's 501s and button-down shirts and taking the homophobic sting out of a uniform worn by a traditionally far-right movement.The London-based Buffalo Collective's street-inspired look, created by stylist Ray Petri, continued this shift by championing a high-fashion take on the stereotypical masculine ideal, subtly subverting an ultra-macho image with a knowing edge that suited the MA-1 perfectly. "I remember seeing the model Simon de Montford wearing one in and I thought he was the coolest person ever," says Johnson, "Later, I saw David Beckham wearing a green MA-1 and wanted one, too. But they don't suit me, so I just wear the black. Oh, to be a handsome national treasure!"
From the post-punk patches of Raf Simons' oversized, Gabber-inspired Spring/Summer 2000 bombers to Helmut Lang's punk-inspired bondage straps for Fall/Winter 2003, both of these iconic runway appearances of reworked MA-1s were rooted in the rebel spirit of teen radicals. Since then, the bomber has progressed through the unexpected proportions of Rick Owens and homo-punk toughness of Givenchy under Riccardo Tisci—where would YEEZY be without them?—to become a catwalk perennial. Countless iterations are produced every season in tweaked silhouettes and increasingly luxe textiles. The conversation continues via the work of talents like Demna Gvasalia of Vetements, who plays with XXXL-fitting MA-1s for women. For all its masculine posturing, the simplicity that defines an MA-1 also explains its androgynous appeal.The MA-1's functional design and masculine history will inspire youth movements for as long as groups of young men and women find new ways of repurposing it. As this continues to happen on the street, the MA-1's prevalence on the runway and in art becomes just a subplot in the bigger narrative of its relevance. Mullan's work is as much about the MA-1 being a statement of belonging as it is about hardness—which is what makes it particularly fascinating now that the bomber's role as a uniform has found wider commercial success. The jacket is something that can be bought into, but never owned.