User Experience: the Acne Store on Greene Street
Exploring the Maze-Like Boutique Where Impulse Purchases Are Born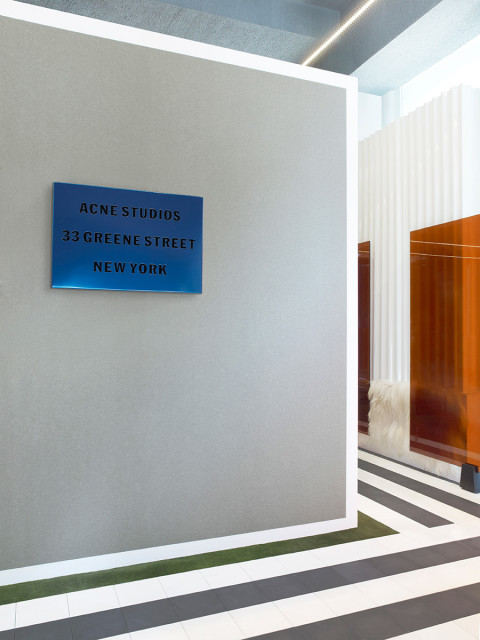 There are certain things we have come to expect from a high-end boutique. Sleek, minimal displays. Open vistas, even in small spaces, to give an air of spaciousness. Symmetry and consistency. Acne's boutique in New York City's SoHo offers none of the above, and this is exactly what keeps me coming back to it. The Greene Street location was Acne's first American flagship, opened in 2012 and designed by creative director Jonny Johansson and Bozarthfornell Architects. Its decor was inspired by Sweden's varied natural landscapes—a mossy green carpet covering much of the floor alludes to Stockholm's islands, and a panel of cold blue glass set behind the cash desk pulls in the colors of the Swedish archipelago. The motivation behind the decor—a nod to the label's heritage, an attempt to inject a bit of the bucolic into the city—is immaterial, because what is really interesting about the space is its floor plan. Rather than the typical large, open, evenly-lit space, Acne's boutique is a shadowy, maze-like series of uneven chambers and tight corridors.
I visit the shop again mid-morning on an unseasonably warm and sunny Friday, underslept but overcaffeinated, humming internally. Located on the corner of Greene and Grand Streets, the boutique's exterior is unassuming. However, the moment I enter it, I am reminded it adheres to a different sort of retail design logic. Stepping up three treaded steel steps and through the door, I find myself facing a wall. No grand tableau—just a taupe wall and a metallic blue plaque bearing the brand's name and the shop's address.Shopping is often a passive experience disguised as an active one, which is likely why I love it so much. It lends itself to drifting, the body performing the rituals of examining products while the mind wanders. It is an ideal pastime for anyone prone to overthinking, and I have always been a worrier. At Acne, though, I have to choose a path right away. I turn right, and rounding the corner, step off of the black-and-white tile onto the green carpet.The downtown boutique is a weird interzone. It is a space that is not exactly private, but not fully public, either. It is an oasis offering temporary shelter, calmness, distraction, and, at Acne, a bottle of still or sparkling water. But the store is also a site of tension—these are chapels of commerce, after all, and I am meant to buy something, so there is always a transactional pressure bubbling beneath the surface of a visit. Under the sales associate's sentinel gaze, I browse on an intuitive timer, trying to exude the vibe that I could buy something without hesitation if sufficiently impressed, wondering if it's working, and excusing myself when things begin to feel awkward. Acne's Greene Street location complicates this dynamic with its labyrinthine layout. Here, as you pass underneath arches and around corners from one part of the shop to the next, it is possible to find unexpected moments of solitude.To find oneself alone in a boutique is a strange feeling. There is a sense that you are somewhere you shouldn't be. Exiting the fitting room, I turn right, walking the long hallway past a wall of denim on my left, other fitting rooms on my right, turning left at the end to find myself suddenly alone. I am all the way on the other end of the shop, browsing womenswear and women's shoes. I feel like I've slipped into a bedroom at a house party and started picking through someone else's closet. This is an illusion, of course, but illusions still produce sensations, and the most palpable one here is a sense of anticipation. What will I be doing when someone finally sees me? Will I have time to fire off a selfie, or snap some reference photos for this story before a sales associate slides into the frame?
I am examining a black leather slingback, its blush interior matching the paint job on the I-beam staked through the middle of this section, when two women turn a blind corner and nearly walk straight into me. We share a laugh. The busiest cities tend to feel the loneliest, with so many bodies whirring through them that they cease to register as people. This is especially true in a neighborhood like SoHo, a 365-days-a-year tourist mecca perpetually teeming with humans. Acne's shop seems designed to generate these sorts of brief encounters that pierce the blasé impersonality that characterizes life in the metropolis. Whether impelled by the spirit of the Nordic wilderness or the quirky claustrophobia, unexpected intimacy is a welcome byproduct.The boutique's coziness has a practical component, too: up-close-and-personal with the clothing, I can't help but handle it. This is how impulse purchases are born. Stepping into the shop's central chamber, I find myself next to a small rack of women's leathers, including a full jumpsuit with biker jacket detailing on the torso. The stiff, shiny leather demands examination, and I am frankly relieved it isn't available in men's sizing.Continuing back across the shop, I find myself again in menswear. I thank the sales associate who had helped me earlier, and turn to leave. Approaching the glass doors, I clock a blogger perched outside on the steps in the midst of a street style shoot. I ask her what she thinks of the space: "It's kinda like a maze, and I fuck with that. It's homey, but it's lonely." Ask 100 different people how they would like to feel after a shopping trip, and I bet not one responds "lonely." But fulfillment often comes in the form of a feeling we didn't know we were looking for. Acne's Greene Street location is strange and counterintuitive and better for it. I keep coming back because it makes me feel something deeper than distraction. Four out of five stars. Would recommend.