Val et Pomme's Life in the Fashion Diaspora
Charting The Multi-Hyphenate Model's Global Style Map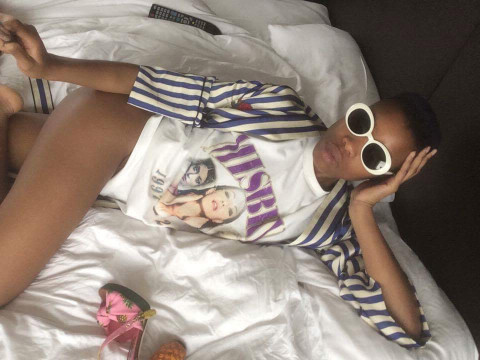 As a model, DJ, stylist, and fashion editor at Nero Journal, Valerie Mevegue—nom de net Val et Pomme—is a card-carrying member of the international fashion diaspora. Born in Cameroon, raised in Paris, and now gracing the pages and URLs of Vogue Germany, Numero, and i-D, Val lives that gloss life in Berlin but is not easily impressed. "Maybe I still have that really deep African way of feeling things," she offers. Equal parts muse and artist, Val is an archetype for the modern-day fashion icon who coyly poses by day only to then seize the means of production by night. In a scene where beautiful faces age out as quickly as cut roses, Val holds fast to the creatives, not the money, that make a city fashionable.
How did you take on the name Val Et Pomme?La Dentellière is also a film with Isabelle Huppert, no? What is it about her character that attracted you?Do you think there are parallels between these characters and fashion people?It's interesting how one's style can also function like armor.
Well, Valerie is my name, and then Pomme I started maybe seven years ago. I had discovered this book called La Dentellière by Pascal Laine. I also had started this fashion blog that was called "Val A Pomme." I've stopped it since, but I kept the name.Yes, the film is okay, but I really loved the book. It made me cry, which is a rare thing, and I just connected with the main character's story. Her name was Pomme, and I decided to call myself after her. It was when I was still living in Paris. In general I'm usually attracted to the sad characters. The ones who are in a struggle, or they are not yet comfortable in themselves. The troubled ones.I think so. Fashion and art people are not normal people. They all are troubled. Usually they have either low self-esteem or too much of it. Or they are quite sensitive but put up fronts to make people think they are without feeling.Yes, what some people wear, particularly interesting people, can also make them hard to access. Even for me on a normal day, even if I just go to the grocery store, I am aware that it is important to look fabulous while doing it. Like, why not?
I often think that nothing in life is promised, so wear something you care about the most. That way, if the house burns down and you have nothing, at least you still have a little bit.What's the style frequency in Cameroon right now?What are some of the things you're looking at now when you think of fashion that's on the rise?
This I definitely can relate to! I went to Cameroon for Christmas with my whole family. And I came back with a few things that I bought there and some jewelry pieces. And I just felt like wearing these things every single day with any outfit, even if it didn't match or fit. My life and my experience makes it fit.First of all it's super humid there. You have one season that's humid and one that's dry. You have one part of Cameroon that's very merged with what's happening in Europe, and so they dress accordingly, but then you have those people who don't really care about that. When I go there that's more what I look at, at the people in the markets and in the streets. They don't really give a fuck about what the trend is or whatever.I'm open to whoever, it doesn't matter where they come from, what they listen to, what they look like. From that lot there will be a few gems. I'm not really impressed easily, and usually when I'm impressed it's not because of superficial things. Maybe I still have that really deep African way of feeling things. Like my mom in Cameroon for example—it doesn't matter who you are, she will treat you the same way.
Having left Paris for Berlin, do you think Berlin will become a fashion capital like Paris?DJ, stylist, party-thrower—and now you edit Nero Journal—these are all social lines of work?Would you say that love and friendship are the instruments of change guiding your life?I've noticed more and more people have this mentality that the way one lives can be its own subject and its own content. Do you think discussing or thinking of the way you live as though it were a practice of art is valuable?Even though you run a magazine?
I really hope so but it might never, because Paris is not far away. London is not far, either. But, it can be a different type of fashion capital where it's not about the brands, but about the people, the cool people living in the city. I feel like that's kind of what's happening. Instead of brands moving in, I think it really has to happen in a different way. It's going to be built with personalities and the magazines. But it will not be about money, it will not be about sales.Yes.Yes, because when I think about it, even the friends I have in Berlin—and I don't have a lot of them—are the ones that I know I can really count on for anything. Most of the friends I have, we always end up working together, because we trust each other. And I try to allow myself to be guided by that.I don't think it would make any sense really to look at your life as art. I guess it might depend. If you're an artist, maybe. To me it just sounds like someone saying the way I live is better than the way you live, and how does that make sense? I don't see it as something to follow. I'm sure these people don't really see it as something people should follow. I hope they don't see it as art. I really hope it's just about money and that they don't believe what they do is better. I would not want someone to follow what I tell them to do.If you want to look at it, look at it. But that doesn't mean we are teaching you things about you not being good enough. It's just an image. It's an idea.