Wavy Warnings In Effect: Don't Trust the Weather Girl
Keeping Cool with SSENSE Meteorologist Erika Houle's Summer Futurecast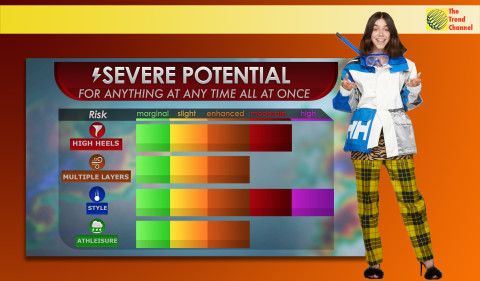 Mother Nature? I don't know her. And until takeout or luxury skin care products start falling from the sky, you probably don't need to either. I'm Erika Houle, SSENSE chief meteorologist, here to bring you the only forecast you'll require this summer. June's solstice has officially transpired and, as with the longest period of sunshine every year, there's a good chance you're feeling a little second-hand glow. Unburdened. Harsh winds have turned into warm, garden-scented breezes, days spent binge-watching indoors are now occupied socializing in the park, and cuffing season has been (quite consciously) forgotten. With all of these changes and everything summer has to offer—gelato! Aperol spritz! #sunsoutbunsout!—it's also easy to find yourself overwhelmed. But don't fret, just follow along with my expert trend predictions and you'll be making the best (and most informed) decisions all season.
Post-spring, pre-autumn—one day you're anticipating a nor'easter, the next you're accumulating sweat stains in every bodily crevice with the AC on blast. Seasons have lost their significance in 2018 and the effects of climate change are inevitable. As Demna showed us with Balenciaga's Fall/Winter 2018 abundance of layers (perhaps unironically after all), being ill-equipped is neither cute nor excusable. That's why there's no need to wait for the certainty of dropping temperatures to take action on your wardrobe. This summer, embrace styles with the ability to outsmart any unforeseeable conditions. Consider the cuteness of heeled sandals with the added warmth of faux fur, and pants that, with a quick zip, revert into both capris and shorts. Toss away your storage bins and pick up some extra hangers because as cropped tops make their debut, your parka is staying put.
Nothing spoils a perfectly good packed picnic lunch like an overripe banana—haunting your ziplock baggy of Cheez-Its or Stoned Wheat Thins with its musk. Like a scratch 'n sniff sticker, the more intense the chafing and abrasions it endures, the more pungent it becomes. There are in fact banana scratch 'n sniff stickers, because they (usually) aren't inherently disgusting. What's irksome is their alien presence in your purse or backpack, in bites of your sandwich, or emanating from under the seat of a car. Banana ghosts: an unmistakable scent that demands to be noticed—which, as far as I'm concerned, is a quality we wish for in every good perfume. Perhaps that's why fragrances are increasingly stocked with synthetic obscurities like cigar box, motor oil, or saddle. Commonplace odors siphoned into an unconventional vessel—a perfume atomizer. Spritzed on the nape of the neck. With an audience that tires quickly of novelty (yes, us!) sometimes it isn't the most obscure, but the most ordinary of ingredients that catch wind. Make way for eau de banane.
Summer looks are all about compromise. While we can try to take comfort and , we're inevitably made to choose one or the other as the mercury peaks. We're either over-exposed or under-ventilated, trying and failing to ride the fine line between a glossy, high-noon glow and untouchably sweaty-filmy. It's exhausting. And there's no item that encapsulates that struggle, both practically and spiritually, like the slide. It gives you a lil' airflow, but it also reveals your toes—which, I mean, ew. It's tailor-made to trip you while you're pushing to get on the overstuffed, sweltering subway, but it's also ideal for a quick-draw if you're suddenly in a position to whip a piece of footwear at the head of a sitting president. Ever tried storming away from an argument in slides? Nothing like the comic book sound effect smack-smack-smack of a slide against your heel to undercut whatever mordant conversation-ender you've just delivered. This, friends, is slide rage: you're sticky, you're chafing—maybe even peeling—but hey, at least it's not goddamn winter.
An argument can be made for wearing sunglasses as an expression of one's clip—the emotional speed of one's mood, on that day, in that moment. Feeling lazy? Lacking momentum? Marooned on your bed island? Well, throw on a pair of tiny, skinny sunglasses and experience the zoom-zoom appeal of their accelerative powers. The dynamic shape of tiny shades bring to mind the sheer power of speed skating alloyed with the velocity of a bird of prey. Their sleek miniaturization gestures to aerodynamics. To agility on-the-go. If you're meant to go out, but—and as it often happens—experiencing that last minute itch which pesters you to stay-in and plan-cancel, try seeking motivation from your micro sunglasses. Conversely, if you're packing for a vacation or some poolside languor: go big. Very big. Go heart-shaped. Go Chloé. Be the Richard Phillips you wish to see in the world.
Hours of sunshine should never be spent navigating the freezer-chilled aisles of crowded, overpriced grocery stores, but showing up to your Tinder date's barbecue empty-handed will definitely leave you unmatched. That's why I recommend grabbing your goods outside. Summer is fleeting and there's no better time to become a self-identified forager. From the floors of the forest to the cracks in the sidewalk, wild edibles are this season's most sought-after items. And given their ability to enhance a hangover breakfast as well as a bowl of gourmet spaghetti, it's particularly all about ramps—locally grown, of course. Somewhere between a leek and a scallion, with a slightly spicy flavour, the garlicky green has a limited lifespan and can be quite difficult to find (it even has its own black market—I can confirm). Whether raw, wilted, pickled or puréed, take a hint from the menus of luxury restaurants everywhere and become the most covetable picnic attendee by ramping up your basket.
If Australia's cinema is any indication, the country loves stories of survival, post-apocalyptic or otherwise. What else does it love? Goon: a bag-in-box wine vessel treasured for its ability to pair exquisitely with adventure. Its bladder-sack form can be stuffed into a glove compartment or under a helmet without hassle, and its airtight design slows the speed of oxidation, making it endurance-friendly. And when you're done with the bag? I suggest blowing it up into a pillow to sleep in the desert you're lost in, or a flotation device for when your dinghy capsizes. Either way, if your summer plans include escapade—or your future plans include apocalypse—take a fashion tip from the country who gave us Steve Irwin and Mad Max and goon yourself.
Dogs, like most things in life, are not exempt from the trend vortex. We've seen floods of shibas, puggles, and Boston terriers, followed by a torrential downpour of French bulldogs in 2015. Just as golden retrievers are known to be the unofficial dog of the suburbs, frenchies have become inescapable in every gentrified East Coast it-neighborhood. But as for summer 2018? I'm calling for dalmatians—at least 101 of them in your Instagram feed. While they may be notoriously temperamental and high-maintenance, their photogenic fur makes them perfect for the selfie-obsessed generation. Not to mention, no two have the same patterned coat, so the battle for who's got the cutest pup could get really carried away. Here's hoping all the future owners know what they're in for—the next "it" dog is covered in dots.