WHO IS KIKO MIZUHARA?
On Dreams, Office Kiko, and Yellow Magic Orchestra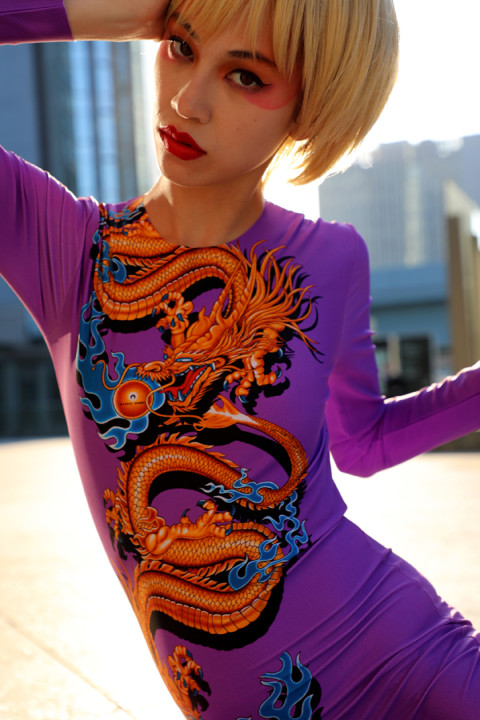 How do you define "home?" For Kiko Mizuhara and Monika Mogi, home is found through creative collaboration. Kiko, who was born in Texas, and Monika, who was born in Washington, both moved to Japan at an early age—the culture was at once familiar and alienating. Since meeting five years ago, they've worked closely—Monika has shot and directed TV commercials starring Kiko, from LUCUA Osaka to Dior, and later this year will be working on a feature film together.
Monika is the creative director of Kiko's brand, OK (Office Kiko), ideating projects from designing a Gyaru shoe collection for Esperanza, to designing tour merch for Haroumi Hosono. As a way to celebrate their relationship as friends, collaborators and family, Monika photographed Kiko in Tokyo—in their friend Maruyacco's toy-covered apartment in Shinjuku, and in a station in Shiodome, recreating what it feels like to feel alien together.
ON DREAMS
I used to have these weird dreams when I started doing auditions for this movie. Everyday I would see a different animal. First I had a dream I was holding a white baby lion. The second day, a green frog wearing a crown expressed [to me] that he wanted to be friends and told me to follow him. Then the next day I had a dream of a koi pond and a big white snake on a rock. I kept seeing all these animals in my dreams so I became curious and started searching on the internet for some meaning behind them. Apparently this whole white baby lion, frog and snake are good luck symbols. So I felt as though my dreams were speaking to me, and it helped me think positively in reality. Then I passed the audition.
ON DREAMS AS DÉJÀ VU
A week before 3/11 when the Big Earthquake happened in Japan, I had a dream I was in a glass tower with my sister and when I looked at the view it was a beautiful beach. We were talking about how wonderful the weather was and planned to go in the water. As we were about to head out we saw a big tsunami coming on the horizon. That was such a weird coincidence to me... I feel like I also experience déjà vu a lot, ever since I was a child. I used to have a dream diary but I felt like I had to stop because I wasn't sleeping well. When you start to memorize a dream, your brain starts to change its perception of reality. A recurring dream of being killed has apparently good meaning. It predicts that your life will change, like you are killing a version of yourself for something new.
ON SOCIAL MEDIA
If I'm on my phone before I sleep, my quality of rest isn't good. Or sometimes Instagram appears in my dream! The internet makes the world closer and smaller in a strange way. That's why people feel pressured to establish an identity because everything is so blurred, you know what I mean? Everything is changing at a rapid pace. The way information and trends travel so fast. Everyday you can see what's happening everywhere, regardless of differences in location, culture and language. Information overload.
ON ART DRAMA
I recently posted one of my favorite artworks, "Bootflower" by Patricia Piccinini. I have been a huge fan of her for a long time and saw her exhibition in Denmark. I wasn't expecting the comments to have such a negative reaction. Why limit your interpretation of art with a closed mind?
ON FAVORITE CHARACTERS
My forever icon is Nausicaa of the ! I would like to play a character like her. She is the embodiment of peace with her acts and never uses violence.
ON HAROUMI HOSONO
It was so crazy that he asked us to make his tour merchandise with OK. I first met Hosono on set for my first film —he makes a small appearance. I started listening to Yellow Magic Orchestra and all of his old records. He is our favorite musician in the whole world, and when he announced his tour in Japan, Taiwan and Hong Kong, me, you, and Yuka stalked him in each city. We met him backstage and became friends! And now we are here in L.A. throwing an OK party with Hosono! Bringing all of our friends to listen to amazing music.
ON OFFICE KIKO
Office Kiko is my company name and OK is my project name. I wanted to create OK as a platform for creativity and to have fun with my friends and artists I respect. It has been amazing to collaborate with my idols. Like our recent collab with Esperanza—a historical gyaru shoe brand in Japan from the 90s. I used to read this gyaru magazine called everyday and the models always wore Esperanza. I used to wear it all the time because it was so affordable. I love that they reached out to us and wanted to collab and bring that energy back. It's amazing that people are letting us do this. And this is what I've wanted to do: have a space for artists to grow and make a better world.