Writer by trade, painter at heart.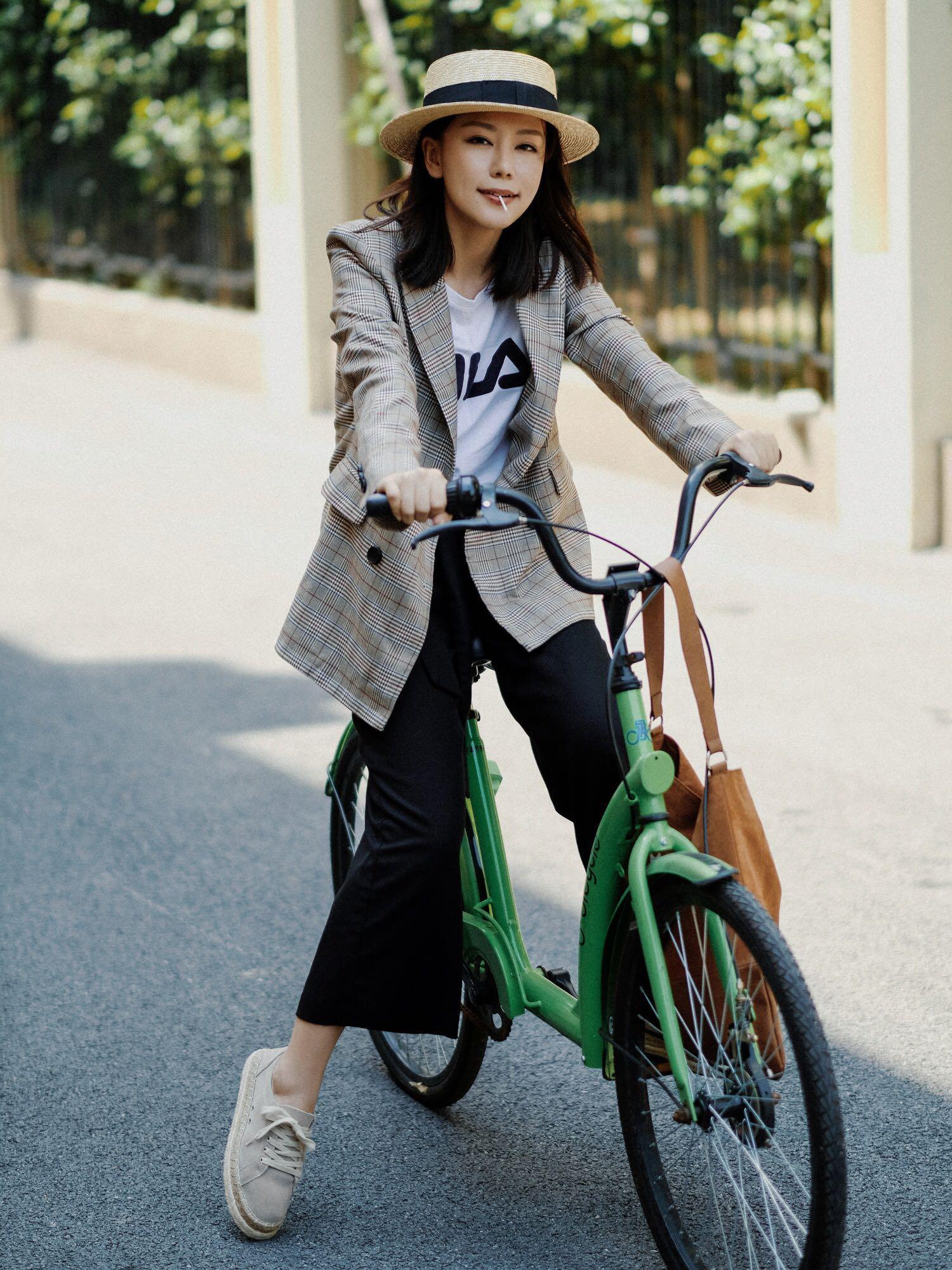 Click picture to enter @打野刀AdaJ's wardrobe
Here at ModeSens LOOKS, we're sure you've noticed one ModeStar who's fit pics are consistently doing the most. Her shots typically are paired with paintings, and add in a lot of graphical elements that take the photos beyond just a normal fit pic. She is ModeStar @打野刀AdaJ, a young artist who enjoys melding fashion into her paintings. Her style likes to drift between streetwear and more hipster chic vibes, really bringing it into her own with the addition of various cute accoutrements. Today, let's dive into her world and better understand the deeper intricacies of her creative style.
ACNE STUDIOS
Clea Ruched Nylon Bomber Jacket, Olive
ModeSens: When did you first have an interest in fashion? What does fashion bring to your life?
@打野刀AdaJ: I started documenting my fits sometime last year, I mainly wanted to try different methods and different art forms to express my own style better, and try out more diverse styles to really inspire more creativity in my art. I feel like fashion is really a way to know and understand yourself better.
ModeSens: What's your ideal life?
@打野刀AdaJ: A paint brush, a carafe of wine, and a lover to grow old with.
ModeSens: What pieces do you most enjoy buying?
@打野刀AdaJ: I'm all about hats, headwear of all kinds, and flats.
ModeSens: What is fashion to you?
@打野刀AdaJ: It's neither blind nor deliberate. I like seeing the same piece worn by different people, and evoking completely different emotions and vibes and styles. That is real fashion to me, self-expression.
VANS
Old Skool Leather-Trimmed Canvas And Suede Sneakers, Black
ModeSens: What is your favorite brand? Designer?
@打野刀AdaJ: How to decide, there's so many that I like. There's a brand I recently found on ModeSens called ANTIK BATIK, I absolutely love their bags, very romantic design, and thankfully I got it during an awesome sale, so it was so worth it!
ModeSens: How would you describe your style?
@打野刀AdaJ: #freestyle and #都乱来的 for sure. I pretty much just go into my closet, fish around until I get a good vibe for an outfit, and that's how I go out the door.
ModeSens: What channels do you frequent for fashion news?
@打野刀AdaJ: I am not the type to really eat into the newest fashion news, trends, I'm not looking out for any of that, for the most part I only know of newer trends after seeing a lot of people wearing it on street style blogs haha. For some of the brands I really like though, I'll keep tabs on when they release new pieces and collections.
ANTIK BATIK
Across-Body Bag, Dark Brown
ANTIK BATIK
Embroidered Crossbody Bag, Black
ModeSens: In a lot of your posts, you add in many paintings and drawings, are you professionally an illustrator?
@打野刀AdaJ: Painting is my hobby, not profession. Sometimes when I want to express more emotions or ideas, I draw small pictures or graffiti directly on the photos.
ModeSens: Your photos definitely have some really good vibes. Even in the photos without your face, it's still instantly recognizable that it's you. What kind of editing and ps work do you do on them?
@打野刀AdaJ: Honestly, to get the photos that I like, the key is to just keep shooting. My photographer, Liang33, and I don't focus too much on post-production as much as we do on the actual shooting. We'll just keep shooting until we see a shot that is perfect. The way he shoots me, I love every shot.
ModeSens: What was your first impression of ModeSens? What are some of the most important differences between ModeSens and other platforms that keep you coming back to this platform, as opposed to other platforms?
@打野刀AdaJ: ModeSens just really has it ll. It's great for comparison shopping, price watching, any time new fashion related news comes up, I can see it almost immediately on ModeSens, and I can also share my own fits and self-expression. So in a lot of ways, it takes three or four platforms and combines them into one, very seamlessly.
J BRAND
Selena Crop Jeans, Decoy
CONVERSE
Shoes, Chuck Taylor All Star Hi Top Sneakers From Finish Line, Red Canvas
Do you often ask yourself, what is the freedom I desire? Is it to break through all your own personal barriers? To be able to get up and go travel at the drop of a dime? Realize all your wildest dreams without resolve? For ModeStar @打野刀AdaJ, showing off her style, painting, playing games, eating and drinking, this is the freedom she desires and is already living.
If you are passionate, positive, and have an opinion on fashion, you can be our next ModeStar!
ModeStar is an exciting fashion influencer program only on ModeSens, dedicated to discovering and enabling a new wave of fashion tastemakers and rallying them together to mutual expand each individual's influence in the fashion world.
Join the ModeStars program — become an official influencer partner with ModeSens
- Get original content opportunities with ModeStar. Earn a verified ModeStar Badge and become official influencer partners with ModeSens.
- Have opportunities to work with and gain exposure through all ModeSens platforms — homepage, original interviews, content & product exclusives, and more ongoing benefits.
- Connect with other ModeStars, cross-promote to grow audiences together. Enjoy feature opportunities on ModeSens' Instagram, Weibo and other social and digital platforms.
- Receive exclusive invitations to official events and parties by ModeSens or by partners, such new product announcement/try-on's, fashion weeks, and more.
-Gain access to exclusive tools such as publishing Blogs, Collections, affiliate programs and other advanced web and app features.
With so many exciting benefits, begin sharing your everyday style Moments on ModeSens to receive a select invitation to become the next ModeStar.
If apply for ModeStar, please contact bella@modesens.com. Final interpretation is owned by ModeSens.