XXX Berlin 5AM, XXX
Photographer Maxime Ballesteros Stalks Through Dawn in the German Capital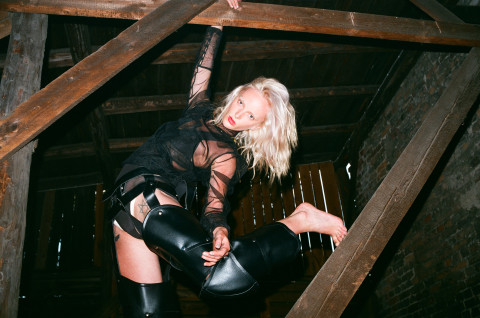 In his latest editorial for SSENSE, Maxime Ballesteros ventures out on a journey in Berlin, a city known for its cavernous nightlife. The result is an erotic and cultish tour of Ballesteros' home base that looks more like a Dario Argento film than a stay-cation. Accompanied by an unlikely crew of triplets, he embarks on an evening of light bondage, shady parks, abandoned apartments, and U-Bahn acrobatics, shrouded in puffs of scarlet smoke. There is even time to stop and caress the leg of a statue.
"It has been nine years this summer since I moved to Berlin. I never really intended to stay, but it's hard to be insensible to its subtle, almost silent way of saying 'Make yourself at home.'"—Maxime Ballesteros
More than anywhere I've been, there is not much stopping you from creating the life you want. Everywhere you'll find yourself brushed by a tenacious feeling of freedom, which is a luxury that still appeals to some. And which you don't have to pay extra for here.
For this story, we drive away from the city guide destinations. We take a tour into the warmth and intimacy of our friends' spaces, invisible from the outside behind rusty and wooden fences. Collective artist studios and architectural wonder in the north in Weissensee. To the south, hidden in the heart of Kreuzberg, a barn turned into a dream working space. In the far west in Zehlendorf at night, we drive through the silent roads and highways, rocked by the oud of Anouar Brahem playing loud while Fania is almost asleep in the back of the car.
We continue our exploration, jumping in the emptiest metro to the suburbs towards destinations I'm discovering for the first time.
Driving under the rain, Celyn sings along to 2Pac's "Hail Mary" on our way to an abandoned maternity ward in the north of the city, where a gap in the fence welcomes us inside. Half-burnt wooden beams fall from the ceiling as we climb to the upper floors.
Reaching the center of the city later at night, we stop at one of my favorite statues, protected by a newly-installed fence more spiky than the Zanotti heels Maxine climbs over in. Balancing between gigantic Siegfried and Sibyl in the dark and the drizzle, she melts their immobile, ice-cold bronze skin with tenderness.