You Are Here: A Taxonomy of Louis Vuitton
From Nicolas Ghesquière's Centre Pompidou Runway to Rihanna and Murakami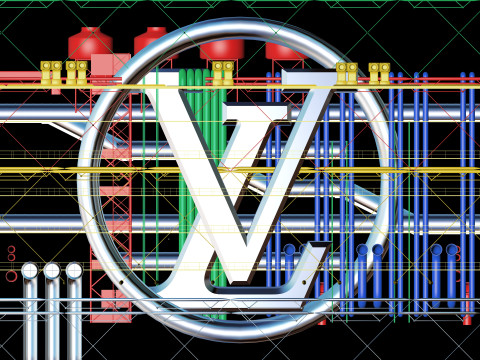 One of the most subtle yet powerful examples of design happens to be the public square in front of the Centre Pompidou in the Beaubourg area of Paris. Through a gentle detail—the ground is slightly inclined, sloping towards the building—the interaction between pedestrian and surface becomes wildly different. You are invited to sit on the ground, to spectate, to look up at the Pompidou, where pedestrians ride escalators, climb stairs, and meander. The slope is subtle, but the Centre Pompidou is anything but, and in this clash of classical simplicity and modern eccentricity, Paris comes to life. This is a public space that says .
Nicolas Ghesquière, Louis Vuitton's Artistic Director of women's collections, calls the Beaubourg area "a place where expression is free to be." It was not without consideration that the Centre Pompidou, with its forest-like facade of color-coded metal elements, became the inspiration for the brand's FW19 Ready-to-Wear collection. Part museum, part library, part music centre, but mostly public space, it is a child of its time, reflecting the revolutionary spirit of '68, when students took to the streets and brought the entire French economy to a halt for a split second (making even President De Gaulle flee). Conceived by architects Renzo Piano and Richard Rogers in 1971, the goal was to create an arena for a structure-free, endlessly adaptable interior, by moving all the mechanical installations, columns, and circulations to the perimeter. What is typically back of house, hidden, secreted away, is exposed. This could be seen as a literal manifestation of one of the '68 slogans: . Be realistic, ask the impossible.The facade, animated by playful mechanics, teems with movement as the crowds move along its scaffolding-like structure. This construction became an essential part of Paris, a strange animal in an otherwise extremely architecturally consistent city. But not everyone was on board—the critics were heavily stacked against it, Jean Baudrillard notably calling "la chose Beaubourg" a monument of nothingness. He also said that "the masses (cultural livestock) themselves will finish off mass culture." By that view, the masses have been devouring the Centre, which went from an estimated 8,000 visitors a day, to more than five times that projection, with 145 million visitors in its first two decades. Today, Centre Pompidou is credited with transforming typically elite, exclusive institutions into popular places of "social and cultural exchange," as the Pritzker Prize jury noted, setting the tone for the new century's attitude towards art institutions as democratic, de facto places of gathering with strong cravings for popular appeal.Ghesquière's FW19 collection for Louis Vuitton reflects this vibrancy of change. His runway, a mini-Pompidou erected inside the Louvre, mimicked the particular energy that is emblematic of public spaces, as if Ghesquière was materializing entire time-frames of Parisian street life into a single outfit. Just like being in the mélange of crowds at the numerous cafés around Beaubourg, the more you look, the more you see. Ruffles on ruffles on ruffles. An abundance of metal ring rivets on boots, sleeves, scarves, and jackets. Leather skull-caps, animal prints, and glittering fabrics. Broad shoulders and belts with oversized buckles, primary colors and checkerboards, flowers and quilted jackets.As with its museum-in-museum setting, the audacity of the collection lies not as much in the premise as in its artful deliverance. Expert structuring enables a play on proportions, with wide shoulders and loose bottoms; precise layering creates flattering compositions. There is a waistline, always. The jackets are cropped, they focus the eye. While it's not an absolute, singular individuality that Ghesquière is seeking, there is an independence and liberty to be many things, all at once, and none at the same time. Ghesquière is characterizing what he calls the "eclecticism of the female identity," what he considers the freedom of expression in a public capacity. It brings to mind Solange's "Can I Hold the Mic (Interlude)," introduced with a sample of Diamond D and Princess interviewing each other in the backseat of a car:
Louis Vuitton didn't just bring the show to the Pompidou, they brought the Pompidou to the Louvre, celebrating street life by de-contextualizing it inside the world's largest art museum. The gesture is significant because the public realm is not only where our lives unfold, but it is the battlefront for the culture wars of any given time. It's worth noting that this public space has changed considerably since the Centre Pompidou opened: the escalators are not free anymore and access to the museum is granted through security lines, winding along the square under the surveillance of young soldiers with weapons—their sheer presence a reminder of the illusion of safety. As Jane Jacobs wrote, "We expect too much of new buildings, and too little of ourselves." The Centre Pompidou and the square around it is nothing but a brutal reflection of the tension we carry around. Everything is recorded, anonymity is a myth. The question is not so much what the nature of public space is, but what is left of the private and with that, the social: the interpersonal, the encounter, the smile, the look.
Alexander CalderAlmaArchlightBeaubourgBooksCentre PompidouCharlotte PerriandCindy ShermanCollaboration
In keeping with the Pompidou's primary color scheme, Alexander Calder's 1974 mobile sculpture was erected in Beaubourg square in 2012. The Centre Pompidou houses one of the largest public collections of Calder's work.One of the brand's most iconic bags, the "Alma" was initially inspired by the "Squire" bag, and baptized in honor of one of Paris' grandest squares, Place de l'Alma.For FW17, chunky sneakers domineered the runway, and by early 2018 the Louis Vuitton Archlight was available to consumers. The Archlight takes cues from basketball sneakers, 90s dad comfort, and likely even ."And it's why Mr. Ghesquière transplanted the Beaubourg. Because that's what the courtyard in front of the museum was to him, as a young man in Paris: a place to find street performers and artists and serious museumgoers; a place that had attracted designers like Jean Paul Gaultier and Yohji Yamamoto, both of whom had studios nearby when the neighborhood was still considered sketchy, a place originally regarded as a blight upon the city, now celebrated for the difference once decried. So for those who did not remember, he created it."The brand's travel series, , includes Seoul, Cuba, Los Angeles, Prague, Rome, to name a few. Its pages feature illustrations, remembrances, little anecdotes by renowned artists (like Li Kunwu or Miles Hyman), who capture the quotidian charm of these cities—who aren't necessarily preoccupied by luxury, but by light, for instance, and how it casts cool shadows mid-afternoon.Designed by Rogers and Piano in the 1970s, the Pompidou is an early example of high-tech architecture, and one of the first instances of "inside-out" design, utilized to make fragile functional features accessible and free interior space. The infamous primary scheme comes from the color-coding of the building's mechanics: green pipes are plumbing, blue ducts are climate control, electrical wires are encased in yellow, and circulation and safety devices in red.To mark the twentieth anniversary of the passing of famed modern architect, The Fondation will put on a large-scale exhibition of Charlotte Perriand's work. A collaborator of Le Corbusier and Jean Prouvé, Perriand's visionary design work predated modern conversations about the roles of women and nature, insisting that good design could elevate a society. The exhibition will be held at the Fondation Louis Vuitton in Paris from October 2, 2019 to February 24, 2020.For a capsule celebrating the house's monogram in 2014, artist Cindy Sherman created a trunk inspired by, of all things: her pet macaw, Mister Frieda. Finished with brass hardware, the trunk features multicolored drawers—modeled after her studio filing cabinets—in yellow, green, and blue, complementing (in an almost clownish way), the brand's classic monogram. "The trunk is just so personal to me," she said of the collaboration. "I have handwritten labels for all of the compartments: fake eyeballs, fake teeth, fake nails, fake eyelashes...of course, anybody could put his or her underwear or t-shirts inside instead.""Before Marc, LV was a leather goods & luggage company that had never produced clothing. He brought grunge to Paris & popularized 'the collaboration.'" —Recho Omondi
DamierDiversityDramaElevatorEmma ChamberlainEmpressEs DevlinFinal FantasyFlat-TopFrank GehryFun PalaceFuneralFurniture
The Damier check is now synonymous with LV, and designed in 1888, it is perhaps one of the earliest examples of luxury branding."The fashion industry has to speak out loud about these issues. I wish casting directors and agencies would hunt harder...I'm trying in my way to make a little step, but there's still a long way to go," Ghesquière told Dazed, on the topic of diversity."There were 3 important designer positions to fill: 2 jobs for couturiers at Givenchy and Dior, and the post of artistic director at Louis Vuitton, which had recently decided to expand its luggage-and-accessories business into ready-to-wear for the first time. Arnault decided to hire Jacobs for the Louis Vuitton position. However, when a gay, sneaker-wearing, night-clubbing, temperamental New Yorker like Jacobs goes into business with a phalanx of tailored suits like the ones who run Louis Vuitton—well-mannered, bourgeois Parisians—it is clear that the union will not be without drama."At Le Dokhan's Hotel in Paris, the elevator is made from a vintage Louis Vuitton steamer trunk, recalling a time when "travel was an art."The 18-year-old YouTube vlogger, with a following of almost 8 million, was invited to sit front row at the FW19 show in Paris. "I don't think I've ever had goosebumps that big. I'm surprised they didn't touch the people sitting next to me," she says, recounting the experience in a July interview with W. "As stupid and corny as it sounds, it completely opened my third eye, my third fashion eye."One of Louis Vuitton's first clients was Empress Eugénie de Montijo, wife of Napoleon III. He was appointed her official packer and bag-maker in 1854.Acclaimed British set designer Es Devlin has designed show sets for everyone from Lady Gaga to Kanye West, and collaborated with Louis Vuitton on many of the brand's womenswear shows. Devlin compares her large-scale commissions to "'effectivist sculptures,' or rather, art with extreme purpose and impact."'s lead-heroine, Lightning became the face of the SS16 campaign: "Lightning is the perfect avatar for a global, heroic woman and for a world where social networks and communications are now seamlessly woven into our life. She is also the symbol of new pictorial processes. How can you create an image that goes beyond the classic principles of photography and design? Lightning heralds a new era of expression."The brand's signature compact trunk. They invented what it means to describe literally anything as "stackable.""The site is a hinge point between the Bois de Boulogne and the Jardin d'Acclimatation. I was heavy into Marcel Proust that week or something—I go back in and out of Proust over my lifetime. I like to read over and over again," said Gehry of his first trip to the site for the Fondation Louis Vuitton with CEO Bernard Arnault. "The visit brought tears to my eyes, because I realized it was a pretty emotional site and he wanted to do something special." Gehry's design for the Fondation was inspired by traditional glass-and-steel greenhouse architecture, and by the image of a sailing ship.The Fun Palace was the 1961 brainchild of theatre director Joan Littlewood and architect Cedric Price, an idea to build a radical "laboratory of fun." Although never built, their concept was highly influential, and the inspiration for Piano and Rogers' Centre Pompidou.Early on in his career, before taking over as creative director, Ghesquière designed mourning dresses for Balenciaga, made exclusively for the Japanese market.In 2012, Louis Vuitton launched the first Objets Nomades collection, which led to a series of travel-inspired objects and furniture in collaboration with esteemed designers around the world. If a six-figure sofa seems out of reach, you can view this page on your mobile device to envision the Objets Nomades in your home via augmented reality.
GaultierGhost in the ShellGrace CoddingtonGraffitiHandbagHeritageHito SteyerlHorrorIconImageImpression, Sunrise
"I promised myself: Before your 18th birthday you're going to be at Jean Paul Gaultier. And it worked," Ghesquière told Vanity Fair. He interned for the French designer from 1990-1992.Kenji Kawai's score was used for the FW17 show soundtrack.In reference to the character-revealing query of dogs vs. cats, Coddington considers herself an "animal person." But in the case of her "Catogram" collaboration with Ghesquière—who prefers dogs—it's evident that cats have Coddington's heart. The collection is comprised of kitty-covered pyjamas and purses resembling Coddington's own cats, Pumpkin and Blanket."The story of Marc Jacobs, Stephen Sprouse, and Louis Vuitton began in the late 90s, when Jacobs found himself thinking about Marcel Duchamp, the French artist who once sullied an image of the Mona Lisa with a funny little beard and moustache." In 2001, Louis Vuitton utilized artist Sprouse's 1987 graffiti print for handbags, shoes, and scarves. They sold out instantly. "It's about taking something that's very iconic and revered and defacing it and creating something new, somewhat rebellious, and kind of punk,'" Jacobs explained to Harper's in 2008."The handbag has turned into the absolute object of desire; designer bags now regularly cost a month's rent...In the nineties, rival fashion houses rushed to pick up on the designer handbag trend, and so began the 21st-century bag wars, which added to the dramatic revival of houses like Gucci, Louis Vuitton, and Dior.""Logos, whether made of symbols or letters, are complete texts. We learn how to read them. They're often found in family lore and other forms of fiction. Some luxury brands have had centuries to accumulate meaning: Louis Vuitton, Hermès, and Cartier, for example, were all founded between the 18th and 19th century by skilled craftsmen who produced goods for royalty. Their logos are not like family crests—they are exactly that.""Religious nailpaint will slay in all seasons, especially with a Louis Vuitton logo." , 2019."I'm always attracted to scary things, I don't know why," says Ghesquière over the phone. "It's that dynamic between curiosity and seduction."In 1854, Louis Vuitton founded his house. In 1896 his son, Georges Vuitton, created the LV monogram in honor of his late father. An icon was born.Mert & Marcus, Henry Clarke, Annie Leibovitz, Peter Lindbergh, Craig McDean, Steven Meisel, Helmut Newton, Juergen Teller, Inez & Vinoodh, and Collier Schorr. Louis Vuitton has collaborated with some of the world's most esteemed photographers.It is rumored that brand founder, Louis Vuitton, was one of the first people ever to lay eyes on Claude Monet's —the painting that gave the Impressionist movement its name.
Jaden SmithJengaJFKKnockoffsLabyrinthLockLogos
Ghesquière, on making Jaden Smith the face for his SS16 womenswear campaign: "[Jaden] represents a generation that has assimilated the codes of true freedom, one that is free of manifestos and questions about gender. Wearing a skirt comes as naturally to him as it would to a woman who, long ago, granted herself permission to wear a man's trench or a tuxedo."A plexiglass, monogrammed Louis Vuitton Jenga set was released this summer, retailing for $3,050.New York's Eero Saarinen-designed TWA Terminal at John F. Kennedy Airport became the location for Louis Vuitton's Resort 2020 show. "The terminal, an architectural landmark that opened in 1962 and quickly became a symbol of the dream of soaring into the sky, was abandoned in 2001 and mostly has been out of the public eye," reported the NYT. The "Grand Central of the jet age" was declared a New York City Landmark in 1994.On the unmistakable rainbow-monogrammed Murakami x Louis Vuitton fanny pack of the early aughts, stylist and vintage garment collector Gabriel Held says, "I would always like to have one of those. I've had to settle for pale imitations." The print, now discontinued, made for some of the most replicated must-haves in handbag history."The fashion heart of Louis Vuitton is divided into two spaces: this one on the fourth floor, and the second floor, which is the workshop, fabric selection and everything. It's a real labyrinth, Louis Vuitton, and I was getting lost for the first few months. Apparently it's a very usual thing at Vuitton: when you arrive, you get lost. Everyone has a pass, and you can't move without it or you find yourself locked in a room or locked in a corridor."In 1886, Georges Vuitton designed an "unpickable" lock. Harry Houdini proved its efficiency when, in a public performance, he was unable to escape a box sealed with the brand's lock."'There was a time when logos were at the height of fashion, and then trickled down to streetwear,' Held explains. 'It's less a question of specific time periods than it is about a specific type of dresser. There have always been devotees. I think that wearing logos when they're out of favor is kind of subversive.'"
Marie-Amélie SauvéMarc JacobsMurakamiMimeNicolas GhesquièreNoéNoseOLEDOrange
For two decades, Marie-Amélie has been Ghesquière's right-hand woman. Marie-Amélie is muse, confidant, and true multi-hyphenate. She is a stylist, consultant, and creative and editorial director of . Marie-Amélie epitomizes the Louis Vuitton woman. She had an early start at French , having even assisted—when she was only 19 years old—Annie Lebowitz for a cover. "As a French girl, fashion was part of my life," she recounted to Business of Fashion. "In Paris, you grow up with it, the same way you grow up going to museums, surrounded by beautiful architecture and drinking good wine."Louis Vuitton had no background in clothing prior to the appointment of Marc Jacobs as its artistic director in 1997. "Jacobs didn't really want to be fashionable—in the sense of trendy—at all; he is averse to grandiose statements and intends to stick to beautiful, timeless, expensive pieces."For SS03, Louis Vuitton enlisted Japanese artist Takashi Murakami to collaborate on a line of accessories, not yet knowing it would be one of the most significant moves in it-bag history. His first design, the Multicolore Monogram, was a defining look of early 2000s fashion, followed by all of his subsequent designs: Cerises, Cherry Blossom, and Monogramoflague.For the FW19 collection, the square becomes a motif, referencing the shape both as a space of cultural exchange, as well as an aspect of the checked print of the classic harlequin attire.Ghesquière was appointed artistic director of women's collections for Louis Vuitton in 2013, following his great success breathing new life into Balenciaga.The "Noé" bucket bag was originally designed in 1932 to transport bottles of champagne.LVMH master perfumer Jacques Cavallier-Belletrud was born in Grasse, a French town known for centuries of perfume manufacture, dubbed "the capital of perfume." Cavallier-Belletrud's father was a perfumer, and his father before that, and he began working in perfume factories himself at the age of 10.For Cruise 2020, LV debuted a prototype of the new "Canvas of the Future" bag. Featuring a 1,920 x 1,440 resolution OLED monitor with touchscreen display, the new design makes a case for the integration of luxury fashion and tech.In 2016, Louis Vuitton departed from its long-established, luxurious brown packaging, transitioning to a lighter, brighter tone of orange: "imperial saffron." The shade specifically selected to represent "the golden age of travel" has become a status symbol in its own right.
People-WatchingPerfumePrizeQuietRei KawakuboRihannaRobynRue Neuve des Capucines
"At a moment when we look at our phones so much, it's important to remember what it's like to sit at a cafe and watch the world go by: all these different characters, in the same space." —Nicholas Ghesquière, , and make up the latest summer fragrance collection from Louis Vuitton, unisex cologne perfumes inspired by suspended moments in time, created by Cavallier-Belletrud. While he is thoroughly studied in the aromatic properties of raw materials, many of Cavallier-Belletrud's greatest successes contain the synthetic molecule methylbenzodioxepinone, aka Calone 1951, aka "watermelon ketone," imparting aquatic, melon notes.In November 2013, Delphine Arnault created the LVMH Young Fashion Designer Prize for emerging designers. The prestigious award, beyond being an invaluable cosign, comes with a €300,000 grant and a year of mentorship. The prize panel includes heavyweights Nicolas Ghesquière, Marc Jacobs, Karl Lagerfeld, Humberto Leon, Phoebe Philo, Raf Simons, and Riccardo Tisci. Past winners of the award include Marques Almeida, Grace Wales Bonner, Marine Serre, and Doublet.As the story goes, Mr. Louis Vuitton himself opened this workshop in the quiet town of Asnières in 1859, just a few years after he founded his eponymous brand, in a strategic move; he wanted to work close to the Seine River, where the poplar wood from which his trunks were made could easily be transported by boat. So, the brand opened this sleepy outpost an hour from its store front in Paris.For her contribution to the iconic Celebrating Monogram collection, Comme des Garçons' Kawakubo took a signature "Sac Plat" bag and burnt large holes into it.Even off-duty Rihanna stunts harder than anyone else, as proven by her casual après-flight kit complete with an ultra-rare rainbow monogram trunk.In the video for "Ever Again," the closing track of Robyn's 2018 comeback album, , the singer opted for custom Louis Vuitton costuming. Taking inspiration from musical heroes like Axl Rose and Prince, Ghesquière brought the song's sensual feel to life—alongside a backdrop of Grecian statues and 10 tonnes of sand—with a billowing silk blouse designed to be slowly unraveled and blissfully tossed aside.Louis Vuitton opened its doors for the first time in 1854 on Rue Neuve des Capucines.
Sophie Turner's Wedding DressSpeedySportsSupremeTechTrainsUGC
For the star (who also attended the 2019 Met Gala in a sequined catsuit by Louis Vuitton), opting to dress in one of Ghesquière's designs for her romantic ceremony was inevitable—"I love the way he sees women," she says.The "Speedy" is a descendent of the "Keepall"—and was first called the "Express." The bag was born in 1930, introduced in plain canvas with handles made of natural cowhide. Perhaps its most famous fan was Audrey Hepburn, who requested her custom version of the travel-sized bag be created smaller, for everyday use. Hers was called the "Speedy 25."To celebrate the 1998 World Cup in France, Louis Vuitton created a monogrammed canvas soccer ball. For Louis Vuitton's SS20 Menswear collection, Héctor Bellerín walked the runway, solidifying sports as a continued source of inspiration for the heritage house. Louis Vuitton volleyballs (complimentary carry bag included) are currently available for purchase from the brand's website, for those wishing to marry sport and fashion, regardless of practicality.When then-artistic director and so-called "Menswear Messiah" Kim Jones conjured a FW17 collaboration between Louis Vuitton and notorious New York skate brand Supreme, streetwear's luxury status was solidified, and the stage was set for Off-White creative director Virgil Abloh to take over a year later.Earlier this year, Louis Vuitton made some of its first forays into the world of tech, by way of the Horizon collection, featuring wireless monogrammed earphones and Tambour smart watches.For FW12, then creative director, Marc Jacobs appointed an unlikely model to open the runway: a train, the Louis Vuitton express.Be it repurposing hand bags into upholstery for chairs or finishing braids with the iconic LV monogram, Louis Vuitton is a staple in social media's visual lexicon. Find the monogram grilled into toast or carved into bananas, too—a symptom of 24/7 21st century inspo.
VintageVivienne the MascotWatercolorWes AndersonWillow SmithXXavier Dolan
In May of this year, Kylie Jenner reportedly spent upwards of $50,000 on two vintage Louis Vuitton bum bags: one a mink multicolored monogram Murakami design, and the other a 1996 Vivienne Westwood collaboration. The brand's it-bags of the 2000s are now the most sought-after collector's items.Introduced in 2018, Vivienne is the brand's loveable mascot: It's got a flower for a head, luggage tags for arms, little legs, and a patch over its eye in the shape of Louis Vuitton's iconic flower motif.The brand's Richard Prince collaboration debuted at the SS08 show, with models dressed as nurses as an homage to Prince's series (recognizable from Sonic Youth's album cover), their bags printed with text from his series. The monogram print became a pink, purple, and yellow painterly impression of the original, as if the artist had hand-painted the logo-print onto each bag.The director partnered with Louis Vuitton to design the luggage for his 2008 film .Willow Smith rolled up to the Paris FW19 Louis Vuitton show looking effortless in thigh-high black and gold Archlights, a white t-shirt dress with winged sleeves and a thin gold belt. Her matching blue eyeshadow completed the futuristic butterfly vibe. For this, and many other reasons, she's the ultimate LV muse.The Louis Vuitton X exhibition in Los Angeles contains 180 items from the French fashion house's archive, demonstrating nearly two centuries of collaborations with the world's most revered artists. On until September 15th at 468 North Rodeo Drive in Beverly Hills.For their AW15 campaign, Louis Vuitton cast the French-Canadian "enfant terrible" director in a shoot by Alasdair McLellan. "I've fondly dreamed of becoming the face of an important brand since I was a child, in the same way that others dream of becoming an astronaut," said Dolan in an interview with Dazed.
Yayoi KusamaZaha HadidZodiac
83-year-old Japanese artist Kusama is famed for creating polka-dotted worlds, for massive installation works that explore themes of seriality and obsession. Her 2012 collaboration with Louis Vuitton featured a range of products splashed with her signature spots.In 2006, legendary architect Zaha Hadid designed a little-known interpretation of LV's classic bucket bag that is now a precious part of the brand's archive. Ergonomically designed to be worn on the shoulder, the "Icone" is a wearable sculpture, a true one of one.Louis Vuitton, born August 4, 1821, was a Leo.