Youth Mode: From URL to IRL
A Conversation with Elise By Olsen, Editor of Recens Paper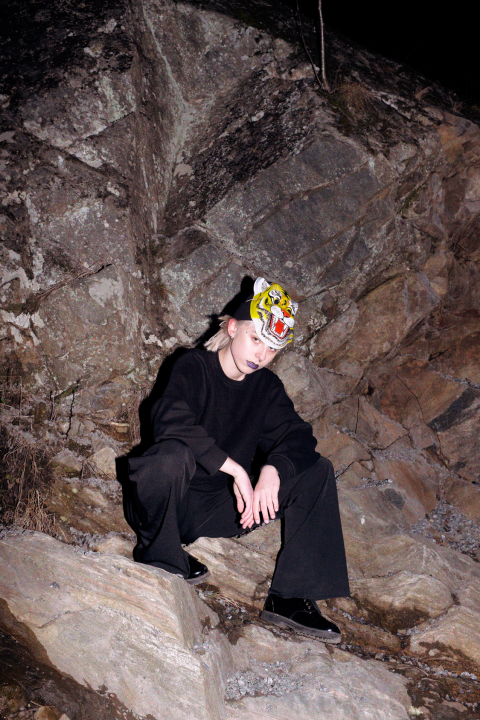 In an industry obsessed with youth, Oslo-based editor Elise By Olsen has the ultimate asset. When she was just 13 she founded , a fashion magazine devoted to youth culture. Two years later, her magazine's progressive ideals and post-digital aesthetic are at peak relevance in a season of fashion collections offering their interpretations of androgyny, individuality, and every possible permutation of youth subculture.
But why would a member of the internet generation who's been blogging since age eight choose to edit a print magazine? For By Olsen, it's a way to bring a vast web of next-generation talent out from behind the screen and into the cultural conversation. Yet print may be just the starting point. According to By Olsen, is growing fast. "It started out primarily as a magazine, and now it's behaving more as a tool to document this movement that's happening."
Elise By Olsen shares her favorite spreads and camera roll pictures with SSENSE, and tells us what the world will look like in 15 years.
It feels like old people talk about "youth" more than young people do, either as a source of nostalgia, or as a mystery about how the world has changed, or as a marketing target. How did youth become the focus of your magazine?
The older generation perceives us youth as constantly sitting in front of our computers, not paying attention to anything that doesn't concern us. But the internet is in fact a great arena for accessing knowledge and meeting new friends. was the result of my personal vision to create a showcasing platform for young talents that I met through the internet. These people never had the chance to reach out with their work yet, or they were rejected by the industry. The output of the hidden world of the youth behind their screens—this is what we feature and unite in . Speaking from experience, it's easier to communicate with youth as a teenager yourself. As you point out, youth has always had a big impact on the industry in terms of setting trends, innovating, and pushing limits. Therefore, the magazine's focus automatically and essentially became youth.
Tell us about the emergence of . Why was it important to do something in print as opposed to online?
I founded in August 2013 as a reaction to stereotypes and norms in the industry. The only options for youth were cheap and conventional magazines covering beauty products, puberty, and celebrities. As a youth magazine with an über-young audience, we have an important responsibility in these digital times to implement the value of physical products. Our third issue, published in October 2015, contained a CD. It aimed to function as an audible impression of the atmosphere, mood, and spirit of the issue.
Some of the layouts in the magazine have this pin-board type of vibe. How does an issue of the magazine come together for you?
In a decade where almost everything is mass-produced and instant, one needs a mass-producing, up-to-date brain that's constantly on the lookout for something avant-garde. Not only am I a print magazine editor in this digital age, I'm editing a youth culture magazine, which is even more fast-changing. It's required that you continually stimulate your ideas in order to generate good content. has a submission form online that's open in between the issues, and the first ideas of the upcoming issue usually come from there. I prepare by doing research through social media and through other print and digital magazines. I also have conversations with my internet friends discussing politics, trends, news, and inspirations.
Who works with you on the magazine?
I work very close with ' art director and graphic designer, Morteza Vaseghi. We are an incredibly strong team and we influence each other a lot. He's double my age, so we cover both ends of the "young adult" age group. The main core consists of me, Morteza, and Recens' copy editor Felicia Granath. We also have at least 250 international contributors who we communicate with through Facebook chats, e-mail, and Skype meetings.
What does your generation have to say that isn't being said yet? What's the world going to look like in 10 years?
I think we are evolving into a more gender-fluid society. We are an extremely global generation. I think as future employees we will travel a lot and be very dynamic and flexible when it comes to working hours. Freelancing will be more common and creative education won't be as important as access to knowledge. More people will start their own businesses. I do hope and believe that my generation will be very conscious about ethical standards in the fashion industry, humanitarian crises, and environmental problems. Fashion technology will take a step up, too. In 10 years, I also hope that media and the fashion industry will be more diverse in its exposure of people in terms of gender, body sizes, and race.
It feels like every "youth" conversation is about how Instagram has changed our lives. Do you think that's a good place to start?
Instagram has definitely changed my life. Without Instagram, wouldn't exist and I wouldn't have gotten all these friends I have.
What's next for ?
is currently redefining itself. It started out primarily as a magazine, and now it's behaving more as a tool to document this movement that's happening. As we get popularity with youth, our artifacts turns into collector's items. Our vision is to expand. We are currently working on hosting more events and exhibitions, a music related project, clothing, a side publication, and a full-length film. We aim to reach even more youngsters with our message and visions. I cannot say anymore.