Aleali May is the Queen of Sneakers
The Influential Stylist, Model, and Sneaker Designer on Coming Up in L.A. and Keeping it Real Online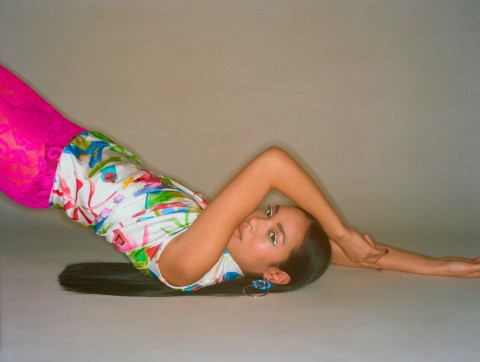 Nothing secures complete sneakerhead status like an exclusive collaboration with Jordan. Aleali May—one of only two women to ever design for the Nike-owned brand—has created two original colorways of sold-out Jordan 1's, and just dropped a third style, the "Millennial Pink" Jordan 6. They sold out in four minutes. May, 26, grew up in South Central L.A. in the 90s as a self-described shy tomboy, obsessed with sneakers since she was a child. It wasn't until she moved to Chicago to study marketing and got a part-time job at the Louis Vuitton store—which led to a gig at RSVP Gallery, an ahead-of-its-time retail space started by Virgil Abloh and Don C in 2009—that May realized streetwear and luxury fashion could co-exist. Almost instantly after moving back to L.A. to pursue a career in fashion, she turned her RSVP connections into her first major job: styling Kendrick Lamar in an appropriately casual ensemble for his Jimmy Kimmel performance of "B*tch, Don't Kill My Vibe."
May has since signed with The Society Management, a prestigious New York-based talent agency, and built a full-time job out of travelling around the world as a stylist, model and sneaker designer. She frequents the front rows at fashion shows on behalf of brands like Louis Vuitton, Balmain, Off-White, Chanel, Margiela, and Sies Marjan. In her signature fit-pics documented on Instagram and her personal website—think brutalist concrete backdrops and perfect lighting—she's often sporting Carhartt WIP carpenter pants with Phoebe-era Celine boots, or mixing Jordan 6s with Chanel. Even her airport attire includes a Louis Vuitton tracksuit, her original Jordan 1s, and matching Louis luggage. This is the Aleali , adored by her 333K Instagram fans and counting. When I reach her by phone, May has just returned from Paris for the FW19 men's shows. She's recovering from jet lag, but is by no means tired of talking fashion, eagerly sharing her thoughts on her favorite shows from Dior, Louis Vuitton, and 1017 Alyx 9SM. Before heading off to attend the FW19 women's shows we caught up about her massive sneaker collection, her approach to styling, and the importance of women's representation in streetwear.
First question: shoes or bags?Sneakers are investments now. The resale market is currently valued at something like six billion dollars.What's your storage situation like? Where do you keep 300 pairs of sneakers?
I have the most sneakers and jackets. Sneakers, I have about 300 pairs. I never expected to be a sneakerhead but the great part is a lot of people I know personally make super dope shoes. So it's just like, these are all great items to keep for the future.It's crazy. My grandmother would even talk about how she would have to line up to get my dad and my uncle new Jordans that were coming out. This has been going on for a long time—we just didn't have Instagram and the internet.I have a closet and it's all very separated. All my Jordans are lined up by number. I also have a whole storage unit that's attached to my apartment that's all sneakers. Then another closet that's all jackets.
Do you have packages coming to your house at all times?Were you into fashion growing up?
I definitely have mad packages, but it's really cool because they're high fashion, or from a kid that's going to FIT. My little sister gets a lot of my stuff, she's very blessed. My brother, too. I like to have them go to school the freshest so I'm like, "Look, nobody is going to know what you're wearing but so long as you know this came from Japan..." [].I had to wear a uniform until high school. So it wasn't like I was really informed about fashion, I just loved my things. I loved bamboo heart earrings, the m&m's race car jackets, Airforces and Jordans. I had idols like Aaliyah. My whole [bedroom] wall was Aaliyah and Alicia Keys. I was trying to find a girl that looked like me that I could emulate and want to be when I grew up. In middle school my step mom started buying me magazines. I saw Chanel Iman and Jourdan Dunn for the first time. I think that's when I started getting really obsessed with fashion. Around that time there were a lot of video vixens and I was small and scrawny and didn't know how I existed in that. My grandmother tried to make me dress girly and it didn't work. My uncle used to buy me Jordans all the time. I really looked up to my uncle and my dad so I was like, whatever they're wearing, whatever they're doing, I'm trying to do. I would say I have a pretty well-dressed family and they've really helped me build my sense of style. I had an aunt who was goth. Even now, they still inspire me to dress the way that I dress.
RSVP had that classic part-retail-part-clubhouse culture synonymous with streetwear stores. Do you think retail spaces still have that same energy?Nowadays everyone is trying to cultivate a personal brand. What was that process like for you?
Obviously streetwear is on a crazy large scale now and I feel like it's still growing even bigger. The key thing is fostering the youth. When I was working at Louis Vuitton, we were surrounded by art. It was the first time I'd seen a Takashi Murakami in person, the first time I saw Lupe Fiasco's t-shirt brand, folded inside a Goyard trunk. I'd never travelled the world before but these were places that took a little something from everywhere and brought it to you. As a young girl I was always fascinated with the travel channel, me and my dad loved it. In high school, discovering Pharrell, N.E.R.D, and Kanye, it was this new thing that I'd never seen before, high fashion mixed with street. You had Kanye wearing polos with Louis Vuitton and Pharrell in Japan getting all the swag from Nigo and A Bathing Ape. At RSVP, when we got our first Givenchy account, it showed that you can mix these two worlds together. Dialogues that happen around that are definitely inspiring. I feel like that still exists, but it's more corporate. It's really cool to be in it as it's growing.It wasn't really intentional. When I started posting my outfits on Tumblr I was just like "hey guys, like my outfit?" When it comes to styling, I'm picky. I ask myself what's going to be a challenge, or how I can pick the person's brain to evolve their personal style. That's how I got my clients, by focusing on the individual.
Do you ever not feel like taking a fit pic? If you're having an off day, what do you do?Have you ever felt intimidated by the male-dominated nature of the streetwear industry?What's up for the future?
I have 49,670 photos in my phone right now, but I like to enjoy the moment and when I don't feel like taking a picture I just put on sunglasses [], and it will all look like 50% better.I've been blessed to be around men who have encouraged me to take advantage of what I want. Whether it was my uncle or my dad, or Don and Virgil showing me that I can do those things. They've always said "whatever you're going to do, we'll support you regardless." There's never been any doubt because they always just made me feel good. I think that's really important too, for people to evaluate the space that they're in, if it's making you happy, and if you feel supported by your teammates. Don had mentioned when I first met him that they were trying to build their power ranger team. And I was like, "Damn that sounds tight because I always wanted to be the pink one."Really working on the representation of women in streetwear. I've had a lot of women message me that they just bought their first pair of Jordans and I feel very humbled and honored to have a girl that went out and spent the money to find something that she relates to. Women exist in this world, been existing.
SSENSE.