Alexander Wang: Paint It Black
On the Occasion of His Women's Fall/Winter 2017 Presentation, the American Designer Discusses the Power of Black and How to Turn a Lifestyle Brand into a Tech Company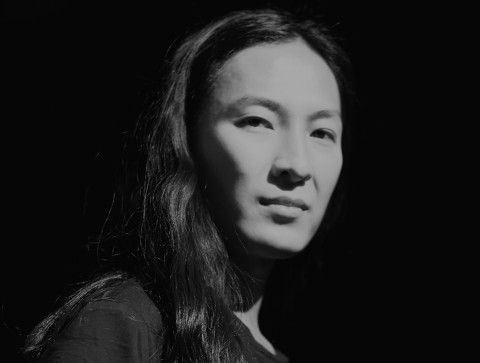 "No one really needs anything anymore," Alexander Wang muses over a plate of pigs-in-a-blanket at New York's Roxy Hotel, "And if you need something, you go to H&M, or Zara, or Uniqlo—do you know what I mean?"In an age where every industry is undergoing "disruption," fashion is now poised to radically shift in its attempt to keep up with the speed and efficiency of tech. Wang sees himself as the designer who will harness this seismic change. Having started his own brand in his 20s—in addition to serving as the creative director of Balenciaga—the 33-year-old is possibly the most preeminent American luxury designer since Ralph Lauren. Yet this is a man for whom the word "luxury" is always accompanied by scare quotes. And, as a native San Franciscan, Wang seems to be offering Silicon Valley's answer to Lauren's East Coast Europhilia. He reads his Instagram comments instead of reviews. He spent almost every weekend during his post in Paris taking red-eyes back to New York. He values his high school friends as his closest confidants. And he sees Amazon as the blueprint for the fashion house of the future.
When I think of your brand, my mind immediately jumps to the color black. Why is that color so compelling to you? And why has black become the uniform for so many people?What feels dangerous to you in your personal life?Of course.When you were running two brands at once, did you have time to go out?Is it a relief to have more time in New York now, and more time with your own brand?
Obviously, the idea of an all-black uniform is not something I invented, but rather something that a lot of designers have had in their language that has a lot of different cultural meanings. For me, I don't know if it's about comfort or attitude, but I'm naturally attracted to something with a bit of an edge, or something that feels dangerous or ominous. Even in my lifestyle.Nightlife.Maybe that's why I gravitate towards the night. Everything always seems a bit more mysterious, a little bit more dangerous at night. It triggers my curiosity. And maybe that's why I like going out and discovering neat parties, and characters, and people. A lot more happens at night than it does during the day.Not in Paris. I really didn't know anyone in Paris. My lifestyle was very rigid, very regimented. I'd go to the office at 8am until 8pm, eat room service in my hotel room, then take the red-eye on the weekend and have my social life in New York. I didn't get to experiment a lot with nightlife in Paris, but it was a good change of pace for me.It is. I have no regrets. I loved the opportunity and had an amazing time. I definitely feel like I made the right decision in coming back when I did in full throttle with my own brand. I definitely feel very confident in the decision, and I'm just really excited for the next chapter.
What are your thoughts on what's going on at Balenciaga now?You're someone who has worn a lot of hats as a designer — both in running a big French house, but also doing your own brand and a line for H&M. So—going back to the color black—I feel like the color acts as a kind of connective tissue between these modes. And it's interesting because we live in a time where so much of fashion is molded around what can be recognized easily on the screen of a cell phone. But black is both democratic and anonymous.
I think Demna [Gvasalia] is doing an excellent job. It's so funny, I actually met Demna before he took on that job. He was someone I was meeting with to hire as one of my design directors. And I remember he was super talented. I loved his look, and he had a super fresh perspective. We were always very friendly, and when I found out he got the job I was really excited for him and I texted him. I was supposed to go to the show, but I didn't end up being able to make it to Paris. He's doing a great job, one that I feel he's really enjoying. I had a great time there as well.For me, coming from California, there's this side of me that grew up in sweats, t-shirts, and very banal everyday athletic wear. So I guess when I moved to New York, I wanted to take that and elevate it. If I wanted to wear a sweatshirt, I wanted to wear the black version of that to kind of dress it up. There's not some huge, cerebral idea behind it, and I think everyone has their own interpretation about whether black feels inclusive or exclusive. I actually think it's something stereotypically New York. The New Yorker wears all black. But for me, the question was: How do I take these things I like and put them through a filter that puts it in a category of its own.
So you take these things, paint them black, and then they become part of a referential language. But I wonder what it means to "elevate" an item of clothing. What goes into doing that?So there's no ingredient that makes something "luxurious."
In our process, it's always a dialogue. There's always a duality. And when we look at a reference image or something that feels immediate to us, we'll take something everyday and elevate it, but we'll also take something precious and deconstruct it and strip it away of its pretense. That's how I like to look at everything. I really like to bring those two opposites together and merge them into something that straddles the middle. So, in the case of something super banal and everyday, it might just be changing one element of the color or the material or the cut. I like there to be an attitude that's always undone.This idea of "luxury" always stifles me. And it's not something I can necessarily associate with. I think more in terms of: Does it look well-made? Does it look expensive? Does it look high-quality? That's my checklist as opposed to: Does it look like luxury? Even when I started working at Balenciaga, being able to play with a different price point allowed me to really push the creative process and the layers of craftsmanship to a different level. But when someone asks me what the most "luxurious" thing is, it doesn't have to be the most expensive thing. It could also be a t-shirt that you got at a concert that was super rare and no one else has.
I feel like your brand has also always had an element of accessibility. You created a diffusion line very early on.It's also a way of taking ownership over the way fashion ideas move throughout the market—how things will happen on a luxury or designer level, and then get taken into the mainstream. That was something interesting about your H&M collection. In a way you were able to take authorship over that machinery as opposed to getting copied by someone else.When you're working in all these modes at once, is there a fear that you are cannibalizing your own ideas?
It's not a diffusion line. When diffusion lines started, it was about taking the idea of something from your main collection and doing a cheaper version of it for a different customer. As an American brand, I was very adamant in not defining our brand by its price point. And that was something very hard to do in the American fashion system, because when I started they categorized you by price point. For me, it was really this idea that I wanted to be a brand that encapsulated a wardrobe for my customer, in that she could buy a $50 t-shirt from our store, then buy a $50,000 dress, and it could still be the same customer.With H&M it was actually the perfect moment, because I was one year into Balenciaga. I think a lot of people thought I was going super luxury and would completely raise the prices of my own line. But that really wasn't the point. I wanted to experiment and dabble into this category, but at the same time experiment and dabble into this other category. It was then very exciting for me to do something that had a super wide reach. With H&M, I asked myself, "What can I do that I haven't done? What can my current resources not achieve, and where do I feel like there's an opportunity?" I've always wanted to do something with the performance-wear and athletic wear category, and I felt like that was the perfect time to do it.Yeah. I mean, it definitely wasn't easy. This is why every time I try something, I try to funnel a different curiosity. I think someone who does an excellent job of that is Karl Lagerfeld. He does Chanel, he does his own line, he does different collaborations, he's always been able to dabble in different kinds of spaces where he's been able to craft his own brand of who is. And it's not just couture clients or ladies-who-lunch that buy him or know him. He's also able to touch on a consumer who wants to buy sneakers.
In a couple of interviews, you've mentioned that your friends are very inspiring to you. Is that a matter of personal fulfillment, or is actually something that goes into your creative process?Do you find the feedback you get in reviews to be honest? Or maybe brutally honest?Do you feel that there are any misconceptions about your work in the way it's received?
It's more so that my friends are not afraid to be honest. I know I'm going to get a straight up opinion from them. The close group of friends I have today are the friends I've known since high school and college. Of course, I've gathered new friends since then, but my core group of friends are still the same people. They give me the most honest critique, and that is invaluable. Of course, there are women I've met throughout my career that have really inspired me—women like Zoe Kravitz, or Erin Watson, or Vanessa [Traina]. They are all very different, but there's such an innate style in what they gravitate towards. It goes into how they put things together. How they eat. How they pick up their hands. For example, Zoe grew up eating Ethiopian food and eats with her hands, while Vanessa grew up with these meticulous place settings and ways to pick up your fork. These gestures influence everything they do, and I find them very inspiring.I actually read comments on my social media more than I read reviews, because I feel like that's really my audience. They are the ones who look for us on Instagram or Twitter and click to follow us. Whereas sometimes if you're reading a magazine or a newspaper, you're reading all the reviews and you happen to read mine because this journal has written about me. And maybe this journalist has never bought a piece of my clothing. I care about what our followers have to say versus what someone who is just working in the industry has to say.I think people overanalyze things and over-read into things. In today's culture, you have to be very careful about what you say, what you do, what you post. Everyone will read into it in their own way, and it's almost kind of sad because it makes everyone have to rethink things they do. Everyone's so careful. I really enjoy the humor in our work, and maybe sometimes it doesn't really translate. Not everyone has the same sense of humor for sure, and I speak to my audience as if they were my friends—not just, "This is our new collection and what we showed on the runway." We do that, but I also like to share things with them that feel like how I would share topics with someone I grew up with.
Looking ahead, what's next for Alexander Wang?
I'm definitely interested in building more of a lifestyle brand. I've always remarked that Ralph Lauren is someone I feel incredibly inspired by because it's not just clothes, shoes, bags, etc. You enter his world, and you can see it and you can feel it without even a logo. And that's something. We can be a brand that's known beyond a bag or a shoe or a collection. As we move forward we know, especially in the fashion industry, we are at a bit of a crossroads where we're looking to our left and our right, and thinking, "What's going to be the next big thing?" No one really anything anymore. And if you need something you go to H&M, or Zara, or Uniqlo—you know what I mean? A big chunk of this industry has been taken up by these few big players. So what you create has to be very specific and very special and very unique—whether it's very "luxurious" quote unquote, or niche. You can't just be a brand that services everything to everyone anymore. I think that's really put a lot of designers and brands into this kind of holding place about where they want to go next. We still are primarily wholesale-driven, which is important in terms of positioning and having a critical mass of people being able to see and experience your clothes. Obviously, the big opportunity is digital. I feel that today there still is not a single lifestyle brand that operates like a tech company. There's a lot of fashion brands doing technical things, but actually operating like a tech company is something very different. Having the functionality, the speed, and the service. We now have a huge opportunity to really experiment in that space.
What does it mean to be a lifestyle brand that operates like a tech company?Fashion is such a medieval industry in so many ways. Do you see pressure points in how to develop a new idea like this with the old rules?If Amazon offered you a job as its creative director, would you take it?
It's mostly the back-end, the infrastructure, the platforming, the logistics. If you think about what Amazon is—yes, they have fashion brands that they sell—but imagine a creative director today for a brand like Amazon. What would that look like? Obviously, that's happening right now in a lot of other spaces, like beauty. But is there a lifestyle brand that's selling a whole range of things direct-to-consumer like that? So, that's where my focus is.For sure! But I try to ignore those things. I like being disruptive. I think that's such a popular word now, but I really do. The two industries that I'm most interested in are entertainment and tech—tech obviously because of the innovation, but entertainment because that's really what people follow. Everyone is essentially a brand today in how they communicate, interact, and engage with their audience. You think about someone like Rihanna or Kanye, they're not just entertainers, they're brands. These are people that have taken something that was maybe once in one genre, and then built an empire around themselves. That's why I'm really fascinated with what the industry is doing right now.No comment.