Arm Candy: Go-To Bags For Every Occasion
Shared from LUISAVIAROMA . Click here to read more

One thing we know for sure – you can never have too many bags. Not only are handbags fashionable, but they are also functional. They elevate any outfit and help you take it to the next level. Stand out with your new secret style weapon, an eye-catching bag.


FOR A NIGHT OUT…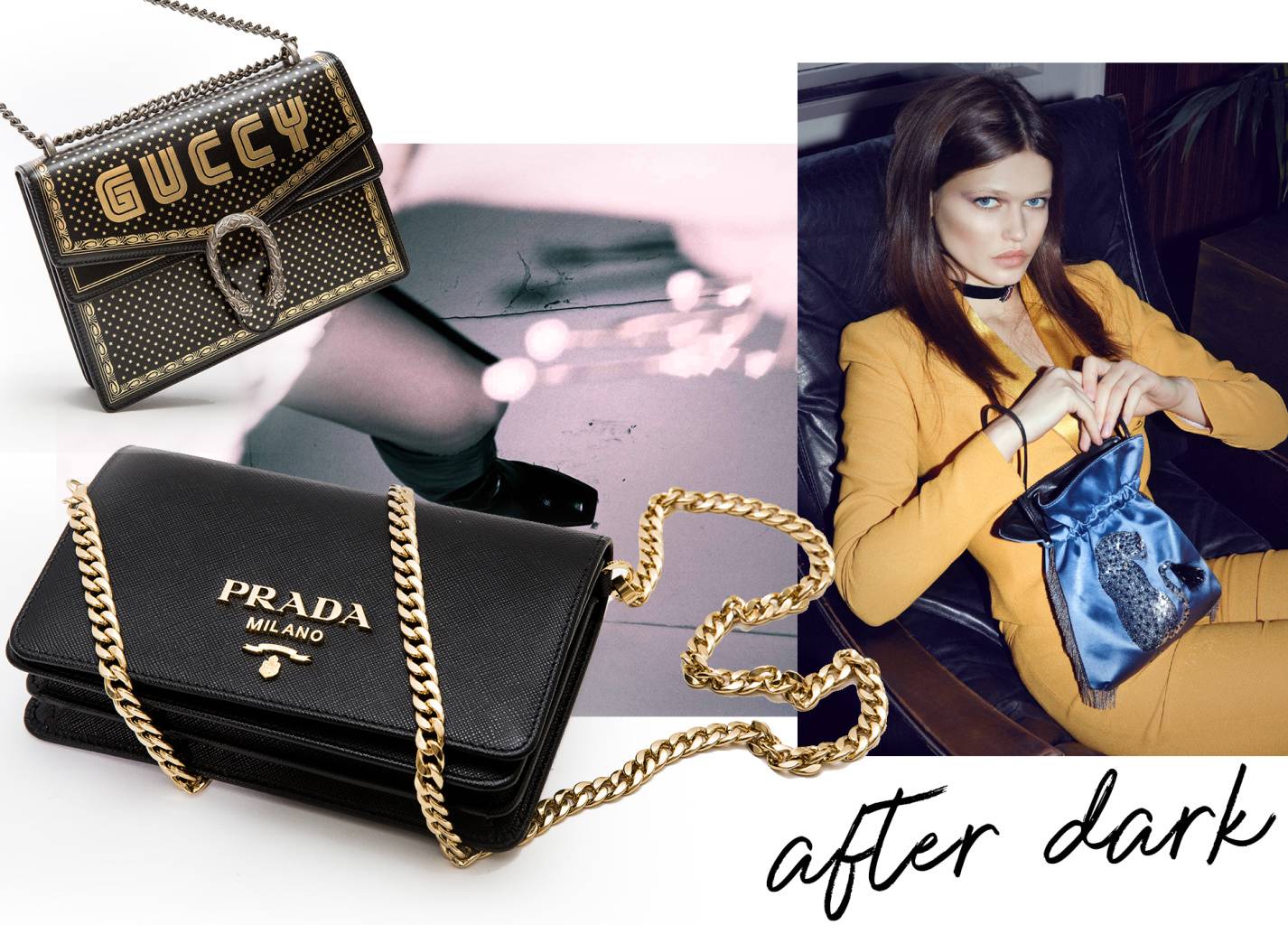 Meet your new Saturday night BFFs. These bags are functional yet weightless, the way to go when you've paired it down to the essentials – cell phone, wallet and lipstick. You don't want a bulky tote weighing you down, especially when you don't need the extra space. Don't be afraid to stand out with a Versace plaid belt bag with chains, or go for the more understated look with a BOYY leather bag. Dress and accessorize to impress!
FOR THE OFFICE…
Contrary to popular belief, work bags don't always have to be the boring leather totes you've seen everyone and their mother carry. You'll need a bag that has plenty of space to fit your work essentials with a sturdy strap that's thick enough to haul your laptop without tearing or breaking your shoulder. Easily accessible pockets are great for when you need to quickly grab a pen before heading back to the conference room or take out your MetroCard without fumbling around and angering the crowd of grumpy commuters behind you. If you want to take risks, stick to classic silhouettes with a twist like Marni's Pannier leather tote. For those more reserved, the Prada puffer nylon tote is all you need.
FOR THE BEACH…
Enter Beach Bag 2.0. Gone are the days of the beach bag being an afterthought, a random summer item that never sees the light of day past August. Welcome the days of fabulous bags perfect for holiday that you can also rework into a multipurpose bag when you are home. Use your beach bag to add the perfect finishing touch to your summer look. Go the trendy route with Cult Gaia or stick to the basics with a tote from Gucci or Prada.
FOR A FESTIVAL…
If there is one thing to remember about festival style, it's handsfree is the way to go! How can you get into the groove and dance your troubles away when you're clutching onto your clutch for dear life? Find a bag that's big enough for everything you need, but don't be afraid to go out of your comfort zone. Festivals are the perfect place to experiment and let your style shine through. There's a beltpack for everyone – take it back to the future with Rick Owens or go the understated cool route with BOYY.
FOR A WEDDING…
The most important thing to remember when accessorizing for a wedding is to maintain the formality of your outfit and make sure your bag is appropriate for the dress code. If the wedding is black tie, a large cotton tote would be too casual and offset the rest of your outfit. Stay away from bulky bags as they will get in the way and the extra room isn't necessary because you only need the essentials. A smaller bag or clutch is recommended; they take up little room and offer immediate access to your belongings. Celebrate the union with a Gucci Love bag, or stick to the basics with Roger Vivier.
Shared from LUISAVIAROMA . Click here to read more