Ashley Williams' Guide to London
The British Designer Leads a Tour of her Adolescent Hangouts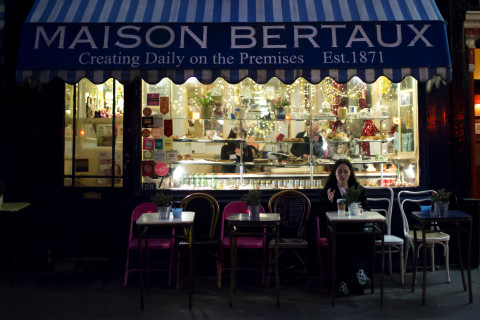 Although designer Ashley Williams' career has come of age, her spirit remains magnetically kiddy. This childlike levity is evident when she moves through London, the metropolis that she calls home.
After studying womenswear, she showed for several seasons with trusted independent talent platform, Fashion East, and her name quickly became synonymous with an eclectic brand of youthful femininity.
Five years later, her label continues to resonate with like-minded women who disregard dressing "age appropriately," and instead maintain a buoyant approach to self-expression. Williams' creative inclination towards pop culture and generation Y encapsulate the mood of London as it endures a period of change. Here, she shows us London's gems, both hidden and in plain-sight.
Marshall Street Leisure Centre —15 Marshall Street, Soho
Williams first learned of Marshall Street Leisure through a colleague, after years of living in London. In the heart of Soho, adjacent to some of the most frequented localities of London, the center somehow remains a kept secret. That's what makes it so special: nobody knows about it. Here, a relatively nondescript building just off Carnaby Street opens into a workout complex erected in 1931. With an Art Deco vaulted ceiling and marble floors, it's a luxurious atmosphere for an evening swim.
Namco Funscape — Westminster Bridge Road, Lambeth
While most kids who grew up in London frequented Trocadero or Funland (Williams was a loyal Trocadero attendee), the former was shut down and arguably lost its charm years before that anyway. Now bringing those childhood memories back to life is Namco Funscape. The trippy juxtaposition of an amusement center next to a bunch of major landmarks could inspire awe in even the most sightseeing-averse. Williams enjoys Namco as a time portal, the two-level arcade like an entryway to the past in the form of a naive, neon-filled projection of the future.
Norman's Coach & Horses — 29 Greek Street, Soho
This is Williams' favorite place to grab a pint. While pubs may be ubiquitous in London, few are as easily distinguished as Coach & Horses. Lauded as London's first vegan and vegetarian pub, Coach & Horses offers a modern alternative in an industry known for its fish and chips. The fabled ex-proprietor, Norman Balon, gained notoriety as the rudest landlord in the city, and though he may no longer be present, his legend endures. The pub housed the bar-stool of choice for celebrated columnist and notorious alcoholic Jeffrey Bernard, among other canonical British writers, like Dylan Thomas. With this legacy, the pub has become a favorite of journalists, poets, and romantic artist types, largely regarded as one of the last "authentic" pubs in the city.
Bar Italia — 21 Frith Street, Soho
A past frequenter of a nearby karaoke spot, Williams and friends used to favor Bar Italia for when they had sung themselves hoarse. "We would go to Bar Italia afterward and get a panini, get drunk, and just hang out. When I was younger we used to go here almost every weekend." Established in 1949, Bar Italia has seen several renovations, but never an iteration too far from its origins. The decor walks the line between retro and run-down, lending an old-world warmth and an enticing, laid-back vibe.
The French House — 49 Dean Street, Soho
Williams' next stop is another pub called The French House, in a slightly ironic twist: a Francophile pub. Williams likes its extensive wine list and plentiful offering of French ciders. Burgundy walls covered with black-and-white images and gilt-framed mirrors further indicate its Parisian slant. The compulsion for loud music and excessive live entertainment has overcome many bars and restaurants. However, eschewing such expectations is precisely how The French House has sustained its iconic reputation. A strict ban on music, TV, and iPhone-use makes it a reprieve from the modern digital, as well as the watering hole of choice for wistful intellectuals lamenting the good old days.
Natural History Museum — Cromwell Road, South Kensington
Described as a "Cathedral to Nature," the Natural History Museum was built, for its time, in an entirely unprecedented way, and remains one of the most impressive representations of Romanesque architecture in England. Located on Exhibition Road in South Kensington—alongside the V&A, the Science Museum, and Royal Albert Hall—it is one of the most respected science research centers in the world, but is often better known as the place with an ice skating rink open during the Christmas season. "I just like rocks, crystals, minerals, and things like that," Williams tells us. "Last season, I created a graphic with a dinosaur skeleton on it. The museum is both an inspiration and just a place I enjoy going to."
Hayward Gallery — Southbank Centre
Walking along the Thames in Southbank, we hit a building protruding pyramids from its rooftop, with concrete slabs dispersed as though they were jettisoned during construction. The building—the revered Hayward Gallery—epitomizes brutalist architecture. The gallery has become renowned for showcasing influential artists and pioneers, from Francis Bacon to Bridget Riley, and is the place to visit for those in need of some inspiration. Though the gallery is closed for refurbishment until 2018, the reopening is highly anticipated. Let's see what a touch of the contemporary will bring to the Brutalist structure.
Harper's Bazaar ELLE.