Color Story: "Regulation Red"
Anupa Mistry Appraises the Chromatics of Surveillance, the Diaspora, and Auntie Realness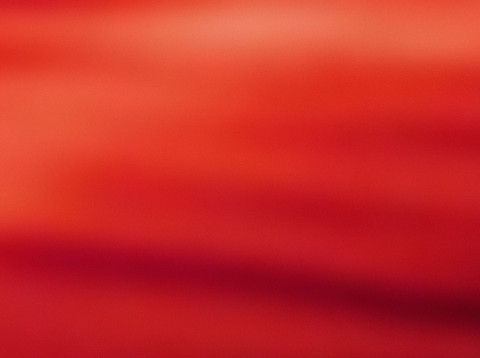 Don't talk to me about handmaids. Let's talk instead about the Toronto Raptors. How an "in-the-red franchise" became reigning NBA champions. A team that, in 2006, ditched its signature royal purple jerseys for rally-ready red. And how, this year, as basketball fever levelled Canada's hockey hangover, that red—the same bright shade of the maple leaf on its flag—helped even up the franchise with the paternalistic, patriotic tone that pervades American sports. Let's call it Regulation Red.If red is the code around which our lives run—red light, red card, red alert, red eye, red tape, etc.,—it follows that within fashion, particularly womenswear, the hue signifies lawlessness. Or, as Rei Kawakubo said in 1998: "Red is black."
Kawakubo's clothes challenge the rules. Her portrayal of red commands attention—she won't be easy on your gaze. In 1997 Kawakubo famously, irreverently, sent models with round red bumps down the runway. In 2004, she cocooned them in sculptural scarlet that evoked entrails. Subverting (or queering) regulation red means rendering it in texture: think the Pope in a pair of Mod-ish Papal loafers poking out from under dove-white robes, or a floppy-haired Bollywood backup dancer sweating in sequinned Ashish joggers. From a distance, the lacy overlay of this Louis Vuitton blouse looks like bloodied armour, and makes me think of Brienne of Tarth emerging from the battlefield. I'm still mulling over the choice to use regulation red as the backdrop for the Balenciaga Pre-Fall lookbook, which depicts models tapping on and talking into smartphones, wearing padded and tailored garments in lemony yellow and turf green. It's a tableau of fashionable people doing everyday things and, wrote Amy Verner, "made for a feeling that was once serene and sterile." Serene, sterile, and, I'd add, surveilled.
The designer Simone Rocha, whose use of red can sometimes feel malevolent—devilish, like this tin-foil double-breasted dress, or intestinal as a Moncler puffer—has actually investigated traditional, indigenous uses of red to translate "human, personal feelings into dress." Speaking of her February 2010 collection, inspired by Irish mourning garb, she said: "When someone dies, the women dye their petticoats red, but they wear them on their heads—that's how veils were interpreted."I see Rashmi Varma's candy red take on the traditional Indian kurta and churidar in matte silk habutai as an inversion of cultural chauvinism and traditional religious color theory, in India and the diaspora. By recontextualizing bridalwear red for something a little more masculine and everyday, she inverts the association with purity. At a Hindu temple, a priest might mark your forehead/third eye with a smear of chalky red paste as ablution or protection. As I'm typing this I can see the red thread tied around my wrist by my parent's priest, to ward off the evil eye and (conveniently) mark me as an unmarried woman. Regulation red, as it turns out, also communicates with divine authorities.In its most primitive form, red follows the trajectory of human history and mythology. It is significant to near-every culture around the world; in China and India, red is associated with purity, joy, and good fortune—in all material matters, from money, to the body, to progeny. In ancient Egypt it represented vitality, but also the destructive power of heat. The ancient Romans saw it as the color of war. And as the powers of various Christian orders began to crest, red—the color of the apple, original sin, decidedly not a Granny Smith—became fully sinister. It symbolized, then, the sacrifice of religious martyrs. Later, it was out for blood itself: of heretics, witches, traitors, prostitutes, and all variety of sinners.
As social control became a global obsession, regulation red has come to symbolize surreptitious regulation: from the baroque crests of various old world monarchies, onward to contemporary fascist iconography such as the red MAGA hats worn by Trump supporters and the sun-bleached saffron robes co-opted by India's Narenda Modi. It divides cities: a gang color on one side of the street, and a jaunty accessory on the other. Whether we know or not, red scares us into submission.At least that's what a 2011 study of male rhesus macaques monkeys suggests. Building on the findings of a 2004 study of Olympic athletes, which concluded that red exudes dominance, a Dartmouth College neuroscientist said, "The similarity of our results with those in humans suggests that avoiding red or acting submissively in its presence may stem from an inherited psychological predisposition."In 2018, Lupita Nyong'o maniacally pranced across screens in a jumpsuit that wardrobe stylist Kym Barrett described as "half the color of wet blood… half the color of dried blood." Her character, known simply as Red, represented the bloodlust lurking beneath us. Our tethered selves hiding in plain sight. If she had access to a shoe closet she might have swapped the Jesus sandals for something more playful, like these Gucci ballerina flats with a murderous heel. A sure choice for 's Villanelle who dresses with the glee of a grown-up, psychopathic Cher Horowitz. In the show's season two closer, the show's stylist slipped in a sartorial sleight of hand, putting recalcitrant Villanelle in an "Italian red" pantset chosen by her control-freak mark, whose neck she proceeds to slash. As if she'd ever let anyone else dress her.At this year's Glastonbury, Stormzy caroused in a stab-proof vest reportedly designed by Banksy slathered in a black-and-white Union Jack, the symbol nearly drained of its regulatory red. The stunt artist's intent might be more chin-stroking, but I choose to see the vest as a message of victory: Stormzy and the mandem as tourniquet, squeezing the colonial master dry.
In her most recent collection British-Nigerian designer Mowalola nipped a model into a sleeved, buttoned, and collared bodysuit with an extra-hi-cut bottom, baring strong thighs. Business on top, battle-ready below. "This collection is about being exposed. It's about being dangerous. It's aggressive," she said. "The feeling of it, the energy of it, is a constant mood for me. I get angry, but it never consumes me." Each model's hands were dipped in fake blood.Is there a way to talk about bold, primary red that isn't totally dramatic!? In , the writer and organizer Amy Fung notes, "Red does not always resist. Red does not always mean stop. Red does not have to represent the blood that has spilled over 500 years of colonization. Red does not have to signify the skin color those early settlers associated with all First Nations people, and is now unable to unseen and undo." Cree artist Kent Monkman embodies this paradigm shifting ethos in the short film Dance To Miss Chief, a music video featuring his drag alter ego Miss Chief Testickle draped in ruby beads and matching billowing chiffon, tottering on stripper heels the color of a blazing sun.I like to think about bright red shifting in meaning from subordination to sensual. Specifically the way regulation red rests against deep brown skin: Eddie Murphy's butt-clinging red leather jumpsuit, or my friend Deidre's matte red lip. In this context, red goes from regular to erotic.I remember my auntie S. who comes from the dark-skinned side of my Gujarati family, adorned with slashes of infrared paint: glossy lipstick, long nails, and a line of sindoor rubbed into the middle part of her thick, coconut oil-greased hair. Offset by heavy jewellery made of Indian gold (the only gold worth wearing to be honest), it was a combination that felt transgressive to me as a child because even though her husband beat her, she still dripped. Call it auntie realness. Regulation red turns to revolution red against brown skin; it makes the unseen visible. Perhaps that infallibility is why men, like A$AP Rocky, don't know what to do with it.