Crashing the Gatekeepers
Dressing the Body Politic with Brendan Fowler's Election Reform!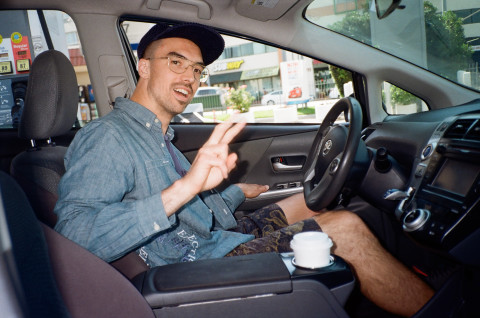 While homemade zines, backyard punk shows, and skateboarding serve a sector of restless Los Angeles youth, the dawn of social media sees millennials reimagining the reach of creative roles, taking to Instagram, for instance, in order to build-on or fabricate personas for swaths of digital fans.Multidisciplinary artist-designer, Brendan Fowler, insists the seemingly disparate worlds share more parallels than meets the eye. "Growing up, magazines were really important, but an interesting thing that's happening is that the gatekeepers are crumbling because anyone can publish their own content. That energy and DIY'ness is fucking bananas," says Fowler as we drive through central L.A.'s Pico-Union neighborhood.
It's a scorching, blue skies day in July and Fowler is upbeat, completely disguising the fact he's running on very little sleep. He was up till 5 a.m., prepping the line sheet to a new drop for Some Ware, the idiosyncratic record label-turned-apparel brand helmed by him and Kanye West collaborator Cali Thornhill DeWitt. Fowler and DeWitt founded Some Ware just under two years ago as an excuse to release music from LA experimental outfit Purity. In a short time, the brand has garnered support from Frank Ocean, A$AP Rocky, and the two's close friend and peer Virgil Abloh. Now there's a new project for the brand's devotees to embrace: Election Reform!, Fowler's clothing project that uses industrial embroidery machines to create apparel that highlights the American electoral system's flaws."Traditionally, advertisers tell the gatekeepers 'Hey this is what we have coming out' and ask the stylists to piece together new looks," Fowler says. "But now, kids are publishing whatever they want on social media. No one's going to stop them from mixing a Vetements hoodie with cargo shorts."The core values of DIY culture, like distributing photos printed on Kinko-made zines can be likened to a stylized photoshoot on social media. "I understand anyone saying Instagram has birthed vanity, but objectively it is happening and people are communicating." The digitization of music has destabilized the transactional nature of records as objects and as Fowler observes, this phenomenon has sprouted a new medium of exchange. "Whether that's indie rock, backpack hip-hop, or experimental noise, kids are having subcultural experiences and freaking out about making music and connecting with other kids. Instead of releasing a record, they'll upload on SoundCloud and create merchandise. This has given DIY culture a new spirit."The 39-year-old pauses. He points out the window toward a warehouse belonging to The Smell, a community-orientated music venue that nurtured Fowler's past as BARR, a one-man deconstructed pop band which informed other experimental noise projects such as Stephen/Steven and Ann Martin.
The all-ages venue's devotion to youth projects and sound exploration is shared by Some Ware. "Youth culture is all Cali and I know. We're forever stuck on the age that we were when we got psyched on doing things creatively," says Fowler. "When Sonic Youth turned 50, everyone could have said they're silly for having that name as a band, but they're lifers, ageing avant-gardes!" This reaction to youth culture having no expiration date is imbued in Some Ware's party series which doesn't have an age limit upon entry, ultimately bridging the gap between teens with DJs and friends of Fowler and DeWitt who would otherwise frequent fashion week parties or headline festivals. The idea of being inclusive is pivotal to Fowler's outlook, but this was not always the case in his creative trajectory. Prior to his shift toward fashion, the late 2000's saw Fowler move away from music to explore photography and sculpture as a solo artist in "crash pieces," which exhibited at the MoMA in New York, and later, shows at Richard Telles' gallery and at LACMA, where the artist explored how arrangements from different mediums can be restructured to fit into a new frame.In 2012, shortly after securing his place in the art world, Fowler came across an article on ballot fraud and became engrossed in the corruption of the electoral system. His infatuation with politics stemmed from his teens and listening to punk music, and Fowler's initial intention was to share his political views by making a record produced for DeWitt's then striving label Teenage Teardrops. But the music never saw the light of day and instead, the concept of Election Reform!—thrifted, recycled clothing reimagined with embroidered collages—became the medium.
It's worth mentioning that this type of customization not only resembles the practices of punk communities, but also, that the cultural crossover of applying DIY ethics to the realm of streetwear allowed Fowler to voice his politics anew while using the same industrial embroidery machines from previous projects like 2015's New Pictures, Six Sampler Works, and Benches. More importantly, Election Reform! forced Fowler out of isolation and into collaborating with others. Nowadays, having "lost interest in creating as a soloist," Fowler has built a rapport with an audience he hadn't previously reached."When you're working on a gallery show, there's a lot of alone time. Maybe you're working with an assistant, but for the most part there's minor interaction." says Fowler. "Once the work is created, the best case scenario is that the art goes into the museum where everyone sees it. Another scenario is that a very wealthy person buys the art to live in a secluded house or storage space. A common case is that no works gets sold," says Fowler. "With clothes, Cali and I would have an idea: that's already two of us talking. Then we would reach out to the pattern cutter, and speak to the fabric maker, the retailer stocking us, the models who are wearing the brand, the show venue, and so forth." Fowler pauses as though a light bulb moment has occurred just as we cross the bridge into the Arts District. "It's no longer a rarified thing. It's not made for these top one percent types."
Using second-hand T-shirts creates a new pathway for dialogue. The impact is especially clear when those T-shirts are worn by prominent rappers. "An experimental record would have been rad for Election Reform!, but a musician wearing one of my T-shirts on stage could give the concept more exposure, in turn giving the audience a reason to discover a whole narrative."Community is everything to Fowler, made evident at Some Ware's recent Paris Fashion Show debut which saw the brand's friends model their first cut and sew line. But with Some Ware's forthcoming collection expanding to grail fashion retailers like Dover Street Market and a star-studded lineup of pals backing Election Reform!, is Fowler's design aesthetic shift meant to cater to the masses? The worn-in looks of both brands have found a following similar to those who appreciate Rei Kawakubo's tartan-adorned works, the distressed hobo looks of FACETASM, or brands like AMBUSH who have reappropriated the safety pin (a token of revolt in the '70s) in its jewelry collection. The core ethics of punk and subversive subcultures have long been embraced on the runway and Fowler's raw interjection into fashion may soon join the ranks with some of fashion's most revered.
As we pull up to his studio in the back alley of downtown LA's graffiti-covered Arts District, I ask one last question before the heavy door to his workshop closes behind us. "With all the limelight on the brands, how do you ensure your designs stay authentic?"Fowler answers with an enigmatic grin: "The idea is to try and keep things as nimble as possible. It wouldn't be fun if we didn't think of it all as just another art project, would it?"