Daddy Cool
Welcome to dadcore, the low-maintenance way of dressing where apathy reigns and irony is a stonewashed style currency...seriously, dadcore really is a thing. So much so, in fact, that Balenciaga based its entire SS18 menswear collection on it. Here, we dig down into the most momentous trend of the moment to find out what makes dads so dope right now...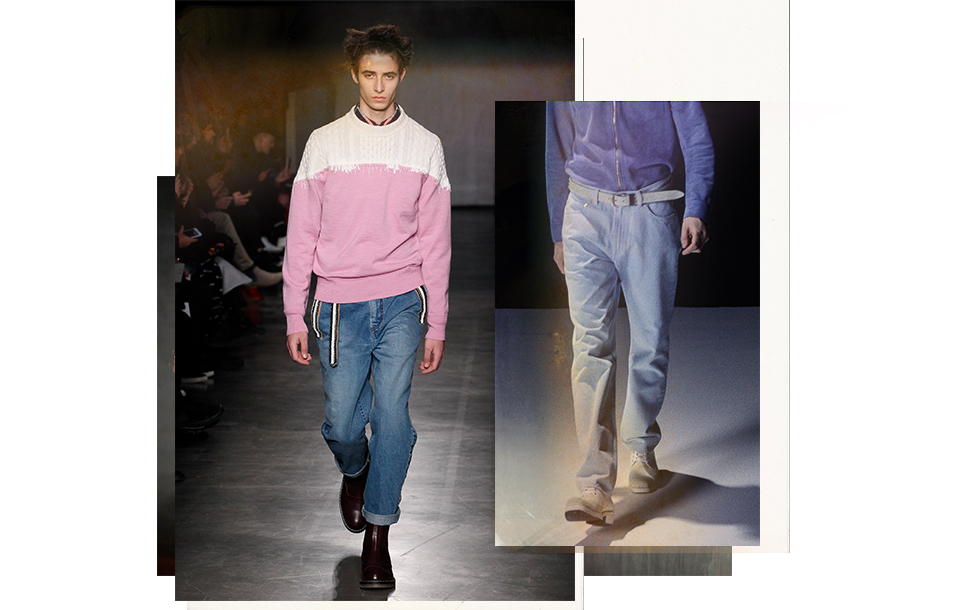 High, wide and handsome jeans
Invariably straight-legged and high-waisted, dad jeans are sweatpants in denim disguise. While true aficionados will demand that their jeans come stonewashed to within an inch of their lives, this season Sacai, Ex Infinitas, Alexander McQueen and Our Legacy all offer more stylish paternal prompts.
Dads are square…
...well boxy actually, if the current crop of tailored jackets is anything to go by. Whether double or single-breasted, Prada, Lemaire, E.Tautz and Balenciaga are all sporting oversized shoulders, capacious sleeves and boxy silhouettes for AW17. Savile Row may turn its collective nose up at this look but we think dadcore fans should embrace it. Question is, with jeans or pleats?
Pleats yourself
The bread and butter of university lecturers and Eighties Wall Street sharks, pleated trousers are a business-class upgrade from dad jeans, appearing both lavish and slightly louche. AW17's variety includes cropped, drop-crotch and classic, high-waisted versions courtesy of AMI and Homme Plissé Issey Miyake. Style them out with a belt at all times and wear your T-shirt tucked in.
Dads do it for kicks
Dad jeans on their own are like salt without pepper. Without bookending your denim with clumpy white sneakers, specifically by New Balance, you're merely an imposter. This devilishly suburban ensemble has spawned the latest trend for 'ugly' sneakers, from Balenciaga's Triple S to Raf Simons's Ozweegos.
Hit the right cords
Apart from tectonic disturbances, nothing moves a middle-aged geography teacher more than the sight of the smooth, tactile tramlines of autumnal corduroy. This season, Prada is indulging us with a spectrum of butterscotch and burnt-orange hues, while Giorgio Armani, Off-White and E. Tautz present more muted separates. Either way, cords are set to cause tremors this season.