Decoding Jun Takahashi's Undercover
A New Book Celebrates 25 Years of Wit and Rebellion from the Japanese Deconstructionist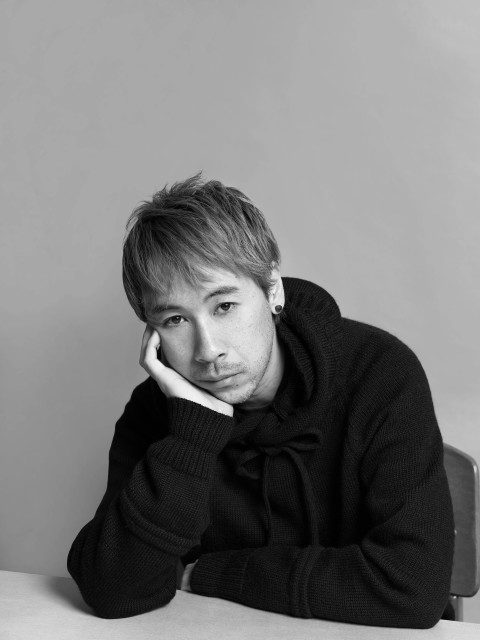 Jun Takahashi's label Undercover is a rare beast. Equally revered as a cult name in streetwear and as a fixture on Paris' high fashion calendar, it is as if Supreme and Chanel were a single entity, injected with a dose of Tokyo underground. Complicating matters, ambiguity has defined the Undercover aesthetic from the start. Perhaps because Takahashi founded his label right as Japan's economic bubble began to burst, his creations have always evinced, along with strength and ingenuity, an inescapable notion of precarious instability. In today's uncertain climate, the designer's beautiful mix of chaos, resolve, fragility, peace, and humor is more relevant and necessary than ever. This unique and fertile creative ground is amply illustrated in a new book from Rizzoli marking the label's first 25 years.
An image of the designer running through a foggy forest and a short but sweet foreword by Suzy Menkes set the tone for a straightforward, mostly visual chronicle of the label's history. Almost every collection since the label's inception in 1989 (or 1990—Jun himself can't quite recall) is studiously documented through more than 200 photographs, offering a satiating glimpse into Takahashi's mind-boggling creative universe that also leaves one wanting to know more.Takahashi founded Undercover while still a student at Tokyo's Bunka Fashion College. An early association with sneaker geek icon and branding genius Nigo, of A Bathing Ape, resulted in Nowhere, the Tokyo boutique launched in 1993 that became the first showcase for Takahashi's talent. More than two decades onward, a picture of Nowhere's unassuming storefront—ground zero for the second wave of Japanese fashion influence around the world—is as affecting as a snapshot of a baby-faced Takahashi, hair bleached blond and grimacing for the camera: a would-be London bad boy and actual punk band frontman, but hardly, one assumes, the future head of a small but influential global fashion enterprise.The word "punk" is thrown around a lot with regard to Undercover, and while it's an obvious reference, the term is too reductive to fully encapsulate the whole breadth of Takahashi's darkly enchanting, rebellious, and often bizarre imagination. Its promise is evident from his first runway collection in 1994, which recast familiar clothing staples as distinct fashion items, exemplified by a shrunken B-3 flight jacket worn on top of a long skirt to cinch an otherwise loose, grungy silhouette.
Undercover's collections became increasingly sophisticated, trading the Sex-Pistols-by-way-of-Harajuku artifice of early seasons for increasingly canny and imaginative explorations of concepts centered around femininity and tailoring. As with other Japanese mavericks including Rei Kawakubo (an early champion of Takahashi's work) and Junya Watanabe, in Takahashi's hands classic dressmaking is taken apart, turned upside down, and reassembled to stunning, modern effect. His knack for sartorial mash-ups results in lingerie that looks like utility gear and princely garments crafted out of simple shirt collars and cuffs.But perhaps more than with other deconstructionists, the idea of beauty is a constant in Takahashi's world. Undercutting this sweeping, unabashed, even romantic sense of lyricism is the designer's wit: a gift for subverting the sublime and exposing a sinister underside, which—adding to the strangeness—turns out to be just as poetic. This is epitomized by the invitation to Undercover's first runway show in Paris in 2002, showing a woman's injured knee with crusts of dry blood covering a curiously compelling pattern of wounds. (The collection's theme was "scab.")The delicate balance between extreme beauty and a foreboding insistence on decay is also evident in a coat from Fall/Winter 2005 made out of hundreds of skull-shaped felt cutouts. A feat of artistry, it is at once infinitely elegant, macabre, and undeniably funny. Similarly, the masks that have long been a signature of Takahashi's presentations serve to balance the preciousness of his exquisitely crafted clothes with a sense of conflict-ridden nowness. The designer doesn't want to just create pretty clothes; he is interested in interpreting culture.Many more insights can be gleaned from Rizzoli's monograph, among them that Takahashi dabbled in "normcore" long before the word was coined. A highlight are the pages devoted to the designer's 2009 menswear presentation at Pitti Uomo, a tribute to—of all people—German industrial design daddy Dieter Rams. The minimalist windbreakers and aerodynamic backpacks from the collection, presented at a dreamlike outdoor show, remain essential to this date.
While the bulk of the book is taken up tracing the evolution of Undercover's womenswear, special sections are devoted to menswear and to the label's string of strong collaborations with everyone from Nike and Supreme to Uniqlo and Hello Kitty—and, most interestingly, to special projects.Here we learn about the "Graces," the mysterious, doll-like "life forms" invented and handmade by Takahashi out of discarded teddy bears with bike lights for eyes. It is not clear whether these entrancing, somewhat scary-looking stuffed creatures are hostile or friendly, just that they belong to a secret organization named "Gila." To understand the designer, it is important to recognize that these fictional characters and their accompanying narratives are as integral to Undercover as the high-end pieces he sends down the runway and the more affordable streetwear he sells in his many stores in Japan. As one peruses the label's trajectory, the cinematic, all-encompassing scope of Takahashi's project emerges, with recurring elements explored across seasons. The designer, it turns out, has as much in common with a Guillermo del Toro, Tim Walker, or Matthew Barney as with his fashion design colleagues.In the book's supplemental sections it becomes clear that Undercover is more than a label, it is a worldview. Takahashi's fashion practice, including his long-running presence in Paris, is merely an expressive vehicle, a means of bringing to life a seemingly boundless trove of ideas where references, periods, materials, and media mix freely. Take Underman, a "warped, melancholic antihero" that has popped up in various Undercover collections and publications and seems lifted straight out of a Japanese sci-fi TV show from the 1970s.In a long interview at the beginning of the book, Takahashi acknowledges the influence of the 70s-era pop culture he grew up with, but isn't given the chance to elaborate. It is a shame that while copious and rewarding evidence of its rich fruits is provided, little insight is given into the mind behind it all—its workings, fears, hopes, and inspirations. Still, with its exhaustive visual documentation, Rizzoli's entry is an indispensable reference on one of the more idiosyncratic voices working in fashion today. As Menkes puts it in her pithy salute, Jun never disappoints.