Noon Goons' Surf Riot
The Southern California Label Rages on Skate, Street, and Surf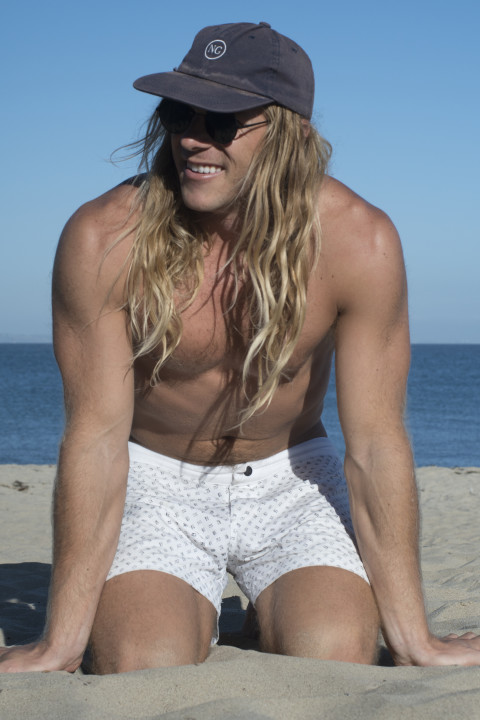 Noon Goons takes the aesthetics of 80s hardcore and basks in the ambiance of Southern California's revived surf and skate culture. The Los Angeles streetwear label lives the DIY ethos of bands like Black Flag, the Germs, and Agent Orange that remains an essential part of their city's cultural DNA. In its network of distinct and eclectic neighborhoods, spreading out and doing your own thing is the name of the game. For Noon Goons, that means a lifestyle of hanging out, surfing, and grinding the edge of life itself.
These simple pleasures are the subject of Surf Riot, 20-year-old videographer Mowgly Lee's latest in a series of short VHS films for the brand. True to the radicalism that persists in streetwear to this day, it follows Noon Goons and its disciples on their eternal search for defiance. If in its earlier years Los Angeles had always invited a good thrashing, Surf Riot is a lo-fi love letter to the modern metropolis it has become.Driving through Downtown with a surfboard in tow, the brand's founder Kurt Narmore talks with Reva Ochuba about Los Angeles and the doctrines that define SoCal streetwear.
What do you find most inspiring about this city?What are some of your favorite neighborhoods?Does downtown have any good skate spots?
There are so many cultural influences. It has everything imaginable right here. If you're driving down to South Central to go hit a factory, you're driving through the neighborhoods, your windows are down, and you're listening to the music that's being played outside. People are just cruising around and you really feel the energy of L.A.I love downtown. The fashion district is kind of raw, but there's a lot more action and entertainment there. I surf on the West Side a lot, too.There's so much around here for street skating and cruising. Next to my patternmaker is what we call the Citibank ledge. The ground is really smooth and you just post up there. It's right next to a liquor store, so when my homies come up from the beach, we'll hang out there and skate for an hour. It's just a ledge, but it's super fun. It's the Citibank next to Cal Mart. It's a good energy right there, I like it.
I heard that the next Olympic games will officially include skateboarding.If a rep asked Noon Goons to design uniforms for the USA skate team, would you accept?
Yeah, skateboarding and surfing.[] Fuck yeah I'd do that. I wouldn't say no to any of that. Our designer, Rick Klotz, would come up with some amazing ideas. He's born and raised in Los Angeles and is so culturally knowledgeable of everything the city stands for. Whether it's the punk movement, the Latino East L.A. movement, the South Central culture or the history behind how the freeways divided Los Angeles—he has so many references to pull from. We work really well together and he really helps the brand align itself with everything around Southern California.
There's definitely a longevity in the style.
Ninety percent of the collection is probably timeless, but obviously we have a few pieces that are more loud. I think that for Fall 16 my favorite pieces are the windbreakers. A colorblocked windbreaker with club pants just goes really well. The club jacket is my favorite piece for Spring 17. It's a really simple corduroy shell, nothing crazy to it, but it looks really clean and authentic and rich.
It feels like people correlate a sense of minimalism in menswear with skate trends, because skating is so much about being comfortable and cool and easy.Where do your ideas typically stem from?
That's real for skaters, so I think the clothes are exactly that. They're meant to be skated in and they'll last as long or longer than a pair of Levi's. They're meant to be skated in, but you can also go out to a nice dinner, or on a date.They stem from what my daily activities are and what I grew up doing. Skateboarding, surfing, listening to the Adolescents, listening to JFA. We get a lot of our inspirations from old punk flyers. The type fonts, how they did the layout and all that.
How did the Surf Riot video come together?
We have this great kid, Mowgly Lee, who lives in Costa Mesa. I surfed with him in the water every now and then, then I saw one of his VHS videos floating around. The next time I saw him I just came up like, "Let's make some cool videos!" and he was really into the idea. Everyone you see in each of our videos are all homies we surf, skate, and thrash with. We collect whoever's around at the time and we make these cool little videos. We want kids involved that understand it and that live it and that get it. It wasn't hard for me to be like, "Yo, this is what I'm doing. You already do it every day, let's just film it." And it comes out effortlessly beautiful.
That's really impressive.
We're a real group of kids. That would be good for a shirt: come down and hang with us and party. Have a great time and skate and surf. It wouldn't feel weird at all.