Fabio Piras Is Forming the Future of Fashion
Wisdom from the Director of the Central Saint Martins MA Program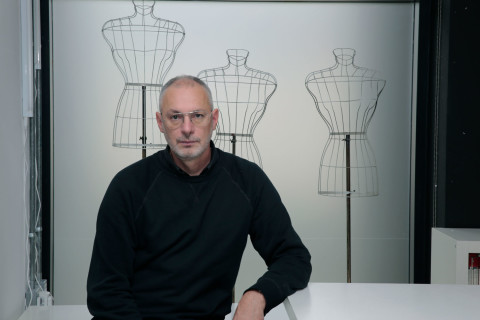 Central Saint Martins — the name triggers a sparkle in the eye of any young creative who aspires to become a fashion designer. For more than fifty years, the popular art and design college in London has attracted all types of people from around the world. Its MA Fashion course is encircled by a halo of artistic allure based on the school's competitive admissions, excellent training, and impressive list of alumni. Three years ago, Swiss-born Italian Fabio Piras took over direction of the MA Fashion course, succeeding former director Louise Wilson, who taught designers like Alexander McQueen, Christopher Kane, and Mary Katrantzou. Robert Grunenberg met the former fashion designer and art director, who himself studied at CSM, and today supervises a course of approximately 85 budding talents. Piras welcomed Grunenberg at his office to discuss mentorship, talent, and why fashion needs more utopia.
What is the most valuable advice you have received from a mentor?Did you learn anything from that time that has shaped your own role as a tutor?
My mentor was a Polish woman who was my French tutor when I was 17 in Geneva, Switzerland. It was all about discovering new things, new authors. I was into Jean Cocteau in a very obsessive manner, and she got me into the movement of Nouveau Roman—Michel Butor, Alain Robbe-Grillet, and Marguerite Duras. She was a hippie, very holistic, but these authors were not. She understood me. Hippie was everything I wasn't at the time. But, she fascinated me because there was this integrity that was so poetic. Sometimes you don't know why you click with somebody, but there's a connection and it just happens. I think we developed a ritual. It was all about the experience of entering her world. Incense, patchouli, patchwork, blankets, Afghan rugs — that's who she was! It was such wonderful conversation.It's about connecting mentally. You can't do that with everyone, that would be fake. I'm somebody that doesn't like to establish personal relationships with students. I wouldn't think of letting any of them into my world in such a private way. If I had to thank her, it would be for liberating me. She opened doors to me that my background would have never opened. She gave me this idea that there are experiences and encounters and you just need to open your doors, and trust instinctively why someone interests you. Like now, where I am in the middle of selecting new students: it's not always about a super fantastic portfolio. Sometimes there's a world that isn't being brought out. There is a language not confidently spoken, but a promise of something special. Sometimes you need to take that gamble. At times, you're completely wrong, but the fact that you could be right is more important than being wrong.
How difficult is it to overcome yourself when you meet a student that has a different aesthetic position that you don't necessarily understand? How do you stay open and embrace it?What is your definition of talent?What is your talent?How do you compare your generation to the current one?How is it different to what you encountered yourself as a fashion student at CSM?Are your students looking for a hero, for a spiritual leader?
If I was limited to my aesthetic vision, it would be irrelevant and boring. If something is speaking to you, whether you like it or not, you should go for it. In my role, I need to have a variety of point-of-view. I need to be able to understand and work with multiple identities, otherwise it would be a formula, and a formula doesn't work. What I don't understand is when people don't have much to say, or when they don't want to say it — there is no identity brought forward. That's where I switch off. I don't need to be me — that's the beauty of it. It's a kind of schizophrenic scenario where you need to be reflective of 40 other points of view for your own to have relevance.Talent is a lot of things — it's what you have to say, and how you say it. It's about how you use your skills. It's about your vision of the world and what you're into, your aesthetics and how personal or original your creative expression is seen to be. Or, it is how you navigate all that.My talent is to work with possibilities and to navigate others' narratives. In my teaching, I tend to react, critique, provoke, question. In this way, I lead my students to find themselves. I am good at understanding what a student is trying to do and where they're trying to go.The comparison is not that interesting. I am sure this generation gets as involved in politics, social, or ecological issues as much or as little as mine did. But I find in this generation a necessity to privilege the self that frustrates me. On one hand, it is a generation concerned with the common good and the wider community, but on the other, the individual comes across self-involved, fragile, and isolated. One of my students said to me the other day that anger is a negative feeling that resolves nothing. Happiness would be a more subversive response to what is upsetting us as a society. That might be the difference. I'm still on anger! I find this generation so abstract. It doesn't seem to be able to be specific or focused on something. It is a generation of fast-tracking, of not allowing enough time, but at the same time, one that is fascinated by making time, by going back to what "matters." When you think about this generation, you can't help feeling that it lives with a stronger awareness of what is now. In my view, that takes over from the notion of future and past, which can be alarming or liberating depending on how you want to see it.We were more naive, desperate to be part of a fashion society. There was no internet, information consumption wasn't that quick.They would never reveal that to me. They might have a hero, but it is not something they need to reveal. Spiritual leader? Not in such terms. There is a generation of designers that I can see inspires the students in one way or another. Designers they would never admit to being inspired by. For instance, Vetements, and whatever happens at Balenciaga. I think students are fascinated by solutions that are not the run of the mill, and by designers who think differently. We can see the start of that generation of designers in some of our recent graduates, post-Craig Green, Phoebe English or Faustine Steinmetz. Their names are: Rottingdean Bazaar, Matty Bovan, Charles Jeffrey, Alexander John Skelton. They are clear about what the fashion industry can (or cannot) bring to them. They are starting to redefine the terms of engagement with the so-called fashion system.
You worked with former course director Louise Wilson for many years. How does your vision for the course differ from hers?How do you deal with the expectations of students that underestimate the harsh reality?Is fashion the quickest response medium to culture and society?Have you seen the hat that Queen Elizabeth wore when she gave her speech to the British parliament in June this year? The hat was blue with blue flowers and yellow dots that made it look like the European flag. Here, fashion becomes this lighthearted-yet-powerful way of commenting on complicated political matters.What movements in society and politics do you follow?I feel there is a lack of experimentation right now, of utopic dreaming and thinking of fashion as fantasy and poetry. I don't see much of that at this moment.
My ambition is to bring the course somewhere more subversive. It's not about creating fashion rebels, but shaping students into designers who are informed, who have strong views on the world and the industry, who understand the system and what's required of them to perform within it. Thankfully, students coming from us are generally critical, positive, and resilient.It's about provoking students, about posing questions, and making them review their expectations. What do they perceive to be their skill, and what can their contribution be? What agency do they have as future practitioners? But also, who are they and what do they want as citizens? It is not necessarily making students happy about what they do all the time. It's about making them critical. We are very harsh from the point of view of students. Sometimes they feel we are disrespectful, which is the thing that upsets me the most because I don't think we are. I think students are very fragile. Obviously, it's harder to hear that what you do is not there, not developed enough. Students want to be given a tip or a magic pill. For me, that kind of expedient doesn't exist, and I would be afraid of tips if I were them. Why should I give you a tip? I can give you critique, because with constructive criticism, you move forward. Why are all the comments negative? Because if I were to make them all positive, you wouldn't understand what to do.Fashion starts by being an immediate reaction to time, the moment, whatever cultural or political changes are happening in society. Fashion needs to express itself within its present. It's ephemeral, and that's the beauty of it. It can of course be collected and historically documented, even revived as a repertory of its time, influencing another moment in a future present. Fashion is movement, it is life as it goes.Fashion can help communicate messages, sometimes in a satirical or ironic way. Was the Queen aware of it? That's the beauty of fashion — in a very subtle and almost inconsequential manner, it enables you to make statements visually. No words needed.Movements always express something politically. Today I am interested in gender abstraction and fluidity. I don't think that's a trend; it is a revolutionary reaction to a world that needs to box you somewhere. The idea of being so male-female fluid in the way you look and are — it doesn't place you anywhere, so it places you everywhere. I find it seductive, disruptive, and very brave.Tragically. You don't see this so much within the fashion system, nor in stores promoting this kind of fashion. Ironically I see it in the street, especially with young people. I see it in this college. This college is full of utopia. It's visually intriguing, sometimes it's ridiculous, and at other times it's a genuine and fantastic expression of self-style. If you take Selfridges, Harrods, any department store for that matter — how well do the buyers of those stores respond to what customers may want to consider, rather than just wear? It's always the same stuff. There's hardly a sense of feeling special or even unique. It's only stuff. How do we continue buying all that stuff?
You need places to escape and dream.How do you feel about the digitalization of the creative industry?What about virtual reality? Are you looking forward to that?
Absolutely, and fashion has always been a conveyor of that. There's nothing worse than fashion without the dream, the fantasy. Creativity is a form of dream; it is giving life to ideas to make those dreams real.I think digitalization is just another possibility. It doesn't need to define what we do. It's there to support, and can enhance what we do.I'm not interested in virtual reality because I'm interested in human reality. I have an issue with it because of the disconnect that it creates. Everything becomes very non-existing. The danger with it is that the virtual becomes reality.