FLOWER POWER
Shared from SSENSE . Click here to read more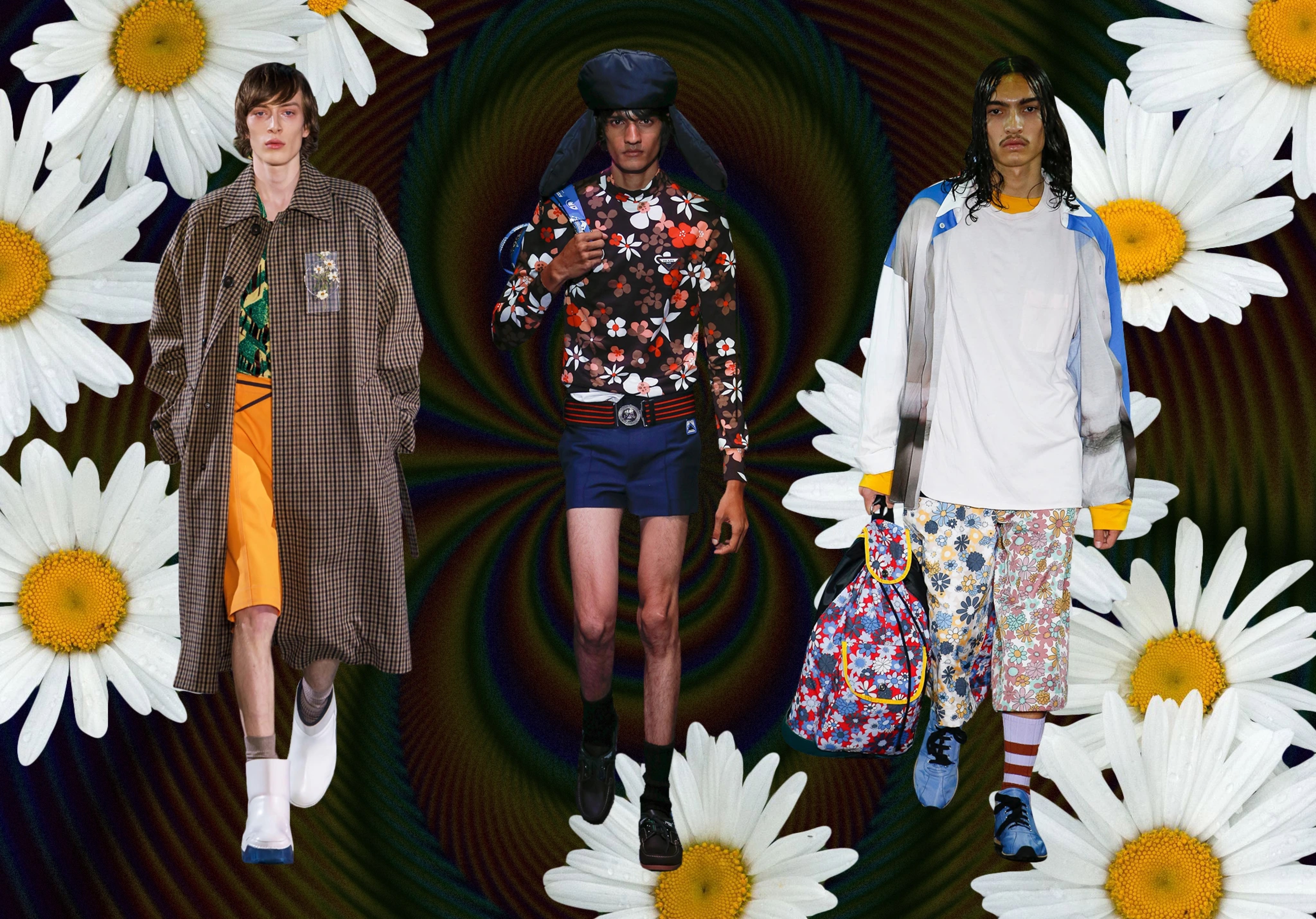 Daisies have hijacked the hype machine—blooming on the Loewe, Acne Studios, Prada, and Marni SS19 menswear runways. In recent years we've seen tactical gear, all-black athleisure, construction worker palettes, and sneakers that are a tech-mindfuck. Urban accoutrements for an existence that is self-sufficient, hyper-efficient, even militant. 2017's Western fixation, which carried into 2018, suggested a rural migration toward the natural world, but still maintained a commercial sensibility. Cowboys might be lone on the range, but they function almost as a rugged paraphrase of industry (often with a love interest or favorite cow bearing the name Daisy.) It makes sense then, that the next stop on our journey away from urban is its total polar opposite—pastorale.
For SS19, Prada stretched its daisy motif onto ties and shorts. Marni offered daisy-choked track jackets and backpacks. When everything feels futile, smelling the flowers pacifies, despite the occasion to do so being near-obsolete in an urban center—where your only coupling with nature comes by way of a ragged tuft of weeds (maybe daisies) spilling out of a crack in concrete. All the more reason to wear them instead.
Beyond the obvious daisies of Takashi Murakami, whose oeuvre is riddled with them, daisies traditionally call to mind rave culture, 90s Drew Barrymore, anti-war pacifism, daisy chains, Marc Jacobs perfume. Seemingly deciphered through an array of different symbols, daisies have come to represent peace, sex, and psychedelia, all at once. You could say that daisies also connote beginnings. For his first issue of GQ as editor-in-chief, Will Welch put Frank Ocean on the cover—styled by Mobolaji Dawadu—dressed in a daisy-printed Prada turtleneck. Daisy derives from "day's eye"—the blossoms close at dusk and open at the beginning of the day with the rising of the sun, to which the flower's center is matched.
Daisies, which have been conventionally regarded as full-blown feminine, were ubiquitous on menswear FW19 runways, too. The literal and figurative deflowering latent in a game of he-loves-me-he-loves-me-not; a visual metaphor for virginity; their palette of innocence and purity. The most vital pollinators for daisies in the Namaqualand region of South Africa is a particular class of scarab: monkey beetles. The male monkey beetle sleeps tucked in the folds of the petals at night and, accessorized with frothy swathes of golden pollen, travels to other blossoms by day in search of a mate, who will only copulate inside a daisy. This binary understanding of "female sexuality" is maybe what designers wish to challenge—our preconceived notion of what a daisy represents.
Before the invention of the greenhouse, flowers could only be obtained in-season, even for the rich. During the Dutch Golden Age, still life paintings of floral arrangements—lackadaisical, drooping heads, ragged, detonated peonies—suggested luxury. These paintings, often composed of one flower at a time given the scarcity of fresh blooms, took years to complete. Decorating one's surroundings with flowers, or a labor-intensive painting depicting them, expressed wealth and exquisite taste. A precursor for the boutonniere and corsage, bunches of flowers and fragrant herbs were also worn in ancient Greece to ceremonies and formal events, thought to ward off evil spirits. This, along with the implicit extravagance of wearing flowers, led to the contemporary custom of punctuating a suit jacket with a choice bloom. Oscar Wilde popularized wearing a green carnation in his lapel—a rumored cipher for homosexuality. To wear flowers was to have power, and to be empowered.
In the mid-60s, war and squandered military resources lead to a bohemian, pacifist counterculture that was often, equally, psychedelic. In 1964, in the wake of JFK's death, incumbent president Lyndon B. Johnson aired a controversial political advertisement during his campaign. It featured a young girl pulling finger-fulls of petals from a flower and clumsily counting to ten, with a sudden cut to footage of a nuclear explosion. The announcer's voice booms, "These are the stakes. To make a world in which all of God's children can live, or to go into the dark. We must either love each other, or we must die." Johnson won by a landslide, maybe thanks to this ad that aired once—referred to most often as Daisy. Later in the 60s, photographed by Bernie Boston, Flower Power shows a Vietnam war protestor sliding a carnation down the barrel of a rifle. Maybe a self-sustaining ecosystem that demands equilibrium is the perfect allegory for peace. Flowers, especially daisies, became symbols of the anti-war movement—Allen Ginsberg called it Flower Power. A flower is delicate; something that can be pulled apart, that doesn't last. But its seeds do.
Anti-war iconography of the 60s and 70s lent itself readily to the more optimistic, post-Cold War climate of the 90s. The daisy became an emblem for raves, PLUR optimism, and utopia. The daisy today is not without this baggage. For Acne Studios menswear FW19, models traipsed down the runway, sweaters or coats adorned with clear, acetate brooches and buttons, dried pressed flowers entombed within them. The presentation was an homage to a mushroom trip. The FW19 Raf Simons collection, and his collaboration with Eastpak, yielded backpacks, overcoats, and even shoes, all festooned with daisies. An echo of the traveling monkey beetles—pollinating minds with fertile daisy symbolism. "No cultural object can retain its power when there are no longer new eyes to see it," writes Mark Fisher in Capitalist Realism. It would seem, then, that if we believe in freedom and in peace, we are almost obligated to wear daisies.
Fashion continues to point more generally to tripping out—a mode of disengagement from the plight of the quotidian. We turn our gaze to nature, who obviously possesses all the tools for tripping: marijuana, magic mushrooms, mescaline, 5-MeO-DMT toads. As consciousness shifts we feel more connected to something outside of ourselves—a living, breathing frequency. A means for understanding how to navigate our urban metropolis. When we come back from the edge, (because realistically, we can't exist there for long) there's a need to bring something back with us. As a precursor to his 2017 album, More Life, Drake got a tattoo of a daisy. In late 2018, he orchestrated an OVO collaborative capsule collection with Murakami. Daisies are for everybody—a tender reminder that stopping to smell the flowers, or at least emulating this activity through a floral motif, is the most important thing you can do for yourself. Rep the day's eye—it's flower power.
Shared from SSENSE . Click here to read more