FROM $ TO $$$: THE COACH JACKET
Shared from SSENSE . Click here to read more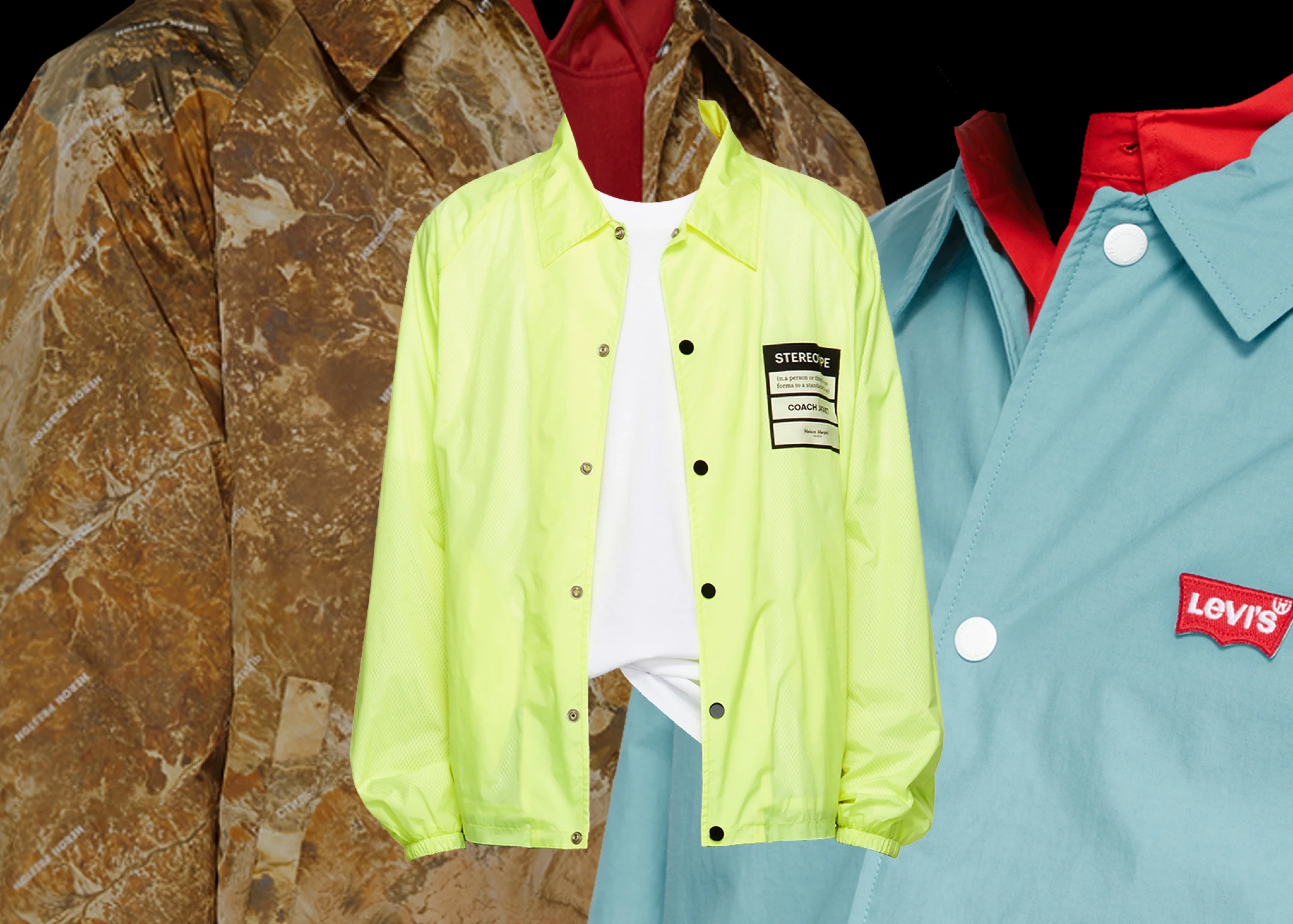 The coach jacket is an iconic piece of in-field sportswear, gone to bat as a chilled-out streetwear staple over the last several decades. Clean, lightweight, and dependable, the coach jacket conjures respect and admiration like the coach himself. The perfect layering piece for a misty spring morning yelling orders on the pitch, or a breezy skate sesh on the first day of summer. Insulated nylon, neat collar, snap-front design, elastic cuffs, breast logo—the sporty staple is having a moment, so in the resounding words of Friday Night Lights' Coach Taylor, "Don't just stand by and let it happen."
First down is Levi's—known for consistently producing reasonably-priced, Americana-influenced staples—and their cotton-blend take, a material sub-in which ups the durability factor, while lending textural softness to the traditional wind-breaking nylon classic. This perfect robin's egg blue is the ultimate spring-beckoning selection.
Keiji Ishizuka and Atsuhiko Mori, the duo behind Wacko Maria, both started out as J-League football players before Mori opened their infamous Tokyo bar, Rock Steady Bar. So while the designers clearly have some credibility in the realm of athletics, they also like to party. From whence was born their unique twist on the coach jacket, a classic black silhouette with the word "DISCO" printed across the back in 70s-inspired bubble-font—sure to have you dancing in the end-zone.
Japanese label N.Hoolywood is notorious for its subdued, vintage-inspired, sportswear-referencing brand of refined basics. Their version on the coach jacket observes an unexpected play, a reworking of the usual nylon into a rich, muted corduroy. The snap-front closure is replaced with a zipper, but the pointed collar and nostalgic shape of the coach's favorite is maintained. Touchdown!
Here Heron Preston covers Coach in camo, as the field-friendly layer adopts the print from another kind of sport—hunting. Heron's graphic impulses leave the shirt-jacket staple overgrown with foliage, complete with the designers trademark Cyrillic accent, СТИЛЬ, which kind of looks like the word "coach" but actually means "style." The designers immediately detectable orange logo-tag at the cuff offers the kind of detailing that sets this piece apart from others in its league.
Shared from SSENSE . Click here to read more