Hiroshi Fujiwara Is the Living Internet
Tiffany Godoy Speaks with the Godfather of Streetwear in Tokyo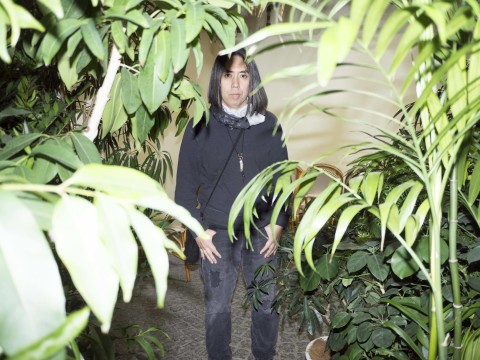 Many call Hiroshi Fujiwara the godfather of streetwear. His nod of approval means line-ups that would make Supreme jealous. There aren't enough hyphens to list all the hats he has worn, so let's just call him a renaissance man-slash-messiah.
Hiroshi was born around the corner from Ise Jingū, a Shinto shrine that is arguably the most sacred spot in Japan. We can all be thankful that Ise is in the sticks and that our hero was so bored in the boonies that he began scanning the horizon for something more. The punk rock scene was in full swing, and he was off to London as soon as he could manage. There are pictures around of that skinny kid—maybe with Malcolm McLaren—circa 1983. Coming from a country where the rules were strict and business was king, Hiroshi was hungry for new energy. And so he became a pioneer pirate, sailing from one island to another, serving as a cultural conduit. He was the living Internet, transporting culture from London, to Manhattan, to Tokyo. He eschewed Japanese social hierarchy for youth culture anarchy. He's worked in media, first writing legendary columns devoured by readers of Popeye Magazine, then starting trendsetting online resources like honeyee.com, pronounced 'honeycomb.' He's a musician. In the 90s, he formed a hip-hop group called Tiny Panx, and was in fact one of the DJs responsible for popularizing hip-hop in Japan. More recently, he designed guitars for Eric Clapton and still shreds a bit himself. He inspired major designers like the founder of A Bathing Ape, whose nickname, Nigo, means "number two"—Hiroshi, of course, being number one. He hung tight with a young Jun "Jonio" Takahashi, who would go on to create Undercover. He built labels of his own like Goodenough and Uniform Experiment and worked on projects with everyone from Levi's, to Burton, to Starbucks. This endless urge to create and killer instinct is what keeps our style shaman on Nike CEO Mark Parker's speed dial. I almost forgot to mention HTM, the ongoing, super-limited collaborative footwear affair between Hiroshi, Parker, and legendary designer Tinker Hatfield. It's no exaggeration to say that streetwear in 2016 would be markedly different had Hiroshi travelled another path.
Today, Hiroshi is in transmission mode. His company Fragment is just about to drop a second project with Kim Jones at Louis Vuitton. He directs Ring of Colour, a digital magazine that is a semi-diary of all that is good in the world of Hiroshi and his friends. After closing his retail outlet The Pool in March, he began work on The Parking, a temporary boutique with a cafe that serves only toast. The Parking is an underground boutique in the truest sense of the term—it's literally three floors below the surface, underneath the uptown Ginza district's Sony Building. When I meet Hiroshi, The Parking is hosting a special midnight flea market, "DAWN OF CULTURE GARAGE 3," featuring some of Hiroshi's good friends like Vanquish's Ryo Ishikawa, Daisuke Obana of N. Hoolywood, and Shinsuke Takizawa from Neighborhood, who were hawking their goods garage sale-style. We discussed the importance of subverting hierarchy, his current fascination with experiential dining, and his dream project. Criss-crossing all genres and the longitudes and latitudes of culture, Hiroshi's high is a reverence for rebellion and innovation, in whichever forms they happen to assume.
But The Pool was a physical space. A responsibility.From the outside it seems you're much more invested in physical spaces and creating the brands for the stores. So, it's a lot of hardware as opposed to software, as opposed to ideas. Do you feel that's the case? Do you feel like you want to commit more to something?Why are you so interested in old Tokyo? Like an old apartment building with a pool, or this retro Sony building.No, I think it's like scrap and build, right? The art collective Chim Pom just did an exhibition in old building in Shinjuku that was about to be destroyed, and the whole idea was about scrap and build, constant demolition and rebirth. The '64 Olympics were about this, that was one big moment in Tokyo history that wasn't a natural disaster where the city underwent this kind of transformation. It was like, get rid of the old so we can prepare for the future.What made you want to come to Tokyo, and then go to London? Why were your eyes looking outside of Japan?
It's kind of the same idea. I didn't have many responsibilities there. Jun Co., a Japanese fashion group, showed me the space, the pool. They wanted to do something, so I said, "Oh, this is great." I don't own anything, the same way as I work with Undercover or Neighborhood.Yeah, a little bit. If I travel to France or New York there are many good stores in old buildings. Like old pharmacies, cafés, banks are now sneaker shops. We don't really have that in Japan because we knock down buildings all the time, so the buildings are very new here. I was asking around for an old building we could use. Then Jun found the pool, so it was just perfect.Not only old Tokyo. Like I said, if I travel anywhere in the world, I always felt it's really good to put something new into old things because we don't have that in Tokyo. Maybe foreigners like you think that in Tokyo you should do a modern space, like Masamichi Katayama creates. Do you think that is the Tokyo way?I think that's kind of a Tokyo culture. So, maybe you are looking to Japanese people to do that kind of thing. Scrap and build. But for me I am more influenced by the rest of the world.The countryside is quite boring, that's why. There is no fashion. Especially, like, 40 years ago.
Where you from again?Ise Jingū, of course! Really? It's super spiritual.That's the most divine place in Japan.
I'm from Ise. Do you know where that is? The biggest and first shrine.10-minute walk from my house. What I knew as a shrine growing up was Ise Jingū. So, any other shrine feels really small.Exactly. I grew up there until I was 18 years old and then moved to Tokyo. I always wanted to come to Tokyo to see my friends, and my sister's friends worked in the fashion business in Tokyo.
Did you want to make things?How did you discover fashion and music in the sticks?So you went to London.Yeah, but so many people started to follow you, and treat you in this exact traditional Japanese way. You know, like a god.You were also bringing in new types of information and experiences that the older people in Japan didn't have.Food! In what way?
I think I wanted to do something with fashion or music.The first impact was punk rock, when I was 13 years old, so I always wanted to go to England or to come to Tokyo to buy those punk clothes. I also think I was really lucky, to feel punk culture when I was 13 years old, because it changed everything. It really inspired me.I went to London in 1982. There was no information technology. You had to go and see. When I was in London, I was really shocked, in a good way. Because in Japan, you have to listen to older people all the time—"senpai," "kōhai." Especially in high school you are like a slave to older people. Even in big companies. I really didn't like it. When I went to London, everyone was flat. Even from the big name designer to the students. Sharing the same rooms, you know what I mean? I was really inspired. Surprised and shocked.Even so, I was trying to talk more naturally, talk the same language to older people and to younger people. Even the president of companies or students, I can have the same kind of conversation with them. I can be a connector between the two.I thought the other, bigger Japanese designers at the time like Comme des Garçons were following Europe. Not copying or anything—they were really good—but they were following fashion in France. But streetwear was starting the same time everywhere around the world, so we Japanese didn't have to follow anyone. I thought that was a good moment. It's happening in the food world now, in food culture.Because food has had a hierarchy, but now, young chefs, they are friends with Noma, and everyone is connected together. So, they are sharing more information. They sometimes go and collaborate on food. It's really similar to street fashion.
Can you tell me about the importance of media for you now? Is it more important than it used to be? With Ring of Colour, your TV show Tokyo Calling, and your radio show on J-Wave, it seems like you're also more involved in it.But in terms of having a media platform…The last time we talked, you said that you weren't sure why people were still interested in your opinion, that you are waiting for younger people to rise up and make something new. Do you still feel that way?What is the most remarkable thing that you've learned from younger people?
It's easy to be involved now, that's why. I don't think it's really important.It's a fun thing. Ring of Colour is especially about the past. I really think pop culture died in the 90s. Finished. Do you feel that? If you listen to a Massive Attack CD, you don't feel like it's 25 years old at all. But if you're born in the 90s, 25 years old is, like, 1965. Different world.I do. Especially in fashion, everybody follows too much lifestyle fashion like Uniqlo. It's a good brand, but it's a lifestyle brand. I don't want to call that a fashion brand. Fashion is more obscure. Fashion is more uncomfortable.I realize it's a really different time in fashion. When I was their age, or when I was 13 years old, punk and British fashion was really inspiring. I really wanted to look like Johnny Rotten, I really wanted to buy the t-shirts he was wearing. I asked my students, "Do you have something like that?" Then a girl said, "Yes, but can you wear raw meat like Lady Gaga? I can't wear raw meat." I thought that was so different. So, maybe the pop icon doesn't equal fashion. I was quite surprised when I came to you and met many musicians, and everybody had a stylist. I thought rock bands didn't have stylists.
I think that in Tokyo now, as we said, people are not interested in fashion.I think it's a global thing. People are just tired. It's like an overdose, overload.Why you think Japanese fashion is so attractive to this latest generation of creative people?What are you really into right now? Does that change constantly?
Is it only Japan?Maybe it's good. Because when I was young, not many people were into fashion, and then it maybe grew too much, so now it shrinks. Maybe it's a good time to start something weird.I think we have a good eye. America makes good things, good denim, but they didn't recognize how good it was. But the Japanese have a good eye. Anything like denim or sneakers, it doesn't come from Japan, it comes from everywhere else, but we recognize that is a great thing.For the last three years I've been really into food. Food culture. Because that is what is new, and, as I said, a way to communicate across the world. I think food is one of the last analog things, because you have to travel. You have to go to the restaurant. You can't do this on the Internet. The information is not enough. I think that is most tempting thing. I was in Shanghai last week at restaurant, which had been there for four years, and it was my third time. And that was really inspiring. It's called Ultraviolet. The whole concept is crazy. No one knows where it is. You go to the meeting point and then you drive through. You go through a ghetto area. And there's a door, you have to open it. It's a dark room with disco music. Then the door opens and if you go through, there's a table of, like, 10 people. That's where the dinner starts. Basically, it's a white studio and a white table. It's all projection mapping. So, each dish, you have a different view, a different smell, a different temperature, even. Like, if the tuna steak comes, the whole view is Tsukiji Fish Market. It's like Disneyland. It's crazy. You should go.
What do you think about this kind of connection between hip-hop and fashion? It's become the most influential—what hip-hop stars wear is more influential than what designers make.Exactly. But people look to you for that, as well. What's the ultimate project for you?Why a hotel?How can we cause a kind of cultural earthquake? How can we shake things up so that there is a change? Do you think that there is some kind of key to restarting a cultural revolution?I thought you were going to say media.Media is everywhere, there's tons of possibility, but not a lot of people are saying anything. But I thought that's why you're using media now, to try to make a change.
I think it's kind of pop star method. But they don't really create, the pop stars, they pick up. And hip-hop, too. Like, Kanye, maybe he makes clothes, but people want to see what he's buying.Maybe one floor of a hotel. In a luxury Exactly. But people look to you for that, as well. What's the ultimate project for you?, a floor. I cannot produce a whole hotel.[Laughs] That's where I stay a lot. That's the biggest project that I can see.I am sure that a rebellion or hunger could do this. In Japan, people are really against the government in terms of nuclear and other things, but, in fact, we live in peace. So, we don't really have that much anger. People say, "I want change," but how do you change? This is paradise.Media is really weak.[Laughs] I don't care to make a change. I'm not a guy who wants to control many things. I don't want to be the boss of a big company. I need freedom.